Hey all. welcome to BigTricks. It's great to have daily visitors like you guys. Well guess what? Here's another offer for you guys. As a promotional offer, Yippee Noodles Offer is going on. They are giving Rs. 25 Gift Voucher to those who purchase Yippee noodles pack of Rs. 45. Isn't that great. You have to do nothing. Steps are simple too. Keep that in mind that, you can add max 3 Yippee vouchers in one Amazon account. And the offer is only available on packs on which there are labels regarding this offer. So, let's get into steps.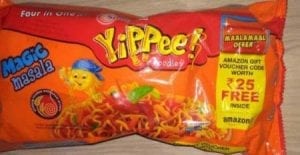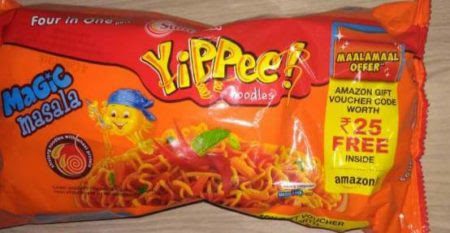 Steps To Get And Avail Free Rs. 25 Amazon Gift Vouchers From Yippee Noodles:-
Visit your nearest mart or general store which have Yippee Noodles in stock.
Purchase a pack o Rs. 45 Yippee Noodles. Kindly check if there are labels regarding the offer on the pack.
Go home and open the pack. You can find your Gift Card inside.
To redeem it, visit Add Gift Card section, enter your Gift Card and add it to your account.
That's it. Rs. 25 will be added to your account instantly.