RealMe R Power Challenge –  Hello Guys, RealMe is Here with New Contest where You can Win a Realme U1 Android Phone Absolutely Free For Referring Your Friends. Here you can also Get RealMe Devices at 50% Off. The Offer is Live for 3 Days. The Activity will end on 6th jan so Click on Below Link & Start Your Challenge.

You will get Random R power For Referring Your Friends and which is responsible for you to be a winner. Top 560 Participants on 6th January will win the Corresponding Prizes. You will Get 100 Realme Default Power on Signup & 80-100 on each Referral. This is Similar to Honor Play Refer & Win
Note – First 560 Users will win Prizes others win Medal o the offer is useful if You have a lot of friends or followers to refer else it's of no use
Buy Realme tech Bag at Rs.1 – Click Here
1. First of All Visit Realme R Challenge Power Challenge Page – Click here.
2. Now Here You will See "Send R Power" Button & Click On It.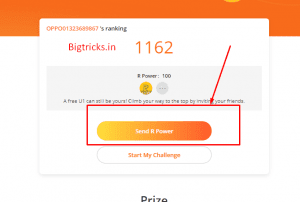 3. Once You Increase My Power You can Start Your Challenge By Clicking on "Start My Challenge"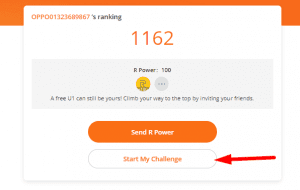 4. You need to Signup for New RealMe Account here.
5. Once You Create Your Account You can See Your Link.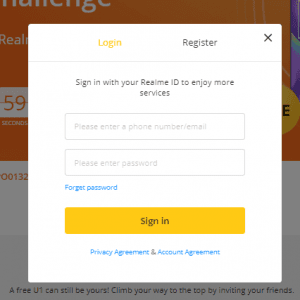 6. Share This Link with Your Friends & Ask Them to Increase Your Power.
Prizes To Be Won –
Top 10 – Free Realme U1
Top 11-60 – Realme U1 50% Off
TOP 61-160 – Realme U1 20% Off
TOP 161-560 – Realme Buds 50% Off
All participants – Exclusive Medal
Winners will be Declared on –
Winners will be Declared on 7th Jan.

Unlimited Trick –
You can Register multiple Account By Yopmail.com here is the trick –
First of All Get Your Referral Link for Realme U1 Offer.

Now Visit Your Referral Link in Incognito Mode.
Enter Email Id Looks Like XX@yopmail.com (Where XX can be anything any word or phrase 
Like You can Create a New Account on Realme page using email – xyz@yopmail.com
To Get The Verification Visit Yopmail.com & enter the mail Id you chose.
You will see the Mail here, Now Copy Your Verification code.
Enter This Verification to Realme U1 website & Your Referral Count will be Increased
More Rules –
1. Activity period: Jan 3rd to 6th , 2019. The winners will be announced on Jan 6th.
2. Top 560 participants by Jan 6th at 12:00 pm will be declared winners and win the corresponding listed prizes. Other participants will win Realme Community medals.
3. Every participant will have 100 default R Power, which can be increased by sharing this activity with their friends.
4. Users can help each other increase their R Power daily, but one user can help another user only one time per day. R Power will increase by a random value between 80 and 100.
5. Realme will send coupon codes to winners by mail or SMS before Jan 7th. Coupon codes can be used only by winners' Realme account to buy featured products on Realme India Web Store from Jan 7th to 9th – coupon codes will expire if not used within this timeframe.
6. If two or more participants achieve the same R Power in the last place of each section, the one who has reached such R Power level first will win the prize.
7. Top 10 winners will get a free Realme U1 and will need to place their orders on Realme India Web Store. Winners of the 50% off coupon for the Realme Buds will be charged shipping fees.
8. Realme reserves the right to disqualify participants who do not respect the rules of the R Power Challenge.
Terms & Conditions –
Realme Yo! Days Amazing Offers
Free Realme U1 & 50% Off Realme U1 & 20% Off Realme U1
Free Realme Buds
Tech Backpack crazy deal at ₹1
Buy Realme U1 and Get Free Realme buds
Realme Buds First Sale
Registration
Customers will need to register to Realme India website to be able to participate. The registration will be considered as a consent from the customer to receive further communication regarding the Event, prize confirmation and other Realme India promotions.
Who can participate?
1. The Event is open to Indian residents and applicable within India only.
2. Employees of Realme, their subsidiaries and affiliates, or of other companies / suppliers / advertising agencies / event management companies associated with the promotion of this Event, as well as the immediate family (spouse, parents, siblings, and children, and each of their respective spouses) and household members of each of the above-mentioned employees cannot participate.
Prize Distribution & Delivery
1. For "R Power Challenge" winners, please go to activity page to check your coupon codes. For "Subscribe to Win Realme Buds" winners, Realme will contact you to get your address by mail, please check your mailbox timely. Once Realme get your address, the prize will be delivered within one week.
2. In some cases winners may directly be given coupon codes as prizes and will have to use that coupon code to purchase products from Realme India Webstore from Jan 7th to Jan 9th.
3. If you have any doubts during the contest, please call at 1800 102 2777.
Personal Information Collection
Personal information collected from participants will be used by Realme for the purpose of delivering prizes to the winners. Realme shall not sell, share or disclose personal information of participants to any third parties, other than third parties engaged by Realme to fulfill the above purposes.