With the advent of Smartphone, a lot of gadgets that were previously very important to us have lost their appeal. These Smartphone's have replaced alarm clock, calendar, calculator, camera and even the need for a computer. You can work from anywhere, without a desktop or even a laptop, thanks to them! Any moment can be captured forever with them. You don't need to look for a camera to capture your baby's first steps or lost tooth or first words. These phones provide you with an opportunity to not just capture such moments but also recall them as and when you please. What's more, they are so light and easy to use that it is indeed a child's play to operate them.here is tip for Deleted Data Recovery.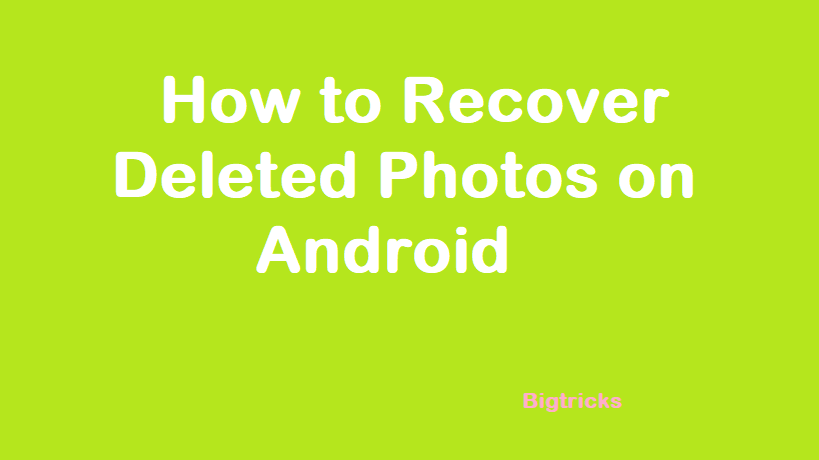 Most of the parents let their kids use their Smartphone's. Even toddlers today that are unable to utter proper sentences can run a Smartphone. In fact, sometimes, they are able to do much more than we elders can comprehend or might know about the gadget. This might be because they don't over think and are unaware of the consequences of their actions. We, on the other hand deliberate about the what ifs…. One of the reasons for the deliberations is the accidental mishaps that might occur if we aren't careful. The most frequent of those disasters are the deletion of photos and videos from your phone.
Deletion of photos from Smartphone – a nightmare
Accidental deletion of photographs and videos either by you or your naughty little one can cause a surge of emotions, from rage to despair, in your body. Every one of us has gone through this disaster once or maybe twice, since using a Smartphone. Not all of us are smart enough to keep a backup of those precious memories in different locations and we hardly ever think of getting them printed! However, being despondent won't work. They say, 'necessity is the mother of invention'. So, the deletion of photos from digital memory, led to the development of various data recovery software. Various software are available which can be used to recover deleted data from different phones.
LG G5, is a Smartphone announced by the flagship company in 2016 and had become quite a rage since its introduction. It has an amazing design with aluminium chassis and zero antenna bands, excellent dual-lens camera, faster processor, lightweight, great battery life, an expansion slot to store huge amount of data including photos and videos. Despite having an expansion slot, if you accidentally erase photos, don't lose heart. You can easily recover the deleted photos using  TunesBro Android Data Recovery.
How to Recover Deleted Photos on Android Phone with TunesBro
Photos stored at default location in the phone can be easily recovered. By default, when you login to your Google account, a digital backup is made of all your photographs on Google photos app (Google folder). It is similar to cloud storage or a Drop box. The official LG backup app also works on the same lines. If however, the photos are stored on the internal memory, they are lost forever (if no backup is available). The photos stored on SD card can be recovered by using any of the above mentioned data recovery programs.
You can easily recover lost photos and videos from your LG G5 phone using these simple steps:
Download TunesBro Android Data Recovery of your choice on your computer, install and launch it.
Connect your phone with your computer using a USB cable. (Alternately, you could also use your SD card with a card reader)
Once your phone is detected, select the type of data you want to recover (documents, photos, videos etc.)
Keep in mind to enable USB Debugging to get your phone into developer mode to recover your photos.
Click 'next' and scan your phone (standard or advanced mode).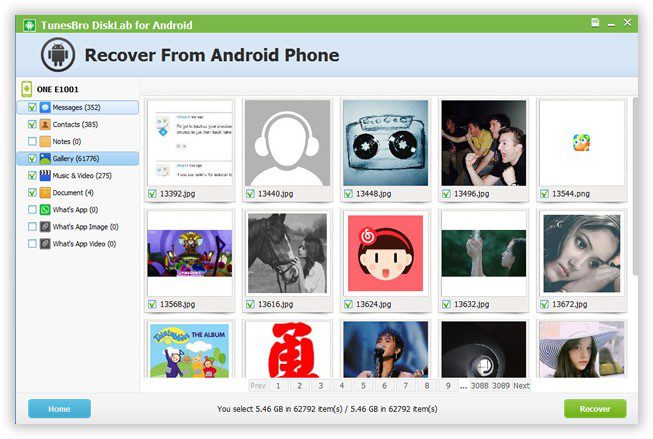 Browse through the scanned results, check the photos you want to recover and click 'recover' to save them on your computer.
Avoid using the phone when photos are deleted as you may end up overwriting on deleted files.
Conclusion :-
If You accidentally Lost your important files or data it may be painful sometime it is also impossible to recover data from other sources because you do not have saved data somewhere else so in this case you need to have a recovery of your android phone and this may help to gain your files back .