Slice Sparks offers | Extra cashback on transactions
When I did not know slice OneCard was my favourite as it was metallic, looks cool and was rewarding but now all the rewards are stopped and it has become just like any other boring card fir apne mohalle me Slice card aya and spark offers in slice app are like awesome,
When there are Flipkart or amazon sales they give you 10% off with a bank card when you purchase for ₹5000 or more but we have slice cards that give you 10% off on no minimum order value.
Slice gives spark offers on various online and offline stores even on fuel. Till now there were cashback offers on Flipkart, Amazon, Ola, housing, MakeMyTrip, Dominos, Mobile Recharges, DTH and many other top brands.
If you don't know we have published about Slice Card where you can get free Rs.500 Cashback when you make your first transaction with a Slice pay card. Slice is a good payment option as it gives cashback offers on various online stores throughout the month.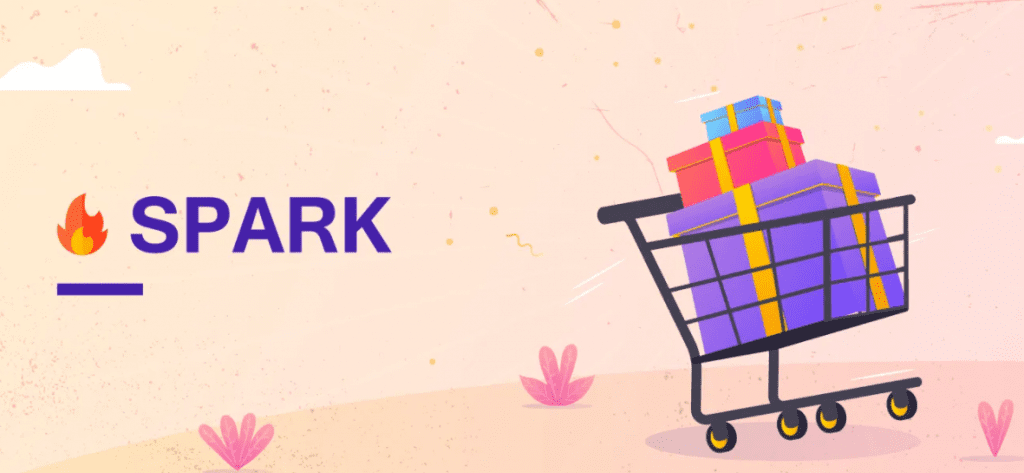 You can apply for a Slice card online using the below link and get free ₹500 + follow the below rewards option to get more cashback. You can check out Slice Invite Code Post to Know How You can earn free Rs.500 on Applying For Slice Card
What are Slice Sparks
Spark is your one-stop destination for all things offers and cashback! This feature lets you avail of offers with a single drag and drop. The experience offers a whole new innovative way. Here's why Spark is an amazing feature:
Apply For Slice Card & Get ₹500
Slice Card Offers January 2022| Upto ₹1000 cashback
Slice Spark Offer For Swiggy – Rs.100 Cashback on Add Money
This is a user-specific offer
Slice is offering a flat 50% cashback from Swiggy on add Money also. you can activate spark in the slice app and add money of Rs.200 in your swiggy app and done. You can use the amount later on any order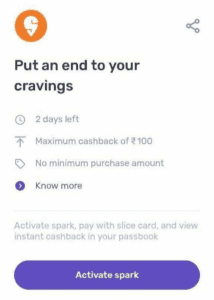 Slice Double Cashback Offer- 10% Cashback From Amazon + 10% Cashback From Slice
Slice is offering flat 10% Cashback up to Rs.50 and Amazon is also offering flat 10% cashback up to Rs.200 so a total of Rs. 350 cashback on shopping of Rs.2000 from the slice. card. You can collect the Slice amazon offer from the below link and activate the Slice spark offer and done, You can now do the transaction on Amazon and earn a flat 20% cashback.
| | |
| --- | --- |
| Slice Amazon Cashback | Claim Link |
| Slice Amazon Spark | Activate Spark |
| Slice New user Invite Code | JOKER258358 |
| More Details Of Slice | Slice Invite Code |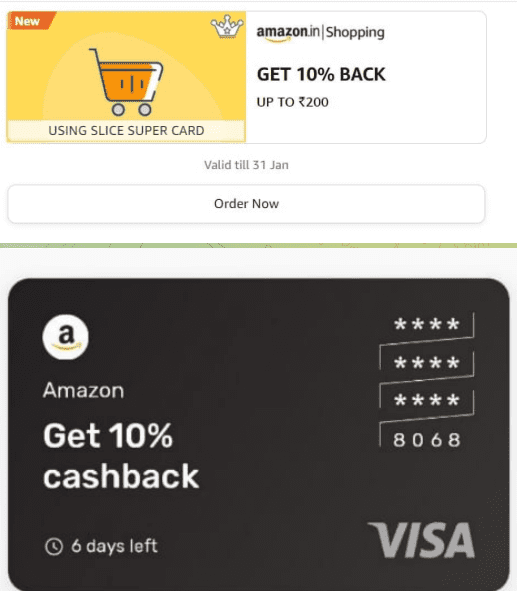 Slice Phonepe offer – Free ₹40 Cashback on Spend of Rs.300
1. First of all Open the Slice app and Activate the Phonepe Spark from Spark Section
2. Now Do a transaction on any merchant and choose the payment option as phonepe.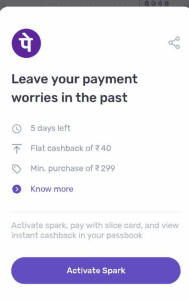 3. now don't pay using Wallet, click on the card and add your slice card and make Rs.300 payment.
4. Now you will get the cashback in your Slice account.
Free Amazon Prime Membership on Slice Spents or Zomato Pro Membership
Hello Friends, Slice is offering Free Amazon Prime Membership or Free Zomato pro Membership for Selected users on spent of Rs.4000- Rs.12000, You can find your offer under top offers section of Slice and check what you are getting. you can get free Rs.300 when you apply for slice card.
1. download slice and apply referral code while signup: signup on Slice
Referral Code: SNOW230353
2. Now, once you signup go to the sparks section.
3. Go to the top offers section and you can see the offer details.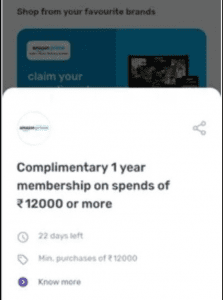 This is an exclusive offer for you and is valid on transactions done on slice card
Just spend Rs. 15,000 or more on your slice card during the offer period
Fuel, rent payments and wallet recharges are not counted for this offer
Any transaction which is reversed or refunded will not be considered
Once the bill is generated for November, it has to be paid in full by 5th of December
You will receive a voucher code for 1 year Amazon Prime membership by 20th December, if you qualify as a winner for this offer
₹150 Cashback on Mithai etc
new November spark offer which gives you Rs.150 cashback on Sweets purchase, ₹150 Cashback on Myntra etc.
Below offers might be outdated as the offers in-app keep updated, you just need to check the sparks section of the slice app to know what are latest offers running
₹50 Cashback on Spent of Rs.250 From Slice
Slice is offering free Rs.50 cashback on spent on Rs.250 on any merchant. You can spent on Amazon, Flipkart or any other store even on Fuel payments too. Just activate sparks & do the transaction valid till 24 August , 6 PM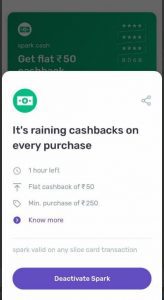 ₹150 Cashback From Amazon Pay
Slice is offering free Rs.150 Cashback on Amazon Transactions, You can purchase Amazon vouchers or anything with that voucher from Amazon. This Offer is valid For 1 day only Grab fast.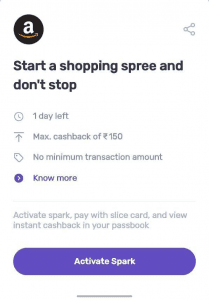 ₹100 Cashback From Flipkart on Shopping Worth ₹1000
Slice is providing spark where you can activate it and get free ₹100 cashback on purchase of ₹1000 from the Flipkart website. You just need to use your slice card.
---
---
₹400 cashback on shopping from Makemytrip
With the MakeMyTrip offer, you can get Rs.400 cashback + monies on purchase with Makemytrip and Slice card. you just need to purchase as usual from Makemytrip. You can purchase vouchers from Makemytrip also. it offers you 10% cashback
₹50 Cashback on Rs.349 Mobile recharges
You can get free Rs.50 cashback on transactions on Jio App, Vi App or Airtel app.
apart from these offers, you will also get 1% rewards on every transaction which you can redeem at any time. These are instant reward points and never expire.
How To activate Slice Sparks & Earn Extra Cashback on Transactions
Do not forget to activate the spark before you shop or make transaction
1. Download the Slice app from playstore and activate your account
2. Now you just need to click on the spark icon from the bottom tab.
3. you will see all available offers. Click on any and activate the offer.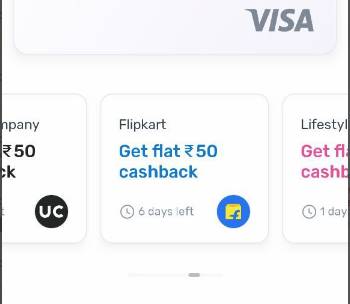 4. Once you activate, You can make the transaction on that store and you will get the cashback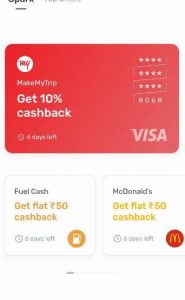 5. You will get cashback along with free 1% rewards called monies
---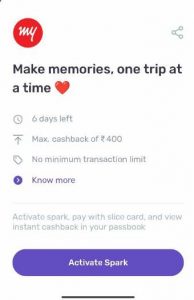 6. Cashback will be credited instantly to your card.
7. Each spark offer is valid once per user until it is mentioned
₹40 Cashback from Phonepe on Shopping on Rs.500
Now get free Rs.40 cashback on shopping of ₹500 from phonepe, you can purchase gold or buy anything else.