Swiggy Loot Order Food Worth Rs.129 For Just Rs.15 -20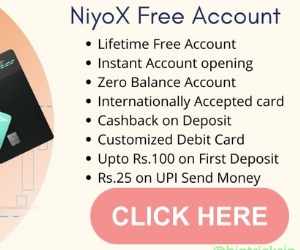 Hello Friends, We are here with new Offer where you can Get swiggy Food Worth Rs.129 at Just Rs.15 to Rs.20 Using Two Offers Follow Below Steps  Flat 60% off + Extra Rs.40 cashback via Paytm
1. Search restaurant showing 60% off, u can see code DEAL60 in offers.
2. Make Total Cart ₹129 or above (So that Both offers applied)
3. Apply code: DEAL60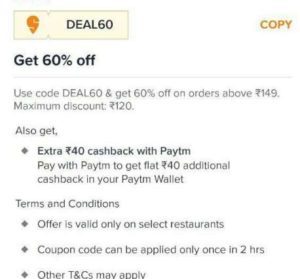 4. Pay via Paytm to get ₹40  Cashback
---
Expired
Swiggy Rs.200 Off Coupons – No Minimum Required Grab Fast Try
Try Random Combination of SWTREATS-XXXX & Apply 
SWTREATS-CFJI
SWTREATS-RRGV
SWTREATS-WSUF
SWTREATS-ZJJW
SWTREATS-YTCN
SWTREATS-KLXE
SWTREATS-CANK
SWTREATS-BNSC
SWTREATS-RACG
SWTREATS-IVZL
SWTREATS-ASHV
SWTREATS-CANK
SWTREATS–HUOV
SWTREATS-TBFS
SWTREATS-YCGH
Bigtricks.in – Loot Deals & Offers, [27.12.18 14:54]
SWTREATS-KMLR
SWTREATS-RQKU
SWTREATS-IXSU
SWTREATS-FQJC
SWTREATS-IZDG
Important Terms and Conditions:
 Your Cashback will track at the lower amount and will get confirmed to Rs 30 within 5
Days
 Maximum discount using coupon code is Rs 100 per order.
 Coupon code not valid on COD payment method.
 Cashback not valid on Swiggy App transactions
 Swiggy Promo Code is valid in Delhi, Gurgaon, Noida, Vizag, Pune, Jaipur, Lucknow,
Ahmedabad, Chandigarh, Indore, Surat, Coimbatore, Kochi, Pondicherry, Vadodara,
Ludhiana, Nashik, Nagpur, Mysore, Jalandhar, Tiruppur, Kanpur, Vellore, Thrissur,
Mangaluru, Trichy, Agra, Udaipur, Hyderabad, Bangalore, Chennai, Kolkata,
Vijayawada, Aurangabad, Warangal, Manipal, Mumbai, Bhubaneswar, Trivandrum &
Kota.
Swiggy Cashkaro offers – Cashkaro is Offering Rs.50 Cashback on Swiggy Orders & Rs.25 On Signup. You can Get Cashback Once per account along with Cashkaro offer, You can also avail swiggy coupons & Amazon Cashback Offer. So It's a Triple loot. Just Visit Cashkaro & Order as you usually do.
New users can also get a 60% discount on the order using SWIGGY60 Promo Code.
You Can Combine Amazon 10-200Cashback offer + Rs.50 Cashkaro + Rs.25 on Signup at Cashkaro + 50% Off Coupon Codes & This sounds delicious to me Let's see in details.
Let's suppose you place an order worth Rs.250 Then Rs.100 Off Through 50% Off Coupon Code + Rs.20 Cashback From Amazon Pay + Rs.50 Cashkaro & Rs.25 on Cashkaro Signup so You Got Rs.100 +200 (upto)+50+25 = Almost Free Cashback so You got Rs.30 extra than Your Food. Note Amazon 30% Off offer mat live & expire anytime.
There is no Minimum order Requirement to place the order. you will get cashback even if you order food worth Rs.1 or 10 and if you avail Amazon Swiggy 100% cashback offer so grab this offer now.
Summery Of Combination –
Cashkaro Rs.25 On Signup + Rs.50 on First order of Month at Cashkaro
60% Off Using Swiggy60 Promo Code.
Rs.30 Cashback Using Amazon Pay on Order Value Rs.100
Rs.30 Cashback Using Google Pay
How To Get Rs.220 Food Free From Swiggy –
VISIT this link to create an account and earn Rs.25 Sign-up bonus on CashKaro for
free(Use This Link to Get Rs.25 Signup Bonus)
Now, VISIT HERE for SWIGGY Cashback offer page and click on 'See Coupons with
Cashback' to get redirected to SWIGGY's official website
Look for your food and place your order like you normally do on SWIGGY.
Apply Coupon Code Given in Your Account Like SWIGGY60 For 60% off & more in Your Coupon Section.
Come back to your CashKaro profile and go to 'My Earnings' on the top right of the
page to see your Cashback in Pending Status
(Note: This is XPRESS CASHBACK AND WILL BE CONFIRMED WITHIN 5 DAYS!!)
 Just wait for 5 days for your Cashback to get confirmed by us!
The Cashback can be sent to your Bank Account through NEFT.
Still Hungry? This Cashback can be availed twice per unique user so just order some
more food!!!
Now at Swiggy Find Restaurants which are offering 60% Off Using Swiggy60 Promo Check Screenshot 10. Place Your Order worth Rs.220 and Apply Coupon Code SWIGGY60
Now Pay Using Amazon Pay or Google Pay For Rs.30 Cashback.
So you have got Rs.220 Food Free.
Unlimited Trick –
You can Get Free Food every time so just Create new Cashkaro Account every time using our Link(Rs.25 Bonus) & Place Order on Swiggy to Get Cashback
---
Unlimited Trick(Over) –