Timespoints Hey Day Offers
TimesPoints is now active on TOI app, and they are giving away exciting prizes this Independence Day. Hundreds of winners can win FREE Duopods, truly wireless headphones from popular brands like Leaf Headphones, Mivi and Hammer, Myntra Gift Cards, Gift hampers from WOW, Beardo and MenXP, Alt Balaji Annual Subscriptions and much much more. Selected redeemers will also win Complimentary vouchers from TAJ Experience with which you can avail Luxury stay at any of the TAJ hotels, restaurants, Spas and other services provided by the hotel chain. 
You just need to spend Timespoints during the offer campaign. The top spenders will get assured freebies daily and lucky bumper rewards.
Timespoints is a website where you can earn points and redeem for various coupons and deals and shopping vouchers. You can earn Timespoints for reading news on the TOI Application or website and a lot of other tasks. There are exciting deals from popular brands, you can get upto 80% discount and there are some No Cost Deals also to be availed during this limited period to campaign.
During this campaign, you just need to earn points by reading news and redeeming for the deals and other coupons from the huge catalogue of the Timespoints. This campaign is valid till 14th august so be at the top and you can surely earn something big.
Best Deals That You Can Redeem
Flat Rs.350 off on TAGZFOODS on Shopping of Rs.500
There is one good deal that you can redeem for 10 coins only. You will get flat Rs.150 off with that coupon. You can get a pack of 8 healthy chips to pack for just Rs.150 which is Rs.18 per pack and it's a loot at that price. You can redeem 10 points for the deal
1. First of all Visit Timespoint Deal Page
2. Redeem the Deal for 10 Points only
3. Now you can visit Tegzfoods website from the link Tegzfoods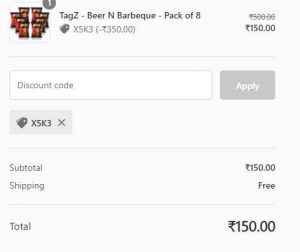 4. No Shipping Charges are there, Order as much as you want.
Free Menxp Shop [ Just Pay Shipping ]
---
How To Win Free Goodies and other Freebies From Timespoints
1. First of all click on the below link to check the Timespoints Hey Day Campaign offers.
2. Earn Timespoints by completing tasks like reading news, Commenting under news and sharing
3. You need to redeem these points for available deals and coupons from timespoint products using the below link.
4. Now redeem as many points as you can and you will win assured freebies if you are in the top redeemer.
5. Next day every top redeemer will get the freebies.
6. The offer is live till 14th August and you can win prizes for these 3 days.
7. There will be a few lucky winners who will get Free Taj Experience Voucher
---
Terms & Conditions
Prizes will include (but are not limited to) 'Taj Experience' vouchers for a few lucky Winners (decided at the Company's discretion). Such lucky Winners will be eligible to receive 'Gift Cards' from 'Taj Experience'. The Gift Card can be used for stays, dining, spa appointments, and many more indulgences at certain Taj Hotels in India, subject to any terms and conditions of The Indian Hotels Co. Ltd.
Other Winners will be eligible for gifts from various brands / merchant partners of the Company, as declared by the Company on the TOI Platform at the end of the Campaign Period.
Prizes are sponsored by third party brands/partners and in order to avail /use the same, the Users will be bound by the terms and condition of the respective brand/ partner. The validity of the prize will also be subject to such terms and conditions.
Users also understand that, in order to avail / receive any Prizes and/or any products / services from relevant brands / merchant partners upon redemption of Points during the Campaign Period, Users may have to pay any applicable delivery charges at sole discretion of the associated brands, and the Company has no liability in this regard.
Prize Winners will receive promotion codes via email / sms and the same should be redeemed at the respective brand website/ store (as specified by the brand) against eligible goods or services.
The Company shall not be liable for any actions or inactions of the third party brands/partners or any breach of conditions, representations or warranties by them or manufacturer of the products / service providers. The Company further expressly disclaims any warranties or representations