Get Free Water Bucket Ticket or Thandai Ticket For Free
Hello Friends, I hope you are looting payTM Cash with PayTM Holi Bash 2021 Offer. Many people even got Rs.7000 From This Offer, So If you are late then grab this offer before it's over. You can Earn Free PayTM Cash by Collecting Cards in PayTM Game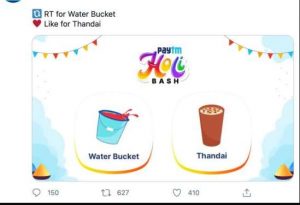 There are multiple rewards in this game including paytm cash for every line and Voucher. Follow the below tricks to get Free PayTM Cards.
PayTM Holi Bash: Get Rare Cards "Thandai" & Water Bucket
1. First click on the PayTM Tweet
Giveaway time for #PaytmHoliBash 🥳

🔃 RT for Water Bucket
♥️ Like for Thandai pic.twitter.com/QcrvYDprHw

— Paytm (@Paytm) March 18, 2021
2. Now Retweet or Like the Post and wait when the Post the giveaway link.
3. We will also publish the direct link on our telegram channel
4. Click on the link and open the paytm app wit it.
5. You will get Free Thandai or Water bucket card.
---
The Giveaway Time will be in the evening so stay active in our telegram channel to get it first.