There are dozens of planned WhatsApp features coming soon (GIF support, video calling, image annotation, and more that some were able to trigger with a bit of root know-how), but I'm not here to taunt you with things that you can't play with yet. So let's talk about a feature that's already live.
In the latest beta of WhatsApp, 2.16.230, there's a new option that will make life for a lot of you easier: multi-select when forwarding or sharing a message. No longer will you have to send a message to one chat, then go back and do it again to send to another, and so on until all your groups and friends and maybe even your mom have seen that awesome screenshot of the Dragonite you just caught.Share to or Forward to multiple chats (frequent chats on top)
Instead, whether you're forwarding a message from one chat to another or sharing a photo or video or document from your phone to WhatsApp, you can tap and hold to select multiple recipients, saving you all the hassle. Even better, WhatsApp will now show you the 3 most frequent chats on top so that if they're not your most recent ones, they're still more easy to find and share to.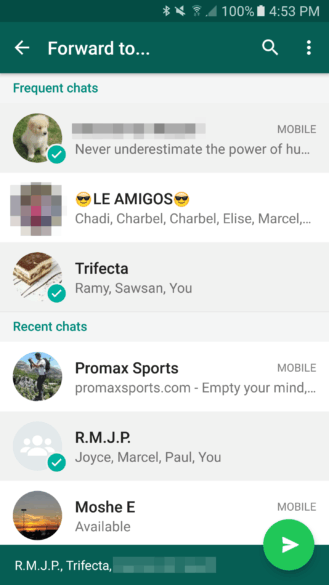 The frequent contacts had shown up a couple of beta versions ago, but at the time, it didn't seem like multiple selection was possible. Now it is and we're all a little more thankful for it. You can download v2.16.230 of WhatsApp from APK Mirror or join the Play Store beta and grab it there.