Hey Guys, there is a good news from the supreme court of India for all the Indians, Now there is no need to link Adhaar with e-Wallets. The Supreme Court has struck down compulsory linking of mobile phone numbers to Aadhaar.
Customers are also not required to link their adhaar number with their mobile to continue service. You can Follow below steps to de-link your Adhaar Number and it's your right if you ask companies has to remove your adhaar number 😉
With the Supreme Court verdict, telecom service providers like Airtel, Reliance Jio, Vodafone and others can no longer force users to link their Aadhaar card to their current mobile number. It also means that not linking Aadhaar to mobile phone numbers will no longer result in telecom services being stopped for the customer. This also means that digital wallets like Paytm or Amazon Pay Balance cannot demand Aadhaar data from customers in order to to do a verification and allow them to continue using the services.
As result paytm has removed Adhaar KYC Option from The Platform, Now You can do Minimum KYC with Any other Government ID proof –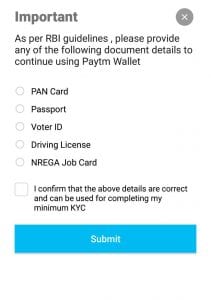 Source – Click here
Changes will be implemented in upcoming days
How to De-Link Adhaar From PayTM –
First of All Call Paytm customer Care at 01204456456
2. Now ask them to send the email for delinking of adhaar.
3. When you receive the email from PayTM, Now Send The scanned copy of your adhaar card for verification purpose.

4. Once you send the document, your adhaar will be de-link within 72 hours..
The De-Linking process from Mobile Provider is not yet launched but
How to De-Link Adhaar From Freecharge-
To be Updated …..(Not Yet Announced officially it Make time)
How to De-Link Adhaar From Amazon Pay-
to be updated ……(Not Yet Announced officially it Make time)
How To De-Link Adhaar From Bank Account of All Banks –
Here are The Steps to De-Link your adhaar number from your bank account in any Bank including private Banks, the procedure may take time as the law recently comes in power
There is no way to de-link your adhaar online. you have to visit your branch and write an application for that
Step 1: Visit your bank branch
Step 2: Ask the customer service to give you a physical form to unlink Aadhaar.
Step 3: Submit the form
Step 4: Your Aadhaar will be delinked with 48 hours
Step 5: Call your bank to find out if it has been unlinked.
How to De-Link Adhaar From Airtel –
to be Updated…(Not Yet Announced officially it Make time)
How to De-Link Adhaar From Jio-
to be updated…
How to De-Link Adhaar From Idea –
to be updated …(Not Yet Announced officially it Make time)