Airtel Love in the Air offer – Hello Friends, Airtel is her with new Google Pay New Year Like Offer. Now Send Your Wishes & Collect 5 Stickers & Win Assured Amazon or BMS Vouchers. You can Even Redeem for Other Prizes like Bluetooth Speakers & Flight Tickets.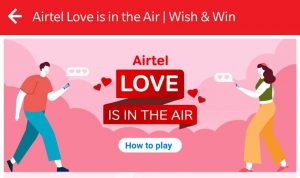 This Offer is available for the Users whether You are an Airtel / Non-Airtel Subscriber. Just Click on Below Links, Collect the Stickers & Redeem Fast to Win Vouchers. Hurry! As there is a limited number of Stock
You can Send Extra Stamps to Us & Stay Tuned for Giveaways.
Prizes to Redeem –
₹100 Amazon Gift Card
₹500 BookMyShow Gift Card
Mi Bluetooth Speakers
Noise Bluetooth Earphones
₹20000 Make My Trip Gift Cards
---
How To Collect Stickers & Earn Amazon Vouchers and More –
[Stay Tuned to Our telegram Channel, We will Post Stickers Giveaway Join Now ]
1. First of All Download Airtel App From Playstore
2. Now Login in Your Airtel App & Visit Offers Section
3. You Can Find The Love in The Air Game.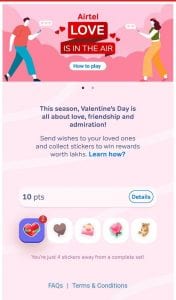 4. Open it & Start Collecting Stickers & Share to Earn More.
5. Open Each Link below one by One to Collect Stickers.
6. Now Click on Any Sticker & Share with Friends & Earn More Stickers.
7. You will also get 5 Points for each Sticker Share & Exchange.
8. When You Collect All 5 Stickers, You will get one scratch card & 25 Bonus points.
9. You Can Share Stickers to Our Channel & be Active to Our Channel for Giveaways.
---
What is "Airtel Love is in the Air"?
"Airtel Love is in the Air" is an interactive program recently launched on Airtel Thanks App. It gives all app users an option to send valentine wish stickers to their loved ones. The collection of stickers entitles users to collect points on every successful wish sent or received. Accumulated points can be redeemed against unlocked milestones on the rewards page on the app. It is valid across all services of Airtel.
It will be available on App from 07-Feb-2020 till 18-Feb-2020.
What are "Airtel Love is in the Air" Stickers?
"Airtel Love is in the Air" stickers can be used by all our App users to send well wishes to their loved ones. Users can wish their friends using these stickers. For each successful sticker sent or received, the sender and receiver will earn 5 points each.
How can I share Stickers?
Stickers can be shared via Whatsapp, Facebook Messenger, Facebook, Twitter, and SMS
How can I collect "Airtel Love is in the Air" Stickers?
To collect a sticker, the user needs to:
Go to Home page
Tap on any sticker to read the description
Each sticker description drawer has a "wish now" button
You can choose to send anyone sticker by "wish now" button
Select any one of the stickers and click on wish now
Opt for any preferred mode (Whatsapp, Facebook Messenger, Facebook, Twitter and SMS) to start to send your wishes
Is "Airtel Love is in the Air" Contest open for iOS users?
"Airtel Love is in the Air" is currently open only for Android users on Airtel Thanks App. Users will not earn any sticker if it is shared with any iOS user.
Can I send multiple stickers to the same person?
No. One sticker can be sent only once to the same receiver. The receiver cannot use the same sticker to wish back. To collect more stickers, wisher needs to send stickers to different people.
What happens if I collect 5 different stickers?
Once you have collected 5 unique stickers you are eligible for a scratch card which will entitle you to win rewards. Also, you will earn a bonus 25 points.
How many scratch cards can I earn during the contest period?
You can earn only 4 scratch cards during the contest period.
---