Google Pay Scratch Card Bug: hello Guys Today Bigtricks is Again Back With An Exclusive trick to get Tez Scratch cards Without Sending Rs.150 or More To Your Five Friends. You can Get Unlimited Tez Scratch cards by Sending Rs.150 to Your Self any Number of Times.
Guys if you have an account on Paytm Payment Bank Than there might be a chance that your request gets rejected because of slow server of paytm so use other Bank Accounts or Keep Trying until it gets processed
We Have Found A Trick which is Working Perfectly and Posting On Bigtricks First.I have Also Uploaded a Video On Youtube with Live Tutorial, You can Watch this and Get this Process Step by Step. if You Like This trick or it Worked for You. Please Share with Friends and let them know about this. So let's Start The Trick.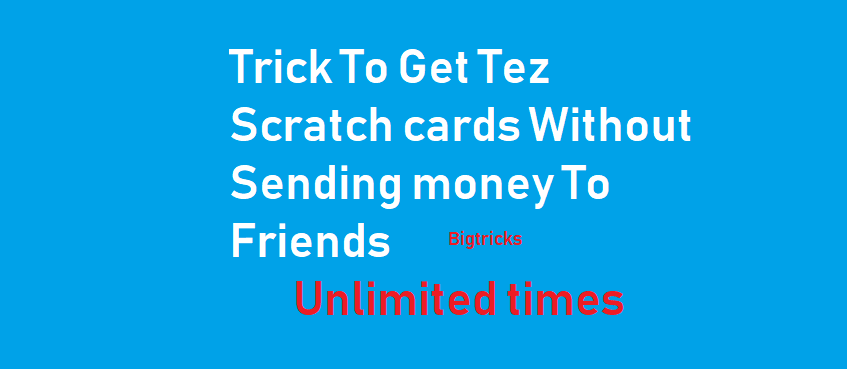 First of all, You will need to have A Google Pay app and Any other UPI app like Paytm, Phonepe or any other. First, use Phonepe than Paytm coz paytm is working too slow because of Paytm UPI Offer.
Video Tutorial :
How To Get Google PayScratch cards by sending Money to Your Self:
1.First of All Download tez App From here.
2.Download Paytm UPI App or Phonepe(Rs.1000 Cashback on Signup)
3. Now Create Accounts and Complete all basic steps.
4. Now On Phonepe or Paytm UPI App request Rs.150 to Your Tez UPI ID.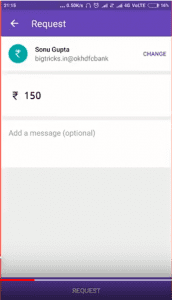 5. When You request, you will Get a Notification in Tez App.

6. Now Pay The Amount By Clicking on Proceed Button Only (Do Not Press Send Money Button)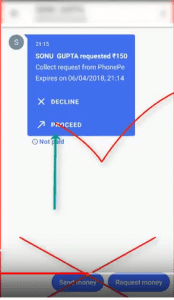 7. Pay The Requested amount using the UPI bank account by entering mPIN.
8. Once You pay, You will Get one Scratchcard worth Rs.1000.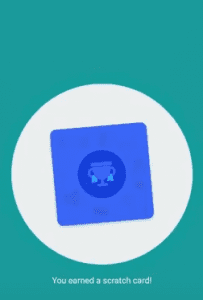 9. Now To Get More Scratch cards Follow Below Steps.
10. Open Paytm or Phonepe App and Go to My account as Shown in Pictures.
You can also watch the tutorial on youtube bigtricks channel
11. Now tap on UPI and Add New UPI Address as per Your Choice Like bigtricks1@ybl, bigtricks 2@ybl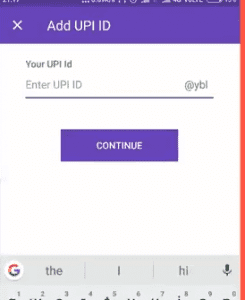 12. Make The New UPI Address as Default UPI.
13. Now Again Request For Rs.150 & More from Phonepe or Paytm App.
14. Pay the Amount Using Tez App and You will get Scratch card again.
15. You Can Repeat Steps 5 times to get 5 Scratch cards and if You have Multiple Accounts You can Use Each Upi Address Multiple Times.
Note: You can create only 3 UPI Addresses In Phonepe App while You can Delete & create Unlimited UPI Address in Paytm So Use Paytm One you used all 3 UPIs Of Phonepe also Paytm Works Slow Sometimes.
If you did not Get The Trick Or have Any Query please Comment and if This worked for You Please Share with Your Friends.
Credit For This Trick – Prajwal