Airtel V-Fiber : Airtel recently launched V-Fiber service in india to provide high speed internet with speed upto 100 Mbps. they are launching V-Fiber service with Welcome Offer in which customer will get Free Access to unlimited Data internet and calling For three months.currently Airtel V-fiber service is available in Chennai only but soon this service will be extended to Delhi and Mumbai and Soon in all over india .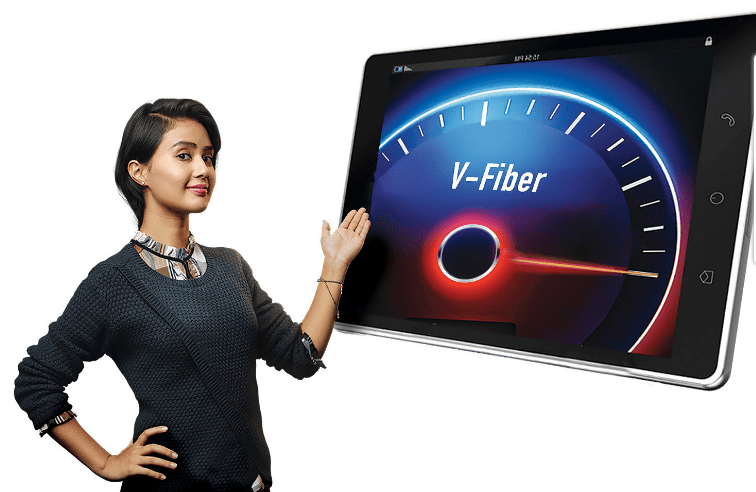 What is V-FIBER?
V-Fiber is a unique combination of fiber and Vectorization technology that delivers super fast speed. That means faster downloads, less buffering, and an ultra-reliable Wi-Fi connection for all the devices in your home.
Advantages:
Fast Movie Downloading .
Make Video calls with zero Lags
Download Songs At Your snap of finger.
Download Upload heavy Files without worry.
Steam videos without any buffer .
How To get Airtel V-Fiber Connection :
Go to Offer Page From Here
Click on apply For Free Upgrade .
Now Fill  your Mobile Number and details .
Soon A Executive will call you for verification .
Terms and conditions
Airtel V-fiber Offer
The Airtel V-Fiber offer ("Offer")is being provided by Airtel to any customer who is user of Airtel's DSL broadband service as on 13th October 2016, or new customers who wish to avail Airtel's DSL services on or after 13th October 2016.
The Offer allows a broadband user to benefit from our new Vectorization technology coupled with fiber back end and get unmatched internet speed and unlimited free calls across India.
The Offer is valid only in Chennai city, Tamil Nadu and in respect ofAirtel's DSL broadband rental plans of higher than or equal to Rs. 999 ( Rupees Nine hundred andNinety Nine Only) per month.
This Offer is not valid for special, commercial or enterprise plans.
This Offer cannot be combined with any other offer provided by Airtel.
In order for an Existing broadband customer to avail the Offer, the eligible customer must:

visit the page www.airtel.in/vfiber and enter their DSL ID, or STD Code & landline number associated with the DSL connection
subject to feasibility at the desired point of connection, Airtel may confirm the provision of the Offer to the eligible customer
Once the feasibility has been confirmed, an existing customer shall pay a one-time fee of Rs. 1000/- for activation of the Offer. Customer will continue to subscribe to the existing base rental.
If the customer is not satisfied with the service, he/she may apply for cancellation to subscription to the Offer within 30 days of activation. Airtel will refund activation charges and the amount will be adjusted in the bill cycle for the following month.

In order for a new customer to avail the Offer, the eligible customer must:

visit the page www.airtel.in/broadband and select base plan, enter mobile number and address to raise request for new broadband connection
subject to feasibility at the desired point of connection, Airtel may confirm the provision of the Offer to the eligible customer.
Once the feasibility has been confirmed, new customer shall pay a one-time fee of Rs. 1500/- (non-refundable) as activation fee.
Upon subscription to the Plan, for a period of 3 months following the date of activation of their new connection, a customer shall, subject to feasibility at the point of connection, be able to enjoy unlimited downloads at up to 40 Mbps up to fair usage limit of 100 GB per month, in addition to the base plan chosen by them ('FreeSubscriptionInternet'); post exhaustion of which the download speed shall be 512 kbps. The said Free Subscription Internet will exhaust at the end of each month, regardless of usage, and cannot be carried forward to the subsequent month. After expiry of the said 03 month period, the customer will be re-instated to its chosen base plan and shall enjoy data limit and speeds as per subscribed plan only;

The extent of applicability of the said Plan, the usage by an individual customer and the entitlement of the Free Subscription Internet is subject to the network feasibility in the area of residence of the interested customer. The network feasibility of the specific area shall be communicated to the customer at the time of sale.
These Terms and Conditions shall constitute an agreement between Airtel and each customer and by subscribing to the Plan, you accept the same as binding upon you.
The terms and conditions of usage of Airtel continue to be applicable upon you as a user of the broadband services.
Airtel will be entitled to postpone, suspend, modify or cancel the Plan or any aspect thereof, across the entire territories of service or any part thereof, at any time with or without notice, for any reason, including, but not limited to, acts of God, force majeure, technical difficulties, or any other reasons beyond Airtel's reasonable control. If Airtel suspends or cancels the Plan, all aspects of the Plan shall be null and void. Airtel will not be liable to compensate any customer for any postponement or cancellation or for any reason directly or indirectly arising out of this Plan.
Customers who are in default of payment may not be eligible for the offer.
AIRTEL HAS NO LIABILITY WHATSOEVER IN RESPECT OF ANY CLAIMS OR DISPUTES AND ANY RESULTING DAMAGES OR LOSSES, WHETHER DIRECT OR INDIRECT, RELATING TO THE CUSTOMER AVAILING, NOT RECEIVING OR CUSTOMER'S USE OF THE OFFER.
AIRTEL MAKES NO WARRANTIES OR REPRESENTATIONS WHATSOEVER IN RESPECT OF THE OFFER AND THE BROADBAND SERVICES INCLUDING AS TO ITS FITNESS FOR ANY PARTICULAR PURPOSE, MERCHANTABILITY, QUALITY, AVAILABILITY, DISRUPTION OR ERROR FREE OPERATION.
Please note that the statements in these terms and conditions do not constitute any general representation from Airtel regarding Airtel's services or its availability. Airtel's broadband network is available on an 'as is where is available' basis and Airtel makes no representation, guarantee or warranty regarding the availability, fitness for any specified purpose or error free operation of the network. Network availability may be affected due to various reasons including force majeure, acts of god, inclement weather, topographical/ geographic/ demographic factors, maintenance work, availability of interconnection with other networks, etc.
Any dispute or claim (contractual or non-contractual) arising out of or in relation to this agreement, including disputes as to its formation, will be governed by and construed in accordance with Indian laws. Subject to the point above, Airtel and the customer submit to the exclusive jurisdiction of Courts at Chennai alone.