Jio 4G Speed Tweaks : Hello Guys , i hope You All Have Got Jio sim with Preview / Welcome offer if not then check this post . we have posted many updates regarding jio also helped all our subscribers on whatsapp . so in this post  bigtricks will reveal some tweaks to increase the speed of jio sim , you may have seen that jio sim is not getting proper speed of 4g i , myself getting speed 100-500Kb/s . however when you test speed in speed test and other apps it showed upto 15Mbps but i tried some tweaks to hack the speed and here is full description how you can increase the speed issue in jio sim card. After reading this post you will be able to hack jio speed .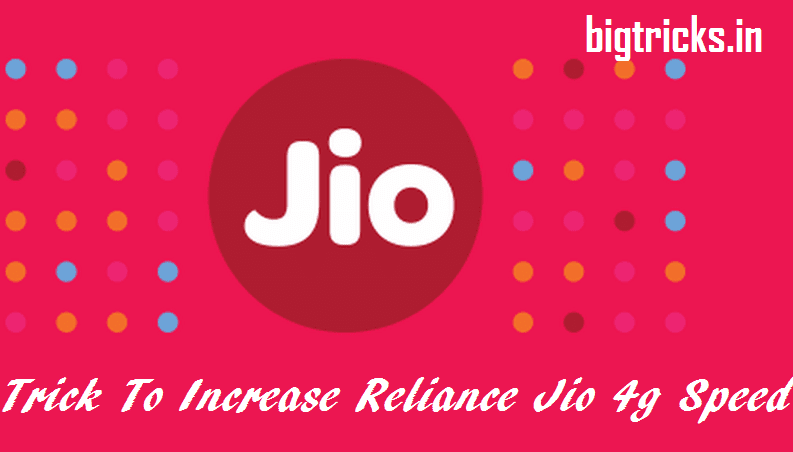 Some Tips To Increase Speed For Jio 4g Network.
If You Are Using VPN , Either Use Premium Version or Don't  Use VPN , It decreases speed.
Add Multiple Torrent files at the same time if you are using torrent..
It Was tested that Speed is batter When You connect through Jio Hotspot .
Use IDM to download files it creates multiple connection so speed increase some extent .
Settings To Increase Speed In Jio Sim .
Some Tweaks In Network Settings May increase your Speed too. For this you need to modify the default settings in network options goto >> Setings >> Network Settings>>Jio4G>> access Point Names.
Now Modify Settings From here.
Name – JioNet
APN – jionet

(Small Latters)

APN Type – Default
Proxy – Not Set
Port – Not Set

Username – Not Set
Password – Not Set
Server –

 www.google.com

MMSC – Not Set
MMS proxy – Not Set
MMS port – Not Set
MCC – 405
MNC – 857 or 863 or 874
Authentication type – Not Set
APN Protocol – IPv4/IPv6
Join Our Whatsapp Broadcasting Channel Send "AddMe' To +917062797276
After Modifying These settings just reboot your phone and connect to data again you will see some change in speed .
Some Related Posts:
Trick To Increase Speed Using UC Mini Browser
Now  download a file from uc mini

Pause the Download & Open Snap VPN

Then Connect to " India " Server & Resume Download in UC Mini
Again pause the download and open snap vpn
Disconnect VPN and Reconnect to " France " Server
Again pause the download and open snap vpn
At last Disconnect VPN & Connect it Back to India
Finally open uc mini and see your download speed.
You Will See Increased Speed
If you are still not getting Speed then Connect to " Singapore " Server Or Give A try To All Servers
This is a Fact , jio has now more than 10 Millions Customers so speed is not as same as it was before. i tested jio with speed 7 Mbps Downloading Speed and 3Mbps uploading speed in Mid Of August.now the speed is capped due to high volume of customers but tring some tweaks like premium VPN and Google DNS is working fine to increase speed .
This method worked for me as well as my friends . i try these tips and i am able to use JIO TV , Jio on Demand And youtube like app without buffering .
These Tricks are just some experiment that works for me So you can give a try to check weather it works for you or not . sometimes these tricks may not work for you so share with your friends too and help them too.