Aliexpress Is an International Ecommerce website, offering $2.00 Gift card for Free you can Get this gift voucher from the website and can be used on the purchase of $2.01 and above . those, who are looking for international shopping can go through Ali Express. this is an amazing And trusted website to Order WorldWide.So Grab This Offer Valid Only For 10000 Customers.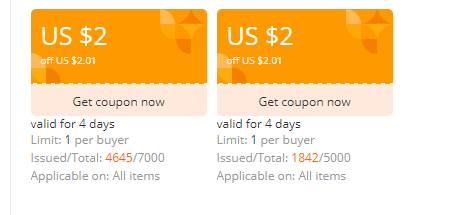 #How To Get This Offer:-
Now Click On $2 Coupon from Seller
Signup/Login to AliExpress Website.
Done, This Coupon will be added to Your Account.
Now You Can use This COupon For Your Next Purchase(See Below Screenshot)
Get The Coupon and Apply For The Shopping Of $2.01 or More.
The offer Is Valid Only For 10000 Customers.
Products Suggestions:-
Using This Coupon you can Buy Some Electronic Items Like Data Cable From Alibaba at a Very Small price, Below Are Some Suggestions.
USB Data Cables Starting From Rs.50(After Applying Coupon)