Hi,There We are here at bigtricks with a New Freebie Loot.Britannia Offering Rs.100 Paytm Movie Voucher with its Products.This Offer is Valid With Britannia Products you will get Rs. 100 Off Coupon On Activating The Coupon.This Offer Will be Available With the new lot Of Britannia Products that can be Purchased from Nearby Stores.You will get A Voucher Code Inside the Packet that will be activated on Britannia Redemption Website.
Read Also: – Paytm Movie Offer: Get 50% Cashback On TubeLight Movie Tickets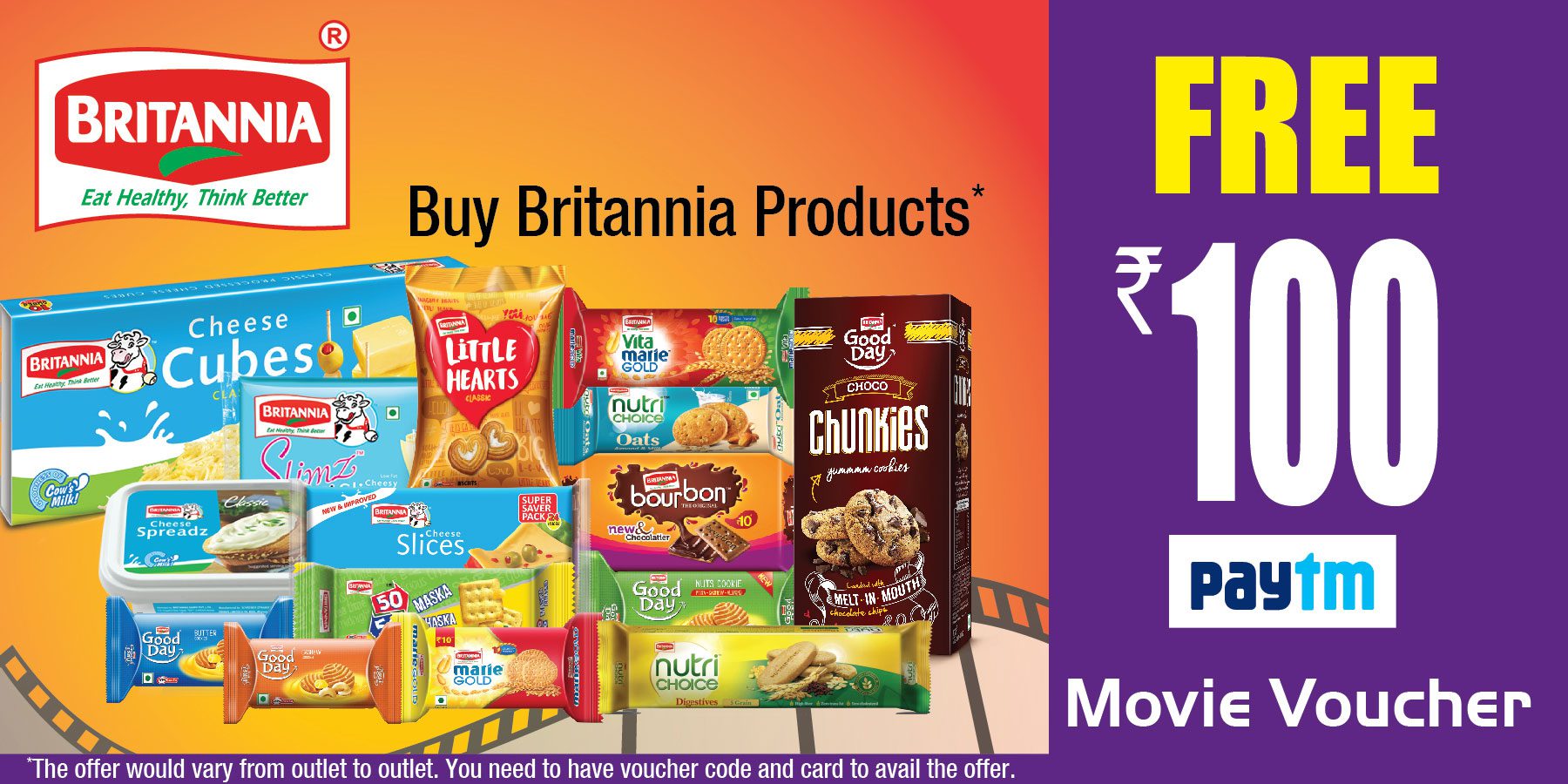 How To Get Rs.100 Movie Voucher With Britannia Products:-
Purchase Any Britannia Product From Nearby Outlet.
Ensure that The offer is Mentioned on The Packet.
Now Find Voucher Code Inside The Pack.
Visit Registration Page For Your Voucher.

Enter your cash code from Britannia Top pack and Click Proceed.
You Will Receive Authentication Number On Your Email ID.
Click on claim tab & submit the Authentication no. To receive your paytm movie ticket voucher
Now Apply This Coupon Code on Paytm or Paytm Web to Get Rs. 100 Off On Your Movie Ticket.
Select the payment method like Credit Card, Debit Card, Net Banking or Cash on Delivery
Terms & Conditions
1. Every voucher is valid to claim Rs.100 Paytm Movie Voucher by following the above process on campaign microsite
2. This offer entitles the end user Rs100/- off on movie tickets purchased on Paytm on all 7 days of the week
3. Registration is valid from 10/06/2017 to 10/09/2017 and Authentication code is valid for a period of 30 days from the date of registration of voucher.
4. Voucher code can be redeemed only on partner casinoplay website. This cannot be redeemed directly at venue.
5. This eGift voucher cannot be reloaded/refunded/cancelled once issued.
6. Discount offered is on one transaction only irrespective of number of movie tickets purchased
7. This eGift voucher can be used only for booking movies on Paytm.com or Paytm app.
8. This eGift voucher cannot be redeemed or exchanged for cash or credit nor can be exchanged for another Gift Voucher/Gift Card. Also, it cannot be re-validated once past expiry date.
9. This eGift voucher cannot be exchanged for smaller eGift voucher denominations.
10. A maximum of only 7 vouchers can be redeemed per person, per mobile number per week during the promotion period