Amazon 16th July Quiz Answers – Win Sony Alpha Quiz, Amazon is back with another Daily quiz contest, This quiz is also known as Amazon Quiz time. In today's Amazon Quiz time you can win a Sony Alpha Camera. Winners of this contest will be announced soon by Amazon.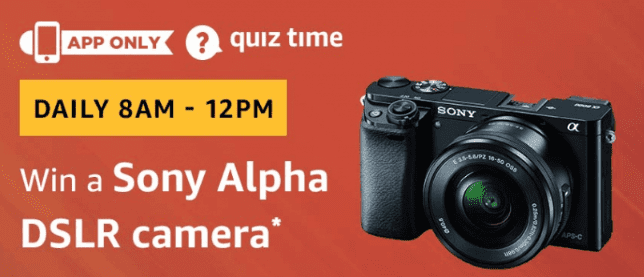 Amazon 16th July Quiz Answers –
1) Which of these cities is located on two continents?
Ans – Istanbul
2) In Roman mythology, who was the goddess of sorcery and witchcraft, also known as the goddess who haunted crossroads and graveyards?
Ans – Trivia
3) Angel Falls is the world's highest waterfall that starts at a height of 3230 feet and fall uninterrupted for a height of 2647 feet. Which country is this majestic waterfall located in?
Ans – Venezuela
4) Who is the author of the famous book of fables known as the Panchatantra?
Ans – Vishnu Sharma
5) Which is the first country to officially declare an 'environmental and climate emergency'?
Ans – UK
Terms & Conditions – 
1. This Contest Will Commence On 16th July From 08:00:01 A.M. (IST) To 12:00:00 P.M. (IST) ("Contest Period")
2. In Order To Be Eligible For The Contest, During The Contest Period, You Must Sign-In To Or Sign-Up From An Account On The Amazon. In-App ("Amazon.In-App").
3. Once You Have Signed-In To The Amazon. In-App, You Can Participate By Navigating To The Page Where 5 (Five) Questions Will Be Posted During The Entire Contest Period.
4. Thereafter, If You Answer All The Quiz Questions Correctly, You Will Be Entitled To A Lucky Draw Which Will Be Carried Out Amongst Participants Who Have Answered That Particular Question Correctly.
5. The Draw Of Lots Will Be Carried Out During The Contest Period For The Questions And A Total Of 1 Participant Will Be Selected As Winners By A Random Draw Of Lots.
6. The Declared Winner(S) Will Be Eligible For Winning" Sony alpha camera" (Hereinafter Referred To As "Prize(S)").
7. For Amazon Quiz Page – Click here