Amazon Offer :- Hey there. Welcome To BigTricks. Hope you guys are enjoying our previous offers and deals. We are back with a new offer. Amazon sale is also going to start and Amazon is also offering great offers for its users.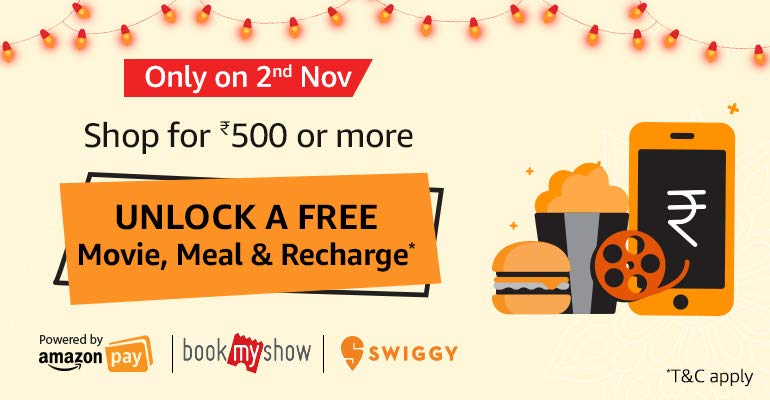 Shop on Amazon For Rs. 500 or More and get Free Meals worth Rs. 200, Movie of Rs. 200 and a Recharge of Rs. 100. Means, you spend Rs. 500 and you get deals upto Rs. 500. Offer is only valid on November 2. Customers need to pay the amount through electronic payment method (Card, Net Banking,UPI,etc). There's no minimum order value too. Well, this is great. So what are you waiting for? Grab this deal asap.
How To Avail This Amazon Offer And Get Free Meal, Movie and Recharge :-
First of all, go to Amazon and place a prepaid order using electronic payment method. Don't place COD order.
Now, after 3 days, you'll get a mail from Amazon with a link to unlock all the three deals of Meal,Movie and Recharge.
To avail the Swiggy/Bookmyshow offer, place an order on their website/app and make the payment using Amazon Pay and you'll get benefits upto Rs. 200 on both. There is no minimum order value.
To avail the Amazon.in Recharge offer, do a mobile recharge on Amazon.in using any payment method and you'll get benefits upto Rs. 100.
You need to pay amount on partner site using Amazon pay balance. Once you do that, you'll get cashback in form of Amazon Pay Balance within next 5 Days.
Terms And Conditions :-
1) This offer is a joint promotional initiative provided by Bundl Technologies Private Limited, Big Tree Entertainment Pvt. Ltd ("Merchants") and Amazon Pay (India) Private Limited ("Amazon"). "This offer is made available to you by Amazon Pay (India) Private Limited ("Amazon") on the Website (defined below) maintained and operated by Merchants.
2) The Offer is valid ONLY on 2nd Nov, 2018 ("Offer Period"), unless revoked or extended by Amazon in its sole discretion, without assigning any reason, without prior notice, and without liability of any kind. The offers collected can be redeemed on the merchants on or before 11th November 2018.
3) Under this Offer, cashback as mentioned below, applicable once per customer for Amazon Pay on Merchants and Mobile Recharges on Amazon.in during the offer period, will be provided to each customer who:
(a) Has done an electronic payment transaction on Amazon.in (website/app) between 2nd Nov 00:01 hrs – 2nd Nov 23:59 hrs
(b) Above mentioned transactions exclude transactions done for recharges, bill payments, top-up and gift card purchases.
(c) Has collected the offers sent by Amazon through email / SMS / app notification
(d) Has completed a transaction on the website of the Merchants or its corresponding mobile application / mobile site (collectively "Website"); and pays for such transaction using the "Amazon Pay" option available on the Website; OR Has completed a mobile Recharge transaction on Amazon.in its corresponding mobile application / mobile site (collectively "Website")
(Each transaction meeting the aforesaid requirements being referred to as a "Qualifying Transaction")
Offer Construct – Place a shopping order for Rs. 500 or more on Amazon.in (website/app) using any electronic payment method (Net banking/ Credit Card/ Debit Card/ UPI/ Amazon Pay balance) on Nov 2nd, 2018 and unlock 100% cashback offers for the following:
(a) BookMyShow offer of 100% cash back UP TO ₹200 (No minimum order value)
(b) Swiggy offer of 100% cash back UP TO ₹200 (No minimum order value)
(c) Amazon.in Recharge offer of 100% cash back UP TO ₹100 (No minimum recharge value)
4) Cashback for a Qualifying Transaction will be provided in the form of Amazon Pay Balance. Amazon Pay balance is a sum of all balances associated with Amazon Gift Cards. Amazon Gift Cards are issued Qwikcilver Solutions Private Limited and are subject to the Gift Card Terms and Conditions available at https://www.amazon.in/gp/help/customer/display.html?nodeId=201522810
5) These Offer terms and conditions ("Offer Terms") are in addition to the Gift Card Terms and Conditions. To the extent the Gift Card terms and conditions are inconsistent with these Offer Terms; these Offer Terms will prevail with respect to the Offer only.
6) Amazon reserves the right to disqualify any customer from the benefits of the Offer, at its sole discretion, if it identifies any fraudulent activity being carried out for the purpose of availing the benefits under the Offer or for any reason whatsoever.
7) This Offer can only be availed once by each customer. Additionally, and for the avoidance of doubt, Amazon Pay balance will only be provided for the first Qualifying Transaction per offer (and not for any subsequent transactions) made by the customer during the Offer Period.
8) This Offer will not be applicable if you, the Merchant or Amazon cancels the order fully or partially and in such a case, participation in the Offer will be deemed withdrawn. In case the Qualifying Transaction is cancelled after you have received the cashback, you acknowledge and agree that the appropriate cashback amount (received under the Qualifying Transaction) will be adjusted from your refund receivable amount
9) Amazon reserves the absolute right, without prior notice, without liability, and without assigning any reason whatsoever, to add/alter/modify/change or vary any or all of these Offer Terms or to replace, wholly or in part, this Offer by another offer, whether similar to this Offer or not.
10) This Offer is valid for Indian residents only.
11) The Amazon Pay balance will be sent to the registered email ID of the customer making the Qualifying Transaction within 5 business days of placing the order for cashback offer on the merchant's site or app and completing completion of payment
12) Amazon Gift Cards will expire one year from the date of issuance by QwikCilver. Amazon Gift Cards cannot be used to purchase other gift cards. Amazon Gift Cards cannot be reloaded, resold, transferred for value or redeemed for cash, except to the extent required by law.
13) By participating in this Offer, you expressly agree that Amazon or any of its affiliates will not be liable or responsible for any loss or damage whatsoever that you may suffer, directly or indirectly, in connection with this Offer.
14) This Offer is governed by the laws of India and any disputes arising out of or in connection with this Offer will be subject to the exclusive jurisdiction of the courts at Bangalore.
15) Availing this Offer is voluntary. Any person availing this Offer will be deemed to have accepted these Offer Terms. By availing this Offer, each customer hereby releases from liability and holds harmless Amazon and its affiliates in relation to any matters connected to this Offer including but not limited to issue(s) associated with making the Qualifying Transaction or the inability to make a transaction for any reason whatsoever.