Amazon Prime Rewards – Hello Friends. Did you know it before that You can get 2% Cashback on All Orders You Place on Amazon as a Prime Customers? Yes, You Can I am using Prime Rewards From the Last 1 year and I get 2% Unlimited Cashback on all the Orders. there is No Upper limit and No Down Limit But maximum Cashback You can get in a year is Rs.2400.
You will get 2% Cashback even if You Order items of Rs.100 or 1 Lac. There is no Upper limit of the cashback also. The Offer is available for the customers who have enabled Amazon Auto Reload of Rs.1000 or more.
What is Amazon Auto Reload –
Amazon Auto Reload is a Service Where Your Amazon Wallet will get Auto Topup When Amazon Pay Balance goes below the defined Limit. It will add amount From your Credit Card and I use Amazon Pay Credit Card for this to Get Extra Cashback. You need to set an Auto Reload of Rs.1000 or more to Get Amazon Prime Rewards on Your Orders and You Can Cancel it anytime you want.

How To Enable Amazon Pay Auto Reload –
1. First of All Visit Amazon.inVisit Here
2. Now go to Your Amazon Pay and Click on Auto Reload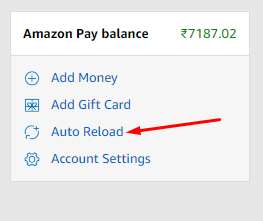 3. Now Enter Minimum Threshold Amount & Amount to be loaded.[ For Prime Rewards Choose Auto Reload for Rs.1000 on Amount Fall below Rs.200 or More]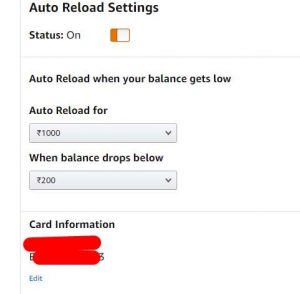 4. Now Verify Your card Details & Verify Using OTP.
5. Now Each time your wallet balance gets lower than the defined limit, Your wallet will automatically top-up from your credit card
---
How To Get Prime Rewards in Amazon Prime –
 1. Once You have Activated Amazon Auto Reload Now You are Enrolled for Prime Rewards
2. Now Place Any Order that You want to except Mobile Recharges, Gift cards, and Choose Payment Method as Amazon Pay Balance.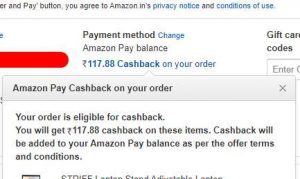 3. you will see 2% Cashback on Payment Page which will be credited after shipping
4. You Can Get Cashback Unlimited times.
---
Faqs
5. How long is the offer valid for?
The Offer is valid for 12 months from the date of enrollment ("Offer Period"). Enrolled participants must have a valid Prime membership and active Auto-Reload set-up, to continue getting rewards.
6. When will I get my cashback?
The applicable cashback under this Offer will be credited to your Amazon account as Amazon Pay Balance within 10 business days post the order placement. (For orders involving product exchange – the cashback will be credited within 20 days post shipping date of the product provided the item is not canceled, rejected or returned.)
7. What is the minimum transaction size for the cashback for the duration of the event?
There is no minimum transaction amount to avail cash back under this Offer.
8. Will I get cashback if I make a part payment using my Amazon pay balance?
Yes, you would be eligible to get cashback on the order amount paid via Amazon pay Balance.
9. Is the Offer applicable on purchase of all products?
The Offer is not applicable on the following list of products: (i) Gift cards (including Amazon Gift Cards) (ii) Amazon Pay balance (iii) Gold & Silver coins (iv) Bank cards (such as RBL and ticket compliments GCs) (v) Paid Prime membership (vi) Kindle e-books & kindle unlimited subscription program (vii) Bill payments & Recharges
10.Is this Offer applicable on transactions on Amazon Pay Partners sites and apps?
No, the Offer is not applicable on transactions on Amazon Pay Partners sites and apps.
11. Which cards can I use for setting up Auto Reload?
You can set-up Auto Reload only in the event a payment method registered with your Amazon.in account and selected by you for the purpose of Recurring Payments is current, valid and acceptable to Amazon. The eligible payment methods available for Auto Reload are All Credit Cards issued in India and Debit Cards issued by ICICI.
12. I am already a Prime member and have also set up Auto Reload for INR 1000 or more. Do I need to do anything else to sign up for the Offer?
In case you are already a Prime member and have also set up an Auto Reload for INR 1000 or more, you will start earning Prime Rewards automatically on all your eligible spends on Amazon.in, starting from the date you first met the enrollment criteria.
13. What happens if my Prime subscription expires?
The offer will not be applicable in case your Prime subscription expires. You must renew your Prime subscription to keep enjoying Prime Rewards.
14. What if the card I used to set-up Auto Reload expires before the end of offer period?
The card you use for setting up Auto Reload must be valid and acceptable to Amazon during the offer period, to be able to earn rewards cashback.
15. Will this offer be over and above other offers ongoing on the website?
Yes, Prime Rewards can be earned over and above other offers running on the website.
16. What happens if I cancel/return my order?
In case the order for the Product(s) is cancelled/ returned, the appropriate Cashback amount will be adjusted from the refund amount receivable for the order.
17. How will I check if my cashback is credited?
You will receive e-mail/ SMS notification every time the cashback amount is credited to your Amazon Pay Balance. You can also track the cashback on your Amazon Pay transaction history page.