Amazon Pay ICICI Credit Card Offer – Hello Friends, welcome back to bigtricks, I hope you are enjoying our Latest loots & Fantasy Cricket Offers. we are back with a new Offer & detailed Steps on how to Apply for Amazon ICICI Credit Card for free & Get Rs.500 Cashback for Non-Prime Customers & Rs.500 For Prime Customers.
Amazon Pay ICICI card is a Credit Card Powered by Amazon & ICICI. This is the Best Credit card for Online Shoppers & mostly for Amazon Shoppers. You will get Rs.1000 Cashback in Amazon for Applying for Amazon ICICI Credit Card if You are a Prime Member & Rs.1000 if You are not a Prime member(As of now)


Now Offering Rs.600 Amazon Voucher
Note- Students Can't Apply for Credit Card only Salaried & Employed Persons Can Apply 
My Personal Experience with Amazon Pay ICICI Credit Card –
I have Applied for Amazon Pay ICICI Credit Card when it was launched & Got Rs.750 Cashback. I have been using the HDFC Credit card before but I changed to Amazon Pay ICICI Card Because they Credit your reward points directly to Your Amazon Pay Wallet ❤ While other banks give you a reward point of 25 paisa value. The Value of Reward points are high & You get upto 5% of Reward points equal Rs.1 per reward point.
I have purchased Air Conditioner from Flipkart during Sale & I got instant Rs.2500 Discount as per ICICI Credit Card offer & Got Rs.298 as Credit Card Rewards at the end of Month ??
So I guess this is Best Credit Card You want to have. If You are an ICICI bank Customer it will be approved for you instantly & You will get the card right away & in 7 days to your address. You can start using it. You can Pay your Bills using CRED App & Get Additional Vouchers
---
Key features of Amazon Pay ICICI Card –
No joining fee or annual fee
No limit to the earnings from this card
No expiry date for your earnings
Earnings can be used for purchasing 10 crore+ products at Amazon.in and at 100+ partner merchants.
Earnings Directly Credit to Your Amazon Pay Wallet.
Earn 5% on Every order at Amazon 
How To Apply For Amazon Pay ICICI Credit Card For Free & Get Rs.600 Cashback –
Also, You Can Try Citibank Card They are Also Giving Rs.1000 Amazon Voucher – Know More
First of all Visit the Amazon Pay ICICI card Application Page
Apply For Amazon pay ICICI Credit Card 
Now Click On Apply Now Button.

Enter Your Bank Registered Mobile Number (If ICICI then better)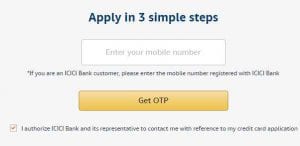 Now Verify Using One Time Password.
If You are an ICICI Customer then No need to fill any other details, Your Card will be approved Instantly.
If you are the other Bank customer then fill your basic personal details & Submit.
Your credit score will be checked & if You are eligible Then You will get approval within 48 hours. Else if your application rejected then you have to wait for the next 180 days.
Upon Approval, You will get instant Credit card & Same will be dispatched to your address.
There are fewer chances of approval for students as mostly Employment or self business is required.
---
Amazon Pay ICICI Card Rewards Details –
There are two categories of reward points one is for Prime Members & another is for Non- Prime Members which is mentioned below.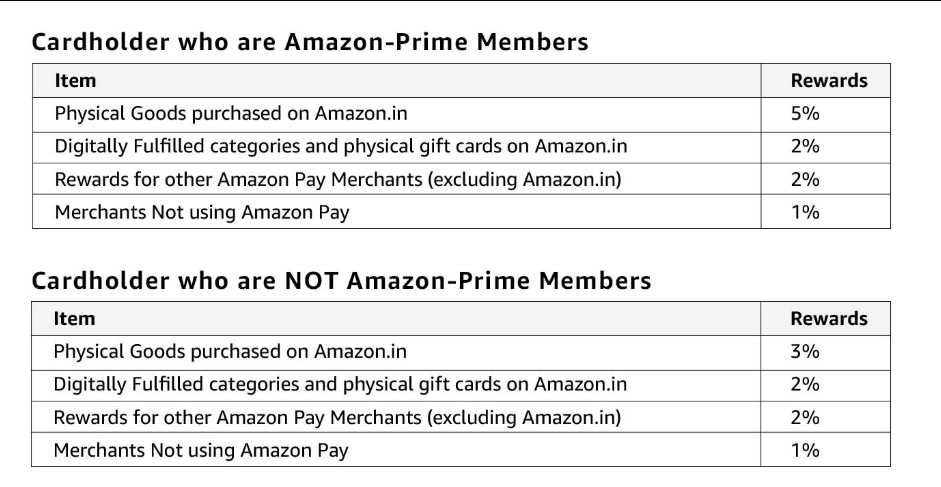 What You can do With Credit Cards?
You can shop with your credit card from available Limit & You have a limited time to Pay the amount like 45 Days so in 45 days you have to Pay the Amounts to bank or card else you will be charged accordingly for Amazon Pay ICICI Credit card these charges are
| | |
| --- | --- |
| Late payment charges | The Late Payment charges on your card will be a function of the Total Amount Due and will be as follows: |
| Total Amount Due | Late Payment Charges |
| Less than Rs 100 | None |
| Between Rs 100 – Rs 500 | Rs 100 |
| Between Rs 501 – Rs 10,000 | Rs 500 |
| More than Rs 10,000 | Rs 750 |
but if you pay Your amount before the deadline there are no charges at all.
Fees – Amazon Pay ICICI Bank Credit Card
No joining fee or annual fee
Click here for applicable Terms & Conditions (T&Cs).
For more details, please browse through sections on the left. You can explore other Credit Cards offering similar privileges.
Reward Points proof –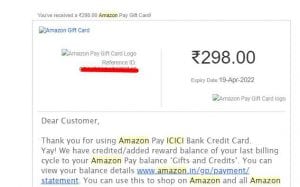 Summary –
Amazon Pay ICICI Credit Card comes with lot's of benefits You can apply for Credit card Using Your Amazon Account & You can earn Big on every order you do on Amazon. You can combine this with Amazon Auto Reload to Get an Additional 2% Cashback on Every Order. Details will be in the next Article.
The article is long so if you have Question Please Post below & we will be happy to answer each & every question of yours.
More Details –
Your application for issuance of the Card will be approved or declined by the Bank based on the customary procedures and credit underwriting criteria developed by the Bank. Amazon will have no role and does not make any representations, warranties or guarantees in relation to such approval or decline of the Card application by the Bank.

Your use of the Card will be governed by the terms and conditions communicated to you by the Bank and any other terms that the Bank may notify from time to time.

Amazon is only a facilitator and is not and cannot be a party to or control in any manner, the credit transaction or arrangement between you and the Bank.

By using the Card, you fully and unconditionally release and completely discharge Amazon and/or its affiliates against any claims in connection with the Card, and all such claims (if any) will lie only against the Bank.

Amazon and the Bank may use your information or data (including personal or sensitive personal data or information) in connection with the services associated with the Card. In this regard, you agree and consent for Amazon to share such data or information with the Bank.

Amazon and/or its affiliates will not be liable for any loss or damage suffered by you on account of the use of the Card, including as a result of any fraud or misuse in connection with use of the Card by any third party.

Amazon will not be held liable for any dispute arising out of or in connection with your use of the Card.

Amazon and/or the Bank may communicate with you, through emails or SMS or notifications through websites / mobile applications operated by Amazon or the Bank or any other mode, in connection with use of the Card.

Upon approval of your Card, all the purchases (minus returns or refunds) made by you using the Card will be eligible for rewards as provided below: