Amazon Doorstep KYC Offer – Amazon is Offering Rs.200 Cashback on Doorstep KYC. You might know already that KYC is Now Mandatory. You can also do Online KYC but there are no rewards. Doorstep KYC is available at selected Pin Codes. You Can Check on the Offer Page if there is Doorstep KYC available at Your Pin Code. You Can get This Offer even if You have done Online KYC. Steps Given Below
How To Get Rs.200 Cashback on Doorstep KYC of Amazon –
First of All Visit The Amazon Doorstep KYC Page.
Now Select Your Pin Code & Select The Area.
(Enter Your Pin Code & Check as of Now Banglore is having This offer. you can Check Other Pin Codes also )
Choose a date and time slot as per your convenience and provide the address where verification can be conducted.

A background-verified agent will arrive at the scheduled time to verify your original proof of address and PAN card.
Handover photocopy of Government issued address proof – Driving license/Passport/Voter card, PAN card and one passport size photograph to agent. You will also need to sign the KYC form.
Documents will be sealed in envelope and brought back for re-verification.
: Presence of the person who owns the Amazon pay balance account is mandatory.
Once Your KYC is Done. You will Get Cashback in 48 hours.
How is it different from min. KYC detail provided earlier?
Min. KYC detail, providing officially valid document number, is required to open Amazon pay balance account with the validity of one year. To continue using Amazon pay balance account you need to complete FULL KYC.
1) Offer period: 1st Nov – 31st Dec 
2) Complete doorstep KYC verification successfully and get flat Rs.200 cashback. 
3) The cashback amount is limited to the maximum amount of Rs.200 per customer. 
4) The offer is valid for existing Amazon pay balance customers. 
5) The customer will receive the cashback amount in the form of Amazon Pay balance, which will be credited to their balance within 5 days of successful KYC verification.
---
Amazon Online  KYC Verification Offer: Hey Guys! Happy Holi & Today there is an Offer on Amazon Pay. You Know Now KYC Verification is Mandatory for All Online eWallets and Those who have not completed Their KYC will not be eligible for Having Online Wallets. You can Check The Video – how to Do Online KYC of Paytm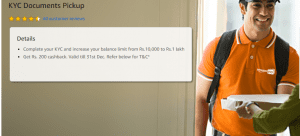 So To Promote Amazon is Offering Rs.20 Amazon Cash For Completing KYC Verification.You Just need to Submit Your Adhaar Card Number to Get Kyc Done and Once you did Just Add Rs.1 and Rs.20 will be credited to Your Account within 5 business days.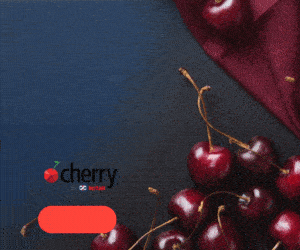 How to Complete Your Kyc in Just 1 Step:
1.First of All, keep Your Adhaar Number Ready.
2.Now Open This Link and tap on Document Verification.
3.Now Here Enter Your Adhaar Number or Proof of Any other Government ID.
4.After Entering the Adhaar Number Your Account is kYC verified.
5.Now Load at least Rs.1 to Your account(If You load Rs.300 You Will Get Extra Rs.100 Cashback)
6.Once You Added Wait for next 5 days & Cashback will be Credited to Your Account within these 5 Days.
7.The offer is Valid Of You Verify Document from 1st March to 31st March.
8.For More Details Please visit here:
Terms:
During the Offer Period, any customer who:
(a) Completes the customer identification by submitting any of the officially valid document on the link https://www.amazon.in/ovd to comply with the applicable Know-Your-Customer requirements for Amazon Pay Balance, provided that such submission on the web-link provided for this purpose is accepted by Amazon for the completion of the KYC process; and
(b) loads cash into Amazon Pay Balance associated with his/her Amazon.in account ("Load");
Will be entitled to receive cashback of amount INR 20 as Amazon Pay Balance in his/her Amazon.in account. For the avoidance of doubt, to avail this Offer: (i) the customer must undertake both the steps indicated at (a) and (b) above, and (ii) the Load must be performed after the officially valid document has been submitted and accepted by Amazon, i.e. the KYC process has been completed.
[coupon]BTT9E6HIBD9[coupon]