Lybrate is Offering Fortune Vivo Oil 1L Free Of Cost. You just have to Pay The Shipping Charge of Rs.60 using Paytm or card or Phonepe. You can Order this Product if You Really need.it's from Fortune. You Just have to Enter Your Shipping address & verify Your Mobile Number. You, Will, Get Rs.40 Cashback in Lybrate & so Effective is Rs.20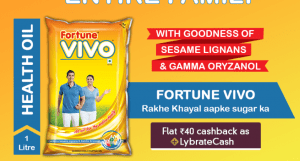 You Might also remember about Lybrate Dettol Mom Kit & Protine Kit. This offer is Valid Till Stock lasts So get it before. Join Our Telegram Channel for More Loot Deals
How To Get Fortune Vivo Oil 1L Free –
First of All Visit Offer Page of Lybrate To Order Fortune Vivo Oil
Offer Page
2. Now Enter Your Name, Email and Shipping Address.
Your Age Should be Between 25-35 to Get This Free Product
3. Verify Your Mobile Number Using OTP.
4. Proceed to Pay Shipping Rs.60. Pay Shipping Using Paytm Wallet or Debit card Pay Using Phonepe.
6.Rs.40 will be added Cashback.
5. Now Sit relaxed, You will get Product Soon at Your Door Step
About Lybrate Cash  –
What is LybrateCash?
LybrateCash is your health currency on Lybrate. Using LybrateCash, you can pay for the products you purchase and services you avail (e.g., online doctor consultation, Online appointment, etc.) on Lybrate. ₹1 LybrateCash is equal to ₹1.
Is there any limit to using my available LybrateCash? 
For any transaction on Lybrate, you can use LybrateCash worth up to 20% of the payable amount (excl. Lab tests). For e.g., if your total payable amount is ₹800 and you have ₹1000 in LybrateCash available, you can use ₹160 LybrateCash and your effective payable amount will be ₹640.
What is the expiry of my LybrateCash? 
The validity of your LybrateCash earned from purchasing this product is 180 days from the date of the LybrateCash against this order being credited to your account.