Flipkart Bus Booking Offer – Flipkart is already partner with MakeMyTrip & was offering Coupons for Flipkart Plus users. Now here is a New Offer on Flipkart where Flipkart is offering flat Rs.100 off on no minimum booking amount. You can get a free bus ticket if it's worth Rs.100.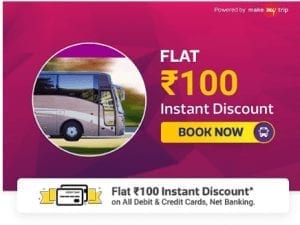 Holi is coming so Book your bus tickets & get Rs.100 off. Go ahead Just follow the steps & you will get instant Rs.100 Discount.
How To Get Rs.100 Off on Bus Booking –
1. First of All Download The Flipkart App From Playstore – Download Now
2. Now Visit Bus Booking Section or Click on This Link.
3. Now You can see Rs.100 off on Bus Booking.
4. Select route & Bus & book it for Free.
5. This offer is Valid till 31st March 2019
TERMS AND CONDITIONS
Preliminary
What is the offer?
The offer, (Flat Rs.100 Instant off on Bus Tickets), is valid on Bus Bookings done via the Flipkart Travel Platform, powered by MakeMyTrip Pvt Ltd.
What is the offer duration?
27th March 2019, (00:00) hours to 31st March 2019, (23:59) hours.
Is the offer applicable on all Transactions?
This Offer is applicable on All Credit/Debit Card transactions (as well as Net Banking)
Will I get the offer if I pay using a Bank Debit, Credit Card and Net Banking via PhonePe?
No, the offer will not apply on payments made from via PhonePe payment option.
How many times can this offer be availed?
The offer can be availed by a customer only twice during the offer period.
TERMS AND CONDITIONS
Preliminary
1.This offer ( Flat Rs.100 Instant off on Bus Tickets ) is being run by MakeMyTrip Pvt Ltd (MMT) on www.flipkart.com, Flipkart mobile app and Flipkart mobile site (collectively Platform), which Platform is owned and operated by Flipkart Internet Private Limited (Flipkart, We or Our). It is open to all residents of India holding a valid and current Credit & Debit Card, Net banking facility (instrument holder and Card).
2. By participating in the Offer (defined below), Instrument holder agree to be bound by:
a. these terms and conditions (T&C);
b. the Terms of Use, Privacy Policy and other relevant documentation including any modifications, alterations or updates thereof, that are published on the Platform; and
c. all applicable terms and conditions of MMT
Other Terms and Conditions
1. All Cardholders, with no outstanding of more than 30 days are eligible for this Offer.
2. In case of cancellation of the ticket, the ticket amount after the instant discount will be refunded back to the customer.
3. MakeMyTrip Pvt Ltd./respective Bank reserves the right to disqualify the Cardholder(s) from the benefits of the Offer, if any fraudulent activity is identified as being carried out for availing the benefits under the said Offer or otherwise by use of the Card.
4. Any person availing this Offer shall be deemed to have accepted these terms and conditions.
5. MakeMyTrip Pvt Ltd. and Flipkart reserve the right, at any time, without prior notice and without assigning any reason whatsoever, to add/alter/modify/change or vary these terms and conditions or to replace, wholly or in part, this offer by another offer, whether similar to this Offer or not, or to extend or withdraw it altogether.
6. Delinquent and over-limit Credit & Debit Card members will not qualify for this Offer.
7. Cardholders are not bound in any way to participate in this Offer. Any participation is voluntary, and the Offer is being made purely on a best effort basis.
8. Nothing herein amounts to a commitment by MakeMyTrip Pvt Ltd to conduct further, similar or other offers.
9. The above Offer is by way of a special offer for Bank Credit & Debit Cards holders, Net Banking only and nothing contained herein shall prejudice or affect the terms and conditions of the card member agreement. The terms of the above schemes shall be in addition to and not in derogation of the terms contained in the card member agreement.
10. Any query regarding the program will be entertained only till 31st of March 2019, post such date, MakeMyTrip Pvt Ltd. and Flipkart will not entertain any correspondence or communication regarding this Program from any persons.
11. MakeMyTrip does not endorse any of the airlines whose tickets are being offered under the Program.
12. Under no circumstance will the offer/discount being offered under this Program be settled with cash in lieu by MakeMyTrip Pvt Ltd or by Flipkart.
13. Returned transactions, disputed or unauthorized/fraudulent transactions will not be considered for the Offer
14. Flipkart shall not be liable for any failure by MakeMyTrip Pvt Ltd. to honor the transaction and for any technical issues because of which the transaction made by the Cardholder was not successful. MakeMyTrip Pvt Ltd. shall indemnify and hold Flipkart and seller harmless against any claims by the Cardholder for unsuccessful completion of the transaction. Further, MakeMyTrip Pvt Ltd./Bank shall solely be liable to the Cardholder for wrongful remittance of the amounts by it, without any reference to Flipkart.
15. By participating in this Offer you agree to be bound by these terms and conditions of the Offer, standard terms and conditions, terms of use, privacy policy (subject to change) of the Platform and the terms and conditions of respective seller shall be applicable on the Cardholder.
16. The Cardholder shall indemnify and hold Flipkart, MakeMyTrip Pvt Ltd. harmless against all damages, liabilities, costs, expenses, claims, suits and proceedings (including reasonable attorneys fee) that may be suffered by Flipkart, MakeMyTrip Pvt Ltd. as a consequence of (i) violation of these terms and conditions, of the terms of user agreement, privacy policy (subject to change) published on the Platform, by Cardholder; (ii) violation of applicable laws by Cardholder; and (iii) any action or inaction resulting in willful misconduct or negligence on the part of the Cardholder.
17. All applicable taxes shall be payable by the Cardholder as applicable at the time the respective Offer.
18. This Offer shall be subject to all applicable laws, rules and regulations which are in existence and which may be promulgated anytime by any statutory authority.
19. Any disputes arising out of the Offer shall be subject to arbitration by a sole arbitrator to be appointed by MakeMyTrip Pvt Ltd. for this purpose. The proceedings of the arbitration shall be conducted as per the provisions of Arbitration and Conciliation Act, 1996. The place of arbitration shall be at Mumbai for MakeMyTrip Pvt Ltd. and language of arbitration shall be English. The existence of a dispute, if any, shall not constitute a claim against MakeMyTrip Pvt Ltd.
20. All liability with respect to the products purchased lies with the respective sellers and neither Flipkart nor MakeMyTrip Pvt Ltd. shall be in any way responsible for the same.
21. This Offer is valid only in India. The minimum age of such Cardholder shall be 18 years.
22. This document is an electronic record in terms of Information Technology Act, 2000, and the Rules there under as applicable and the amended provisions pertaining to electronic records in various statutes as amended by the Information Technology Act, 2000. This electronic record is generated by a computer system and does not require any physical or digital signatures.