Flipkart Plus Free membership, Flipkart Plus Benefits & Offers, Free Flipkart Plus Coins Tricks  – Flipkart is all set to lunch Flipkart Plus program to beat Amazon Prime. Flipkart is launching Flipkart Plus where users can get Free Plus Fast Delivery & lot of Exiting Offers. The Official Launch date is 15 August so Flipkart plus is already available in new Version of Flipkart App so You can Download the App From Below Link & Some Users are getting Free 1 Year Prime membership on Download New Version of APP, I also got the Flipkart Plus membership so you can Download New App & if You are eligible You will get Free Flipkart Plus Subscription for full1 Year. Below is the Full tutorial to show how to get Flipkart Latest version App & Free Plus membership.
New Update – Upload Your College Identity Proof & Get Free Flipkart Plus –
Flipkart Plus' New update is Here, Now You can Get Flipkart Plus absolutely free if you are a college student. You just need to upload your college identity Card Photo to Flipkart portal. Upon verification, You will get Approval within 24 hours or later.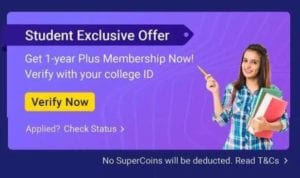 Steps to Activate Flipkart Plus Using College ID –
1. First of All Visit Flipkart Plus Zone and Open it.
2. Now Open the Page and You will be Asked to Upload Details.
3. Upload Front side of Your College ID Card.
4. Once You Upload upon Validation You will Get Free Flipkart Plus for 1 Year.
---
New Update – Now You Can Watch Videos on Flipkart Plus –
If you are a Flipkart Plus User then here is Good News, Now Like Amazon Prime, you can also watch Videos on Flipkart Plus for Free Although the Content is not much available but Still good initiative from Flipkart.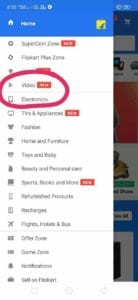 In Flipkart Menu, You can see the Video Option where you can play videos in Flipkart App. Maybe in the future, there will be new content and more exclusive content
Important Update – Now Your Flipkart Plus Coins are Super Coins
Flipkart in July, Converted Flipkart Plus coins to Flipkart Super coins where each super coin is worth 1/10 of Plus Coin so 10 of Flipkart Plus coins are now 100 Flipkart Super Coins.
Also, there is some exciting news that you don't need to spend 500 Points renew Plus Membership. You Can renew it for free on Scoring 300 Plus Coins in a year which is very easy with our offers.
You will Get 4 Super Coins on each order of Rs.100 or more and maximum 100 super coins on 1 order. 
Non-Plus Members will also get points but 2 points per order, You can go to plus Zone & Activate the Flipkart Plus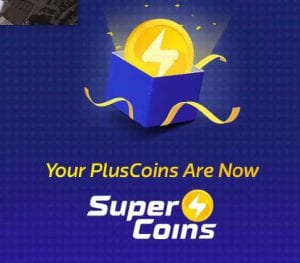 These Super Coins are expirable in 1 Year. You can use them in 1 year.
If you earn 300 Super coins then you will be a Flipkart Plus member without any charge & You can continue to extend for free by Just earning 300 Super coins. 
on July 12 there will be more rewards will be added like Flipkart Vouchers & other more stuffs
(OLD)
---
Trick to Get Free 10 Coins Flipkart Plus –
If you previously didn't get 50 coins and failed to activate Flipkart Plus, here's some help from Flipkart's side. Flipkart is offering 10 coins for completing a short survey. And you can get the rest 40 coins by ordering items from Flipkart. Great, right? if you order a product of Rs. 250, you'll get 1 coin. Maximum 10 coins are available for each order. So, follow the steps below and grab your coins.
First Open Survey Link in Mobile from Here
Select your Gender and Complete all the Questions
Once You COmplete All the Questions. You will Get 10 Free Coins. After That, You will need 40 More coins for Flipkart plus
That's it you will get Free 10 Coins Balance on or 17th Dec 2018
How to Get Free Flipkart Plus Membership For one Year –
First of All Download Latest Flipkart App From This Link as it's Not available on Play store yet. Download Now
Now Login to Your Account & open sidebar menu.

3. At the Top, You will find Flipkart Plus Zone Option, Open it & You Will Get All the Details.
4. Now it's Yu Luck, If You got 50 Points or Not, Try to Login into All Your Account if You are Lucky You can See 50 Points else wait till official Launch
5. Now if You Got 50 Points then You will See Option to Activate Plus membership for 50 Points.
6. Activate The Flipkart Plus membership & You will get All Free Services till 1 Year.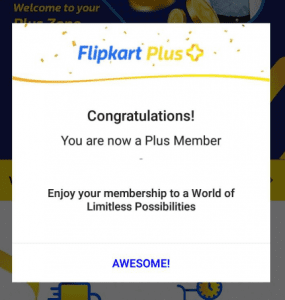 Method 2 – How to Get Flipkart Plus Membership –
if Above trick does not work for you, you can try new trick which is mentioned below .
1. First of All Open Flipkart Desktop Page.
2. Login to Your Account Using The Same Credentials.
3.Now Visit to any product page page, for example, this one.
4. Now Scroll Down and you will see a Flipkart Plus membership Try Now Button(This is also not available for all but you can check if you got lucky)
5. Now Click on the Button & Your Plus Membership will be activated.
6. Once Activated, You can enjoy all the Plus Features mentioned below.
7. For More updates Please Join our Telegram Channel
Flipkart Plus Benefits – As a Welcome offer You will get —
Ixigo Rs.400 Voucher.
Bookmy Show Voucher of Rs.100
Chaipoint Buy 1 Get 1 Offer.
CCD Free Beverage on min purchase of Rs.449
Now You Can Get Myntra Voucher worth Rs.500 for Just 25 Points
Myntra Voucher worth Rs.500 at 25 Points-
if you have earned 25 points in your Flipkart plus Account, You can redeem 25 points for a Myntra voucher worth Rs.500 remember it's a voucher so there is no terms & conditions, you can use it on any purchase and get Rs.500 off on your purchase. Just open Your Flipkart App & Go to Flipkart Plus Zone & Check for the Myntra banner or the myntra offer section.You can redeem one Voucher from One Account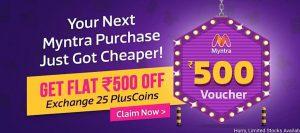 ---
Benefits of Flipkart Plus Program –
Flipkart Plus, which will be launched on 15 August(Officially), will be a no-fee, points-based programme for regular customers of Flipkart (customers will earn points or coins with every purchase). You Can Get Plus membership with These Points. You Can Get 1 point for every Rs.250 Order and maximum 10 points on an order.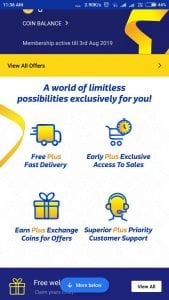 Once You are a Flipkart Plus member You will Get Free & Fast Delivery. Early Plus Access to Exclusive Sales ( So No More Waiting to Flash Sales), Earn Plus Exchange Coins for Offers & Superior Plus Priority Customer Support.
Not Enough, You Can Also get Bokmyshow Gift vouchers, Zomato Annual Subscriptions Worth Rs.2399, MakeMyTrip GIftcard Worth Rs1110 For Free, & Hotstar Premium Subscription 
50 Points = Rs.1000 Flipkart Voucher
50 Points = One Year Premium Hotstar Premium Subscription
Video Proof –
How to Earn Flipkart Plus Coins –
In order to earn a PlusCoin, You are required to place an order on the Platform of a minimum of Rs.250 and above (the net order value will be taken into consideration which is total order value minus canceled/returned item value ) (" Eligible Order").
All PlusCoin earnings will be at the order level and not at the item level
For every Eligible Order, You are eligible to earn 1 PlusCoin. For example, for an order value of Rs 250, you earn 1 PlusCoin and order value of Rs 1399 you earn 5 PlusCoins.
A maximum of 10 PlusCoins can be earned in a single Eligible Order. For example, for an order value of Rs 2500, you earn 10 PlusCoins and order value of Rs 7999 you earn 10 PlusCoin
The value of the following product purchases on the Platform will not be added towards the calculation of an Eligible Order.

Flipkart Gift Cards; and
Gold Coins/ Gold Bars
Gift Voucher (E.g. Malabar Gift Vouchers sold on Flipkart)
FK branded Carton & Packaging Boxes (Bought by sellers for Market Place)
FK branded Packaging Security Bags (Bought by the seller for Market Place)
FK printed Cello Tapes & Tape Dispensers (Bought by the seller for Market Place)
More About Flipkart Plus –
For membership under this Program, You must have a minimum of 50 accumulated PlusCoins, earned as per terms and conditions available on . Membership under this Program will be valid for one year from the date of activation by You.
In order to renew the membership for the next year, a user must earn & have 50 Plus Coins credited in their account during the current membership year.

You will get early access to upcoming offers and discounts during major sale events, as solely decided by Flipkart, on the Platform.
The deals available on such major sale events on the Platform will be applicable on select products and will be valid only until stocks last.
This benefit is limited to access only and Flipkart does not guarantee or promise any further benefits including your availing of deals on such major sale events on the Platform. As a member of the Program, You will be eligible for the benefits as detailed below ( Free delivery for select products sold on the Platform:

This benefit will be valid on select products only, and such information will be displayed on the product page.
If only certain products in Your order are eligible for free delivery, You will be required to pay the applicable shipping charges for the ineligible products in Your order.

Faster delivery at all serviceable pin codes:

You can check the eligibility of this benefit on the product page.
The delivery date displayed on the order page on the Platform will be final.
This benefit is not applicable on products already eligible for same day delivery.
This benefit will not be applicable on sale days/events on the Platform.

Early access to big sales days on the Platform:

All Offers shall be subject to the terms and conditions mentioned therein.
Certain Offers under the Program will be unlocked as free benefits at the time of activation of Your membership.
All Offers with values in terms of PlusCoins will be displayed in "Plus Zone" tab on the Platform.
Offers and Partners under the Program are subject to change.
Offers redeemed from Plus Zone cannot be canceled/ returned
Flipkart reserve the right to cancel your offer benefits from this Program if any fraudulent/abuse/reseller activity is identified as being carried out for the purpose of availing the Benefits. In all such cases Flipkart reserves the right in its sole discretion, to withdraw any claimed rewards along with any Partner subscriptions earned as a benefit of this program. In this case, PlusCoins may not be returned back to the user at Flipkart's discretion.

Priority Customer Support

Flipkart customer support team will endeavor to provide you with faster response time. You don't need to wait in queues to talk with customer care. Youhave to call using your registered Mobile number to get This Service
Paytm Cash Code For This Post
Get Upto Rs.50 Paytm Cash With Every New Post on Bigtricks.Redeem This Code by Clicking on Redeem Now button.To Know More About This Offer Click Here
BTTEA6KC844
Redeem Now