Freebie From Zandu
Zandu Striveda Lactation Supplement Freebie – Hello Guys I hope With our Freebies Updates. You have Got lots of Freebies. Previously we Posted about Sofy Cool Pads Freebie & Many Users Got it. Also Lybrate Freebies.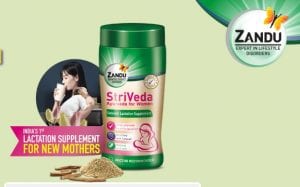 Today We have Another Freebie for Females with a Baby. Females can get a Free Sample of Striveda Lactation Supplement Sample at no cost. You Just need to Submit Your Name, Email, and Instagram or Facebook (Female) Profile Link. The Free Sample will be of 210 gm Pack. The Offer is Available for Selected Location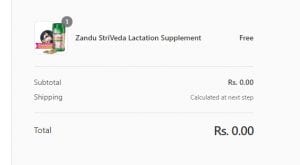 About Zandu Striveda Lactation Supplement :
The best source of nutrition for babies is mother's milk. Breastmilk provides all the required nutrients for a baby and helps build their immunity. But some mothers may find difficulty in producing enough breastmilk. In such cases, opting for lactation supplements is one of the best ways to improve the quantity and quality of breastmilk. Mom Junction in association with Zandu is offering you a FREE SAMPLE (210 g) of Zandu StriVeda, India's 1st Ayurvedic Lactation Supplement.
---
How To Get Zandu StriVeda Lactation Supplement Free  –
1. First of All Visit Zandu Striveda Free Sample Page
2. Now Here, You need to Enter Your Basic Details Like Name, Mobile Number & Your Facebook or Instagram Profile URL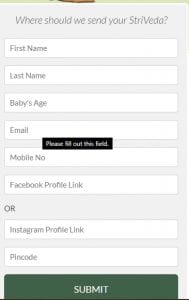 3. Once You Enter All these Things Enter Submit & You will be Asked for Shipping Address.

4. Enter Your Correct Shipping Address & Proceed to Next Page.
5. Here Choose Free Delivery & Confirm Your order.

6. Now You Will get the free Sample on Your Door Step As Soon As Possible in 14 Days.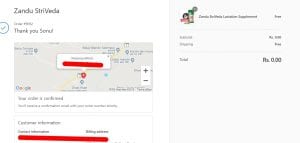 7. You Must be a Female with a Baby to get This offer or you Can use New Mother's Instagram profile to Get the Order.
---
Proof