Zomato Gold Membership 30 November 2023
Zomato Gold Membership, Zomato Gold Membership Tricks, Zomato Free Gold Membership, Zomato Gold Membership Premium Codes – Zomato is Providing various offers on Gold membership. In this Thread, We will Post Tricks By Which You can Get Free Zomato Premium membership or Zomato Gold Membership at Discount.
You Can Subscribe to Our Notifications to Get Updated on Zomato Gold Tricks. Zomato Gold Offer various Extra Perks on Regular orders. You can also Check Free Swiggy Prime with Timesprime for Free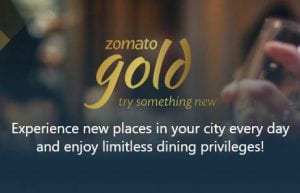 We have already published a trick where you can get Free food worth Rs.400.You can also use Zomato Referral offer to get Free Food
 Get Latest Zomato Gold Tricks only on our Telegram Channel Join by Click on below Link
What is Zomato Gold Membership –
1+1 on food and 2+2 on drinks – At Each Zomato partner restaurant offers only one of these benefits, i.e. our food partners offer 1 complimentary dish as a part of the meal, and our drinks partners offer upto 2 complimentary drinks per visit
Zomato Gold Membership Features –
1+1 Offer on Food – You will Get the Same Dish For Free If You are a Gold member.
1+1 Offer on Drinks – All Gold members are entitled to upto 2 complimentary drinks against 2 or more paid drinks for every visit. This means that if you order 4 drinks, only 2 will be complimentary. The complimentary drink will be the same as the first drink which means you can order 1 beer and get 1 beer complimentary, or order 1 beer and 1 mojito, and get 1 beer and 1 mojito complimentary.

Gold on Dining  – Gold members can enjoy benefits on food and drinks at separate partner restaurants. For benefits on food, you get the second most expensive dish in the order as complimentary. For benefits on drinks, you get one complimentary drink for every drink you order, up to a maximum of 2 complimentary drinks. The complimentary drink will be the same as the first drink ordered
How To Get Zomato Gold Membership for Free –
1. First of all Download the Zomato app if you have not downloaded yet.
2. Now in Zomato App, Now Open Side menu & Click on Zomato Gold button.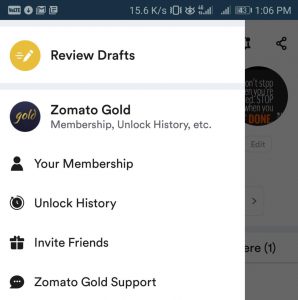 3. Now on The Zomato Gold Page Scroll Down to the bottom.
4. Now you will See Option "Activate Zomato Gold with Code"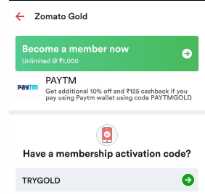 5. Apply Promo Code – "TRYGOLD"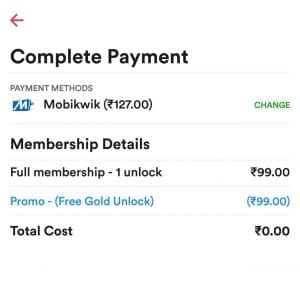 6. Now Proceed & You will see the Final price as Rs.0
7. Activate Your Zomato Gold membership for free.
---
How to Get Zomato Gold Membership at Rs.420 –
First of All  Login to Your Zomato Account.
Now Select City as "Nagpur" & Get Zomato Gold @ Rs.420 for other cities you Will See Price Will Be ₹540+
Click on Zomato Gold Banner and Buy 1 Year Zomato Gold Membership @ Just Rs.420
The offer is Live from 9 AM on 30th June 2019
Free Zomato Gold Membership For 90 Days For Ubereats users –
Hello Guys, Today Zomato Announced it's the merger with Ubereats. Now Zomato is offering Free Zomato Gold for Regular Ubereats Users. All ubereats Users can get free Zomato Gold By Following below Steps.
First of All, Update your ubereats.
Now Click on Zomato Merge
3. Link With Zomato Account.
Now You will Get Free 3 Month Zomato Gold
This Offer is rolled out for some users. If you haven't got Please wait.
Solutions –
If You Don't Find Zomato Gold membership Section —
Just click on Profile from the Bottom Tab & You will See Three Lines, Now Click on Them & You will see Zomato Gold in Side Menu
---