Picking your hosting plan, whether for a personal blog or a small business, is a tricky business. There are various options out there and it can be overwhelming to decide which suits your needs best. For this reason, we've put together a comprehensive overview that lays out your options and their key benefits.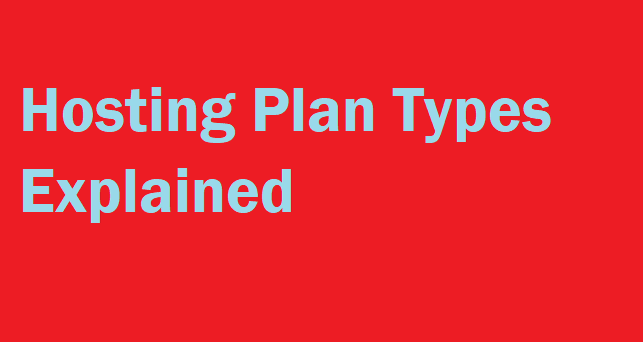 Top 5 Hosting Options
If you've decided that the numerous free hosting plans out there are not suitable for your needs, fear not – there are various alternative options. When assessing different hosting services it's good to keep a few questions in mind. What level of control do you need to have on your server? What kind of capacity and scalability do you require? And, of course, how much are you willing to spend on your hosting? With these considerations, read on to see which option is the best match for you.
Self-hosting
Self-hosting is a term commonly used amongst those in the blogosphere. It refers to hosting a blog or website on your own server – or on a third-party server. The benefits of self-hosting are wide and varied, allowing for complete control over your SEO, site layout, appearance, and functionality. With access to your server backend, you can make specific code changes and introduce custom themes and plugins. Self-hosting is a very affordable option but requires a certain level of technical know-how that isn't always for everyone.

Shared hosting is a good compromise: you share the service with other sites and share the cost. This means you can get incredibly cheap deals for a great product. The only downside of opting for a shared host is if one website you are sharing withdraws particularly large amounts of traffic. Ultimately this will draw the power of the service away from your own site.
Cloud Hosting
Cloud technologies are on the rise, and for good reason. Fully scalable and flexible, cloud hosting works by using a large network of individual servers to operate as one. This means they can constantly adapt to sharp increases in demand without any disruption to service. What's more, using a cloud network you simply pay for what you use. 1&1 are one of the companies offering excellent cloud hosting services: for ultimate security, they enable customers to "freely choose between different locations for their data centers (in Germany, Europe, USA)", as described in their Digital Guide. 1&1's cloud hosting is available for Windows 2016, SSD storage, and offers root access to more than 100 apps.
Managed Hosting
A managed hosting service usually entails a service provider not only offering you a hosting solution but a range of additional services with it. These services may include the installation of software, configuration of both hardware and software, general monitoring work and the implementation of updates. There are a number of providers who offer managed hosting as part of a package tailored specifically for WordPress, with an affordable price tag to boot. This is a quick, easy, and instant solution, which has proven to be one of the most popular among smaller companies.
Dedicated Server
Opting for a dedicated server means that you rent out an entire server from a company, with full control over it and all of its resources. This guarantees you the highest level of performance, but is not only a more expensive option but requires close monitoring too. Consequently, at this end of the scale, you would typically be running a large business's site and employ someone to oversee your system.