Google Pay Diwali Offer – Hello Friends, Like Google Pay Cricket Offer, Google pay is again back for this festive season. Now You can scan any Diwali Item like Diya, FLower, Lantern, Rangoli etc and Collect all the stamps to win Rs.251 Cashback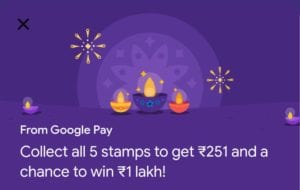 This offer is available for all users till 31st October. You can collect daily 5 stamps. You need to collect all the 5 Stamps to Get Rs.251 assured cashback and lucky draw of 1 lac.
Join Telegram Channel For More Update on This Trick- Click here
Latest Google Pay Trick to Get Rangoli [Verified on 11th november]
Today order anything for eat.fit & Pay Using Gpay to win Rangoli or Flower. There is 70% chance of Getting Rangoli & Flower Rest Depends upon your Luck. I will recommend not to waste the money if you have still not get the Rangoli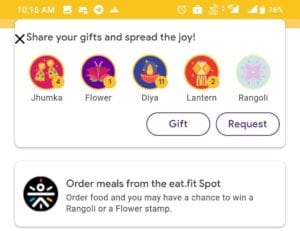 Latest Google Pay Trick to Get Rangoli [Verified on 7th november]
Open Gpay and Find Makemytrip from here
2. You can Book Ticket From Indore to Dewas or Asansol to Durgapur or 
Modinagar to Gaziabad worth Rs.39 or Rs.50 choose a date after 15 days
3. Pay Using Google Pay
4. There are Chances of Assured Flower or Rangoli (Many Got Rangoli Already)
5. Once you Get Stamps to go to my trips and Cancel the Ticket. You will Get Refund in 5-7 days or instantly
6. The Trick is working for 90% users but still not for all like DTH recharge Trick.
7. So use it at your own risk. If you try then send me a screenshot of what you got on @bigtricksbot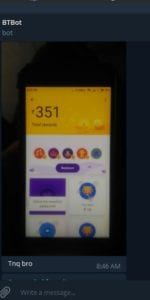 ---
Latest Google Pay Trick to Get Rangoli [Verified on 6th november]
1. Download Redbus App or visit Redbus Website.
2. Make Recharge of Rs.35 or Book Bus Ticket
3. Pay using google pay
4. You will get Rangoli or Flower, More chances of Rangoli.
5. Again, You have to spent Rs.35 here
(Expired) Latest Google Pay Trick to Get Rangoli [Verified on 3rd november]–
Google Pay Latest Rangoli Trick – Many Users Getting Rangoli Using Below Tricks. I got Rangoli in all of my 3 Mobiles.
1. First of All Open Google Pay App.
2. Click on New Payment & Choose Bill Payment for DTH Recharge
3. Make DTH Recharge of Rs.35 or More. If You don't have DTH then Please Choose TATA SKY & Do Rs.35 Recharge for
Removed(people are wasting too much money for this) 
( Remember You are Spending money if you don't want this amount is not refunded which means you are spending Rs.35)
4. Once Recharge is Done there are High chances that you will get a Rangoli.
You will Get Rangoli. Many Users from Bigtricks Group have Got Rangoli Using This Trick
If You don't have DTH then Use Tata Sky for Subscriber ID – expired (1307112563)
We are Not Responsible for any of your Loss & if you don't get Rangoli. These are Tricls are Tested before Posting here Do use this DTH number only If you don't have DTH.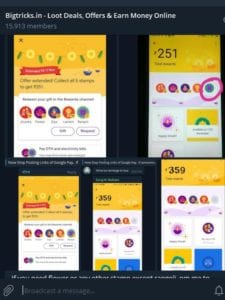 Many People are Getting Rangoli BY DTH Recharge only so Get hurry & Loot a Free Rangoli. For other Flowers Join our Channel to Get Giveaway Links
---
Update – Now You Can Collect Stamps till 11th November 2019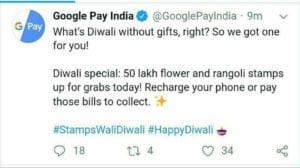 Trick To Get Rangoli in Google Pay Diwali Offer –
There are Three Methods Read below.
Method -1 To Get Rangoli & Flower in Google Pay –
If You have Cred App & Credit Card Then You Can Pay Your Credit Card Bills Using Google Pay App
1. Download Cred App From Play Store – Download Now 
2. Now Pay Your Credit Card Bills Using Cred Apps & Upon Payment, You will Get Flower or Rangoli For Sure. Tested. Read More about Cred App( All Steps)  – Click Here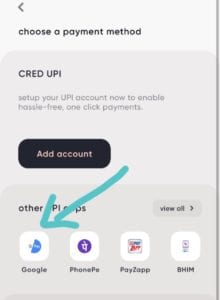 3. Once You Make The Payment Using Google Pay, You will get Either a Flower or a Rangoli or Any of the 5 Stamps But more chances are of Flower & Rangoli when You Pay Rs.50-150
4. I Got Rangoli in 4th Attempt when I made Payment of Rs.125.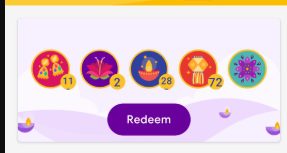 5. If You need help Regarding Cred. Please Drop an Email or Comment for Instant Reply.
Method – 2 To Get Rangoli & Flower in Google Pay –
You Can Add Money in PayTM Using Google Pay –
1. First Click on Add Money Option in PayTM App,Add Rs.35 in PayTM
2. Now on Payment Page Select BHIM UPI
3. Select Google Pay as UPI Apps
4. Pay Using Your Google Pay Account.
5. Done, Whn You Pay, You will get a Flower or Rangoli Stamp.
6. This is Verified & Working ( I got Flower 3 times & then Rangoli )
4. Grab This Fast Proof Attached Below.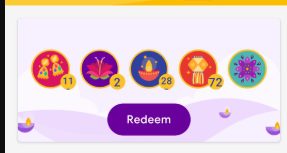 Method – 3 to Get Rangoli & Flower-
You Can also Use Recharge Or Bill Payment or Merchant Payment on Google Pay to Get Rangoli.
Just Click On new Payment and then Click on Recharge or Bill Payment or Scan a Merchant QR and then Pay at least Rs.35 using your UPI Linked Bank Account.
Details About Google Pay Diwali Scanner –
1. You can win Rs.251 on Collecting all 5 Stamps.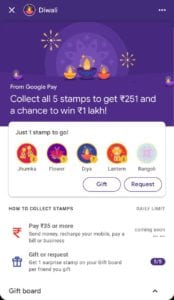 2. You can Collect Stamps by Requesting or Gifting to Friends.
3. You Can Scan 5 Times in a Day From Scanner & total 15 using all the methods.
4. You can Win Rs.1 Lac from Lucky Draw.
5. Stamps are given out randomly. You could get any one of the 5 different stamps through the 3 collection methods
How To Get Assured Rs.251 Cashback From Google Pay Diwali Scanner –
1. First of All Download Google Pay if you haven't downloaded till now – Download Google Pay
2. Now If You have it Just Open Google Pay Diwali Offer Page –
3. Once You Click on This link, You will see Diwali Diya on Purple Page ( Loading Screen 😉 )
4. Once it loaded, You can see all the Stams and methods to collect Stamps ) Like Screenshot
5. Now once you open it. You can See Diwali Scanner Button at the Bottom,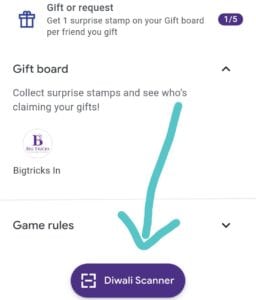 Now you can Scan any Diwali Items from Diya,Lalten, Flower, Rangoli, Jhumka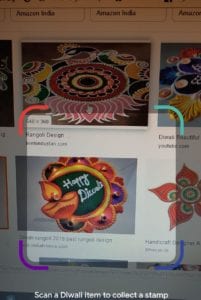 6. You Can Scan Items Using another Phone or PC. Samples Added below.
7. You Can scan 5 Times & Collect 5 Stamps.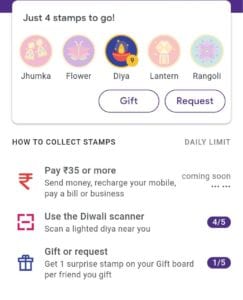 Important Second Way- 
8. Once You have Extra Stamps. You Can Click on Gift Icon to Gift Stamps Someone.
9. In Exchange of Stamps, You will Get Another Stamp. You can Share to Us By Clicking on This Link – Click here
Important Way 3 –
10. You Can Do Payment of Rs.35 or More to Collect Stamps but it's not yet Live.
Update –
Now You Can Get Stamps for doing Rs.35 Recharge or Send money or any other transaction. You will get a stamp and You can get it maximum 5 times.
Google Pay Diwali Offer Proof –
Sample Images of Rangoli and Flower  Google Pay Diwali Scanner –
(For Copyright Please Send a mail to sonu@bigtricks.in )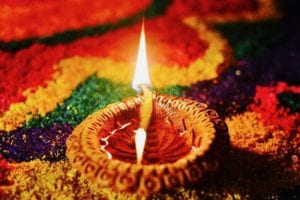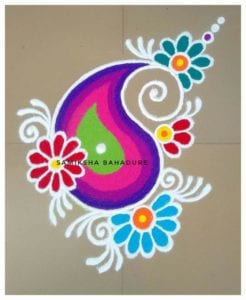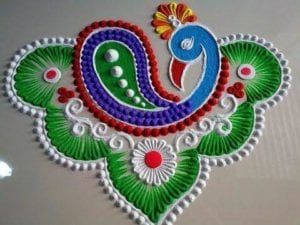 Google Pay Rangoli Images –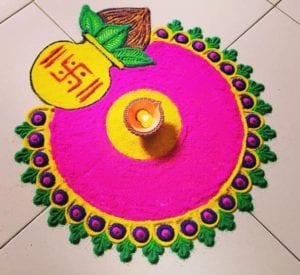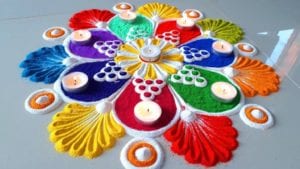 Google Pay Diwali Lanterns Images –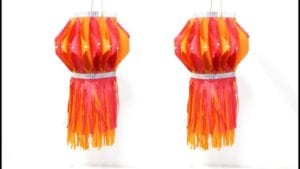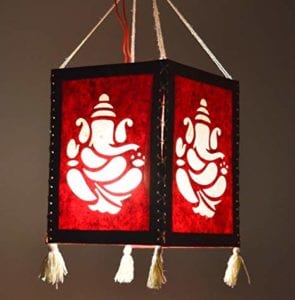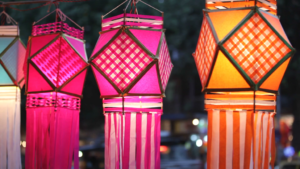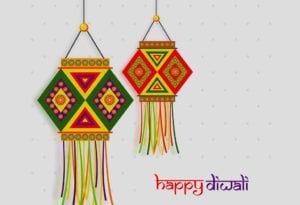 ---
Some Giveaway Links of Google Pay Stamps –
Terms & Conditions :
You must successfully complete the following actions to be rewarded with a stamp:

Use Google Pay to send money or make any form of payment  of Indian Rupees Thirty Five or more
Scan a lighted Diwali diya near you using the Diwali Scanner

This feature is only available on Android devices

Gift a stamp to a friend. You can earn up to 1 bonus stamp per friend

Each Google Pay Customer can only use one set of Google Pay credentials, which includes but is not limited to a Google account, phone number and form of payment, to qualify for the offer. Any of these unique Google Pay credentials must not have been used to register another Google Pay Account.
P2P payments to external UPI IDs and inbound-transfers from non-Google Pay users are not eligible for this offer.
You can collect a maximum of 5 stamps per day through each collection method.
For collecting at least one each of five different stamps, you will receive a scratch card with a guaranteed reward worth Indian Rupees Two Hundred and Fifty One (INR 251) and a Diwali Bonus ticket which is a lucky draw ticket worth up to India Rupees One Lakh (INR 1 Lakh) that unlocks on 1 November 2019.
You can earn a maximum of one scratch card and one Diwali Bonus ticket during the offer period. After earning your reward, you can still continue to collect stamps throughout the offer period and gift them to your friends.
If you or your friends cannot see the stamp collection feature on your Google Pay Rewards channel, update your app to the latest version.
You are not eligible for this offer if you have already earned over Indian Rupees Nine Thousand (INR 9,000) during this current fiscal year (1 April to 31 March) across all Google Pay offers.
In addition, if you win a One Lakh (1,00,000) reward through this offer, you will no longer be eligible for any other Google Pay offers for the remainder of the fiscal year.
If you earn the winning prize of Indian Rupees One Lakh (INR 1,00,000), when claiming your prize, you will need to provide your permanent account number and any other documents that Google may require for tax purposes.
Offer valid until 31 October 2019.
By accepting a prize, you agree that Google may use your name and image for advertising and promotional purposes, without additional consent from or compensation to you.
If you earn a reward, your reward money will be deposited into your bank account. As such, you must have a UPI-enabled savings account attached to your Google Pay account to receive payment from Google. Please be sure to link your UPI enabled savings account to your Google Pay account within 45 days of claiming the reward, failing which the reward will be deemed to be forfeited.
Employees, interns, contractors and office-holders, as well as their immediate families (parents, siblings, children, spouses and life partners of each, regardless of where they live) of Google LLC, its affiliates and subsidiaries, and any representatives or agencies of Google or other persons professionally connected with the offer, are not eligible to participate.
This offer is not available to residents of the state of Tamil Nadu (as per Tamil Nadu Prize Scheme (Prohibition) Act 1979) and wherever else prohibited by Law. Residents of these states should not participate in this offer.