Gpay is here back with one more game where you will Sureshot earn ₹200 cashback scratch card by just completing a few tasks and using gpay for shop & pay. You just need to collect only 5 coins and you will earn a Rs.200 cashback scratch card.
Just like other games of Gpay You can invite your friends and keep earning the coins. The cashback range for this offer is Rs.25 to Rs.200 but most of the people who completed the offer got Rs.200 complete cashback scratch card. The campaign is only valid till 15th October 2023, You have to be hurry.
Comment Your Invite Links in Comment Section & Others will use to get Free Coins
CWC23 started yesterday so If you want to earn money You can predict your predictions on 1win with a 1win Promo code to get an initial 500% cashback application and earn real cash*.
How To Play Gpay Shop & Hunt Game to Earn Free Upto ₹200 Cashback Scratch Card
1. First of all download the Gpay app, I would say, you already have Gpay.
2. Now You can click on the below link to open the game in your app if it does not show on the home screen.
3. Now You need to collect coins. You can collect by paying to gpay merchants.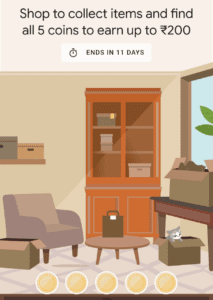 4. Pay at least 30 Rs to any merchant, You can pay thrice in a day.
5. You can copy your invite link and invite your friends and some more coins.
6. Once you have completed all the coins, you will get a scratch card that will give you upto ₹200 cashback.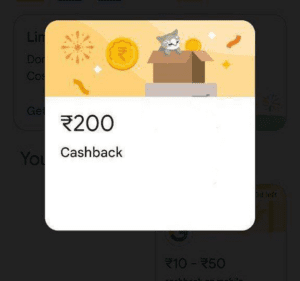 7. Complete your coins before 15th October
Here are some tricks to help you complete the Gpay Shop & Pay Hunt game quickly and easily:
Use Google Pay for all your transactions. The more you use Google Pay to transact, the more coins and items you will collect. This means that you should use Google Pay to pay for everything, from groceries to bills to online shopping.
Invite your friends to play the game. When you invite your friends to play the game, you will both earn a bonus coin. So, the more friends you invite, the more coins you will collect.
Keep an eye on the game's leaderboard. The game's leaderboard shows the top players and how many coins they have collected. If you see someone who is close to finishing the game, try to keep up with them.
Use Google Pay offers. Google Pay often offers discounts and cashback on certain transactions. When you take advantage of these offers, you will earn more coins and items.
Be patient. It may take some time to collect all 5 coins and complete the game. But if you keep using Google Pay for all your transactions, you will eventually win your cashback voucher.
Transact with merchants who are participating in the game. You can check which merchants are participating in the game by tapping on the "Shop & Pay Hunt" banner in the Google Pay app.
Use the Google Pay app to scan QR codes. When you scan QR codes to pay for transactions, you will earn more coins and items.
Make payments during the game's happy hours. The game's happy hours are from 12:00 PM to 2:00 PM and from 6:00 PM to 8:00 PM. During these hours, you will earn double the coins and items for each transaction.
Participate in the game's daily challenges. The game's daily challenges are different each day, but they usually involve completing simple tasks like sending money to a friend or making a payment to a merchant. When you complete a daily challenge, you will earn a bonus coin.
---
---