Hike App Refer And Earn:-
Hike's Refer & Earn is Again back for all the users. Now You can earn Rs.25 for every friend you invite on Hike App. This offer is Also Valid for Old users.
Hello, Guys Hike is Again back with Refer and Earn Program. Hike App is Offering A Random amount for referring Your Friends. for Inviting your friends you can get upto Rs.25 for each Referral and you can Earn Rs.10000.Minimum Redemption is also Rs.50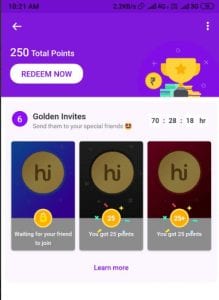 Previously the Offer was limited for Some Users but here we have a trick to Get Referral Link for everyone. You just need to follow the steps to enroll hike refer and earn Rewards.
Old users can also avail this offer. So comment your Number below. Don't worry we will not publish your Mobile number. You will just get an Invite
How To Avail Hike Rewards Offer & earn Rs.50:-
1. First, Send Your number to our Bot your Number to get an invite from me(Don't comment) Send to telegram Bot
We Got too many requests. So we could not be delivered to everyone. Join our Telegram Group for Link exchanges""
2. Once You get an Invite from us. Go ahead & install. We will notify by reply ()
3. From the Link, You receive Install the APp
4. Now Install app And Open it.
5. Register You Number with OTP & in the First screen, You will be asked to search friend. Just Skip it
6. Now You can See My Chat & From here You just need to Send A Sticker and In Reply, I will also send You a Sticker(You will Get Rs.50 after I send you a Sticker so wait & You will see a below message)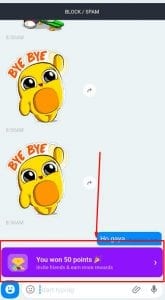 7. Now You have Registered With Hike. Now to Get Sign up Bonus Follow Below Steps.
Trick To Enable PayTM Redeem Option in Your Hike App –
1. First of All Download Hike Beta App From Here – Download Now
2. Now Open Redeem Page & You Can See The PayTM Wallet transfer Option.
3. If you do some suspicious activity. you won't see PayTM Options.
How to Refer Friends –
1. Once You completed the above steps. Now Click on Your Profile Icon from Right side top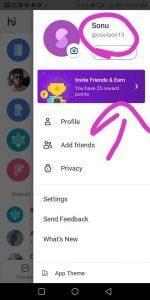 2. Now You will see invite & earn option Click on It & Send Invite to Your Friend click on any card.
3. You can invite 3 friends once. Once they accept the request, you can send to other friends.
4. For each friend, you will get Rs.25 or 25 points that you can redeem for recharge.
Instant PayTM Redemption –
You can instantly Redeem the amount to PayTM.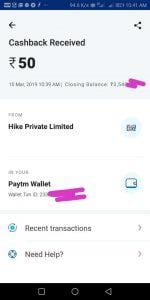 Unlimited Trick –
Team Bigtricks is Working on it.
Terms & Conditions –
1. Share your exclusive sticker invite with a friend and get them on Hike
2. Unlock reward points by sending and receiving stickers with your new friend
3. Redeem these points for amazing rewards in your profille. Every 1 reward point = INR 1
4. For every invite, you and your friend can earn points upto Rs. 100. If you complete all 3 invites, you get a bonus reward
5. No points will be rewarded for any expired invite ticket, so hurry up!
6. All ticket will expire as per the countdown timer shown against the challenge
7. Reward points will be unlocked only if the person whom you sent the invite, joins via that unique link
8. Points unlocked are added to your profile and expiry of the same will be based on sole discretion of Hike
9. These terms are in addition to the Hike Rewards terms available at (https://hike.in/tndc.html)