ICICIDirect Trading Account Offers | How To Open ICICI Trading Demat Account
ICICIDirect Trading Account Offers & Account Opening Process – ICICIDirect Trading Account Offers, Hello Friends If you are looking for Trading Account Offers then You will find this article helpful. ICICIDirect is offering Rewards Worth Rs.7099 on Free Trading Account Open at ICICIDirect.

The Account Opening Process is Simple, You Can Open 3 in 1 Trading Account for Free. There are No Charges Of Account Opening in ICICIDirect. You Can Follow Below below Steps to Open the Trading Account. You Can Also Check Upstox Refer and Earn 5Paisa Account Opening.
You can also check out the Angelone Introducer code which gives free Rs.750 cashback on Each friend referral.
What is the ICICIDirect Trading Account?
The 3-in-1 online trading account gives you the convenience of opening an online trading, demat & bank account. You can view live share price, do share trading on NSE and BSE, trade in Futures & Options, Currencies, invest in Mutual Funds, IPOs and Life Insurance through our seamless and secure 3-in-1 online trading account.
How To Open ICICIDirect Trading Account online –
1. First of All Visit the Below Link ICICI Trading Account Opening Link.
2. Now Enter Your PAN Number, Name, Email ID and Your Phone Number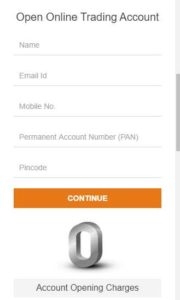 3. Enter Your Adhaar Number and Complete Other Basic Details.
4. Now You will be Contacted by ICICI Direct Executive and Further Processes will be done.
5. You Can Open Your account in 24 Hours and Start Trading with Your ICICIDirect Account.
ICICI Direct Refer & Earn
You can refer friends on ICICI Direct Demat and Trading account, You will get Rs.750 Cashback For Every Referral. You will get Rs.250 when your friend activates this account and Rs.500 when they make a first trading transaction. You can get Referral Link From Your ICICI Direct Dashboard or Using below link.

The referrer will receive the referral reward within 7 working days once referee account is activated i.e. demat and trading account is opened after complete document & application verification in lines with the SEBI / Exchange regulations and internal policies and procedures of the company.
What are Benefits of ICICIDirect Trading Account –
Seamless Trading: You can trade in shares without going through the hassle of tracking settlement cycles, writing cheques and transfer instructions. Absolutely hassle free!
Security: Instead of transferring monies to a broker's pool or towards deposits, you can manage your own demat and bank accounts when you trade through ICICIdirect.com. It provides you the flexibility to pay only when you trade
Wide range of products: Share trading in both NSE and BSE, innovative offerings like – Margin, MarginPlus, BTST, SPOT. Derivatives trading, overseas trading, mutual funds, IPOs and on-line life insurance
Control: You can be rest assured, that your order will be precisely for the amount you wanted it to be, without any deviation, giving you full control of your money and your trades
Award-Winning Research: We understand the need for the right research to make the right investment decision and has focused heavily in this area. Our team with its consistent delivery has been voted as the 'Most preferred brand of financial advisory services' at the CNBC Awaaz Consumer Awards, 2007
Tracking and Review: Monitoring your investments is as important if not more than making that investment itself. Our portfolio tracker and watchlist along with sms alerts will always keep you updated on the status of your investments with us and act on them when required
ICICDirect Account Opening Charges –
ICICDirect Trading account is Free of Charge. You Can Open Account without any Cost.There is no AMC (Annual Maintenance charges) for Demat Account for the First Year. However, charge of  700 (excluding taxes) is levied from 2nd year onwards.