Jio Prime Membership after 31St march: Hi in This post i am gonna share one good News For All Jio Users.Jio Recently Announced Free Prime Membership for one More Year till 31st March 2019. this Scheme PROVIDES 12 MONTHS OF COMPLIMENTARY PRIME BENEFITS TO EXISTING PRIME MEMBERS While NEW CUSTOMERS TO CONTINUE TO PAY Rs 99 DURING ON-BOARDING FOR PRIME MEMBERSHIP.
According to Jio's Recent Announcement–:
All Jio PRIME members who have subscribed to the exclusive membership benefits till 31st March 2018 will get another year of complimentary PRIME benefits at NO additional fee(LIMITED PERIOD OFFER). Jio deeply values its loyal PRIME members and will continue to deliver additional benefits and superior value to these founding members.For new Jio users, the Jio Prime Membership continues to be available at an annual membership fee of Rs 99.The continued availability of the Jio Prime Membership to new subscribers reiterates Jio 's commitment to deliver a differentiated Digital Life experience to Indians and will propel this into the world's largest loyalty programme.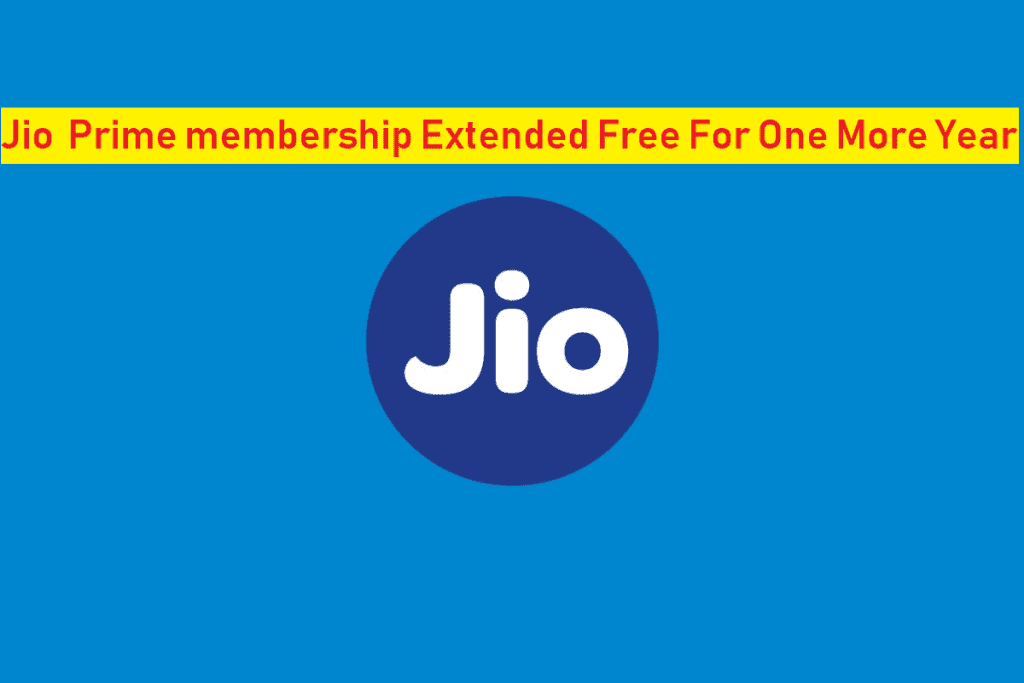 HOW TO GET JIO PRIME BENEFITS After 31st March:
1. EXISTING JIO PRIME MEMBERS (Joining date on or before 31st March, 2018)
Existing Users Don't need to Perform any other Action after 31st Your Prime Membership Will Be Renewed Automatically.You Can Check the Validity & Status In My Jio App.
Update to Get Free Prime Membership
1.Open My Jip App
2.On Top You will See a Red bar Asking to Activate the Free Prime Membership Services for One Year.
3.Now Click on it and Confirm.
4.You will Get Prime Free For Next Year too.
2. NEW JIO PRIME MEMBERS (Joining date on or after 1st April 2018)Pay Rs 99 during onboarding, for Jio Prime membership for the annual subscription.
In the past year, PRIME customers have experienced:
1. BEST TARIFFS IN THE INDUSTRY
a. Highest quality service at the best rates in the industry.
b. Everyday More Value (EDMV) promise to provide 20% – 50% more value to Jio PRIME users ALWAYS
2. COMPLIMENTARY ACCESS TO THE BEST CONTENT LIBRARY
a. 550+ Live TV Channels
b. 6,000+ movies
c. Lacs of Videos/TV shows
d. 1.4+ Cr Songs
e. 5,000+ magazines
f. 500+ newspapers and so on…
3. MYJIO – THE DIGITAL GATEWAY
a. Single click access to 24*7 self-service and account management
b. Access to all Jio applications and other innovations
c. Access to the best deals and offers
4. ACCESS TO EXCLUSIVE CONTENT ONLY FOR JIO CUSTOMERS
a. Winter Olympics 2018 exclusively on JioTV
b. Nidahas Cricket Trophy 2018 exclusively on JioTV
c. Carabao Cup exclusively on JioTV (Arsenal vs Manchester City), to name a few
5. ACCESS TO "MONEY CAN'T BUY" EXPERIENCE
a. Jio KBC Play Along – Play KBC with Sh. Amitabh Bachchan
b. Meet and greet with celebrities & sports personalities
c. Platinum access to live shows and concerts – Filmfare, Justin Bieber Concert, Ed Sheeran Concert, Lakme Fashion Week, Jio MAMI Film Festival… and so on
In short Old Users do not need to recharge with Any Jio Prime Recharge of Rs.99 While Other New Jio Users have to Pay Rs.99 for Prime Membership & They Can Get Free Complementary Services for 1 more year.