Jio Summer Surprise : Hi there and Welcome to Bigtricks. We're updating with you current Telecom News coming from TRAI. TRAI has ordered Jio to Immediately stop Jio Prime Summer Offer because other telecom companies Airtel, Vodafone and Idea filed complaint against Jio because they're giving free internet till 15th April as well.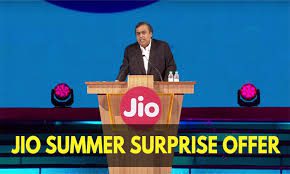 Q. When this Offer will stop?
This will stop at 12 am at night today on 6 April.
Q. What will happen to people who already had recharged for this offer?
People who already had recharged with Rs.303 and above plan will get this offer of Free internet next 3 months.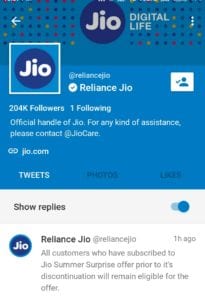 Q. Untill when can I Recharge?
You can recharge only before 12 am tonight of 6 April 17.
• Yes it's last day to Subscribe Jio Prime Membership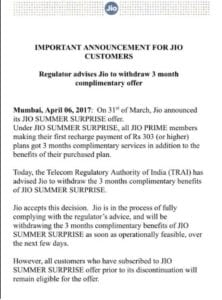 Yes If you want to get this offer then immediately goto Jio App or Website and Recharge now. TRAI also ordered Jio that they cannot end Summer Surprise Offer because they already have committed this offer to millions of People. Jio Chairman Mr. Mukesh Ambani had appealed TRAI for 2 to 3 days so that people who haven't Recharged already can Recharge. But you should Recharge as soon as possible because as of now there is no confirmation yet. We'll inform you if we get Update.
Stay Tuned…..