Make Website Beautiful :  If you're taking your business online, you should try and put your best foot forward. Whether you're from an established physical business or an entrepreneur looking to start up, the first step of building an online presence is by creating your website.
Your website will be the foundation of all your online sales. Although you get several e-commerce website templates to design your website, there are some ground rules to follow to better attract customers with the looks of your website. Read along to know how you can make your website's shopping experience more memorable.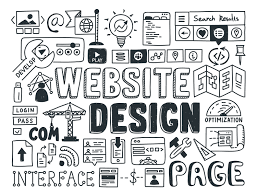 • Choose The Right Colour Palette
It is important to choose the right colour palette to give your website a definite colour scheme that echoes its identity. Each colour communicates its own mood and feeling. Analyse this well before you decide on the colours for your website. Ensure they are in line with the colour scheme of your logo as well.
• Content and Typography
The content of your website its backbone. It has to be well written to be able to attract more customers. Try and avoid typos and grammatical errors by proofreading it several times. Keep your web copy crisp, simple and informative. Your typography should also reflect the ethos of your brand and the tone of your writing.
• Background Image
If a plain coloured background bothers you, why not fill it up with an image that connects your user to the context of your website? They instantly grab your customer's attention and also help in conveying the message you want to with your business. You can even opt for a video to play in the background on repeat. These do well to reinforce the tone and theme of your website.
• Navigation
With a menu option with several sub menus to navigate through different categories and webpages of your website, it will be easy for your consumer to search for the product that they are looking for easily. This will also make your website looks attractive by removing all the clutter on your homepage. Your site architecture is also an integral part of how search engines treat your website, so keep that in mind while planning your navigation. Users should be able to navigate to their destinations within a few clicks.
• Simple Domain Name
Although it is difficult to find good Domain Names these days, make sure you get an easy to remember URL for your website so that customers can find your website easily. Effortless customer recollection of your domain name is important for your web business to succeed.
• Make Your Website Compatible
Create a website that is adaptable to different screen resolutions, browsers and also for mobile use. With this, your customers can view your website on their phones or tablets when they don't have access to a computer. Do you have social media stores integrated to your website? Some website builders offer social media sales integration as part of their software features.
• Comments Section And User Reviews
Adding a comments or reviews section to your website will allow your customers to share their ideas about your product and rate it. This will increase the popularity of your product and also make it reliable. Consumer generated content is key to increasing the trustworthiness of your website.
• Avoid Too Many Graphics
Graphics can both save and ruin your business depending on the way you use them on your website. Don't clutter your website with too many unnecessary pictures. This will make your website look disorganised and will drive away your customers. Add subtle images that convey a message instead.
• Add A Promo Video
This promotional video can be about how you work or how you contribute to serving your customers in the best way you can. Since videos play an important role in content consumption today, this promo video could help your brand gain traction online while also displaying the vision behind your business. You can even create an animated video if you don't have a big budget.
• Live Chat
Live chat is not a necessity when you already have reviews, product FAQs and a customer feedback section. Live chat will allow your customers to talk to your customer service staff for support, so you will have to have employees deployed to complete the service.
Now that you know what you need to keep in mind while taking your business online. All of this is a simple process when you have the right e-commerce template set in place for your business.