MobShow App: Hello Guys i hope you are Playing daily quiz in UC News App and NewsDog and earning a lot of Paytm Cash a Similar App is there for Playing quiz.You can Win upto Rs.3000 Paytm cash For Just playing Quiz and Rs.10 for Sign up & Rs.10 For each Invite .You can earn a lot by referring friends You will also get a lifeline by referring friends.as mentioned You won't see the Referral Credits instantly every midnight they will update it on the dashboard.if you can't refer friends you can still earn using quizes
The App is verified! This is a Big loot Guys Just Signup and Get Rs.10 Paytm cash And no Minimum Amount to Redeem You will get Directly in paytm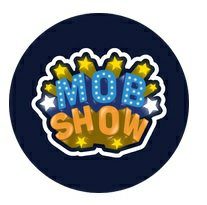 How To Get Rs.10 Paytm cash on Signup:
1.Download MobShow App From Playstore Download Now
2.Now Install the App and Enter in App.
3.You will be Asked for Mobile Number , Name and Referral Code.
4.Enter Referral Code:
PEN219
5.Now Complete Sign up using OTP Verification.
6.You have Successfully Got Paytm cash.
7.You have to Play Quiz at 9.00 PM to get Referral Bonus
How To Refer friends:
1.Copy Your Referral Code and Share With Your Friends When they use your Code to Sign up both will get Rs.10 paytm Cash. 2.The Balance will be updated midnight 3.You will get one Quiz Lifeline on every refer and it will help you to save your life during playing quiz.
Tip to get Answers of Quiz:
You know that mobshow and ther apps like news Dog UC news offer Paytm cash for Answering 10 questions and you get only 10 seconds for each question.So here is how you can crack the quiz and get answers in 10 seconds.
So First you will need A Laptop or extra mobile.
when Quiz start open Google.com in Laptop or Google Assistant in Android.
When the Quiz start instantly Ask the Question from Google Assistant or if you are using Laptop click onMic icon on search box
google is quite fast and it will reply to you in 1-2 second requirement is just Fast internet.
Once You Get the Answer fill it and remember you will get a Lifeline for inviting friends each time
so use this offer its a open big loot you can also use UC News App and NewsDog Same Offers on these apps
Refer Code Newsdog: – CUJ2KF 
Refer Code UC News:- 2E9S7B