Niki Paypal 50% Cashback Offer
Hello Friends, If you have not used PayPal offer till now here is the best & last chance for you Now, You can Buy Flipkart's Rs.1000 voucher for just Rs.500 only on Niki Ai app. If you have not used Paypal till now then only you can avail this offer.
This is an official offer from Niki and Paypal and you will get cashback within 5 days of the successful transaction.
Please Note – Do Not Use Virtual Cards. Cashback won't be credited for Virtual card transactions
How to get Flipkart Voucher Worth Rs.1000 for Rs.500 only – 
1. First of All Download Niki App from Playstore – Download Now
2. Now you have to Signup here optionally you can use my Referral code to get additional cashback –
3. Now You will see the chat screen here type "Gift Card"
4. Now You can see the card with Flipkart offer. Click on the Buy Now Button.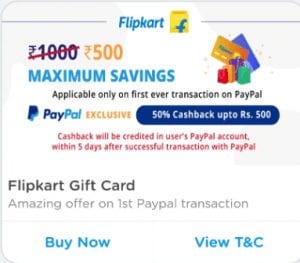 5. Now while the Payment. Pay using Paypal Wallet (Now Remember the Point that You must be new on Paypal Scroll below to read all steps.)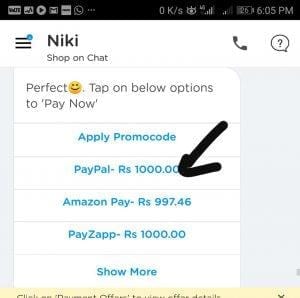 6. Once You make the Payment Wait for 5 days and you will get the Cashback in Paypal Account.
7. You can the cashback on any Indian merchant which accept Paypal.
8. The Offer is valid for Limited Time.
ABOUT THE OFFER
1. Pay with PayPal and get 50% cashback up to Rs. 500 on your eligible purchases.
2. You will need to make payment for a minimum value of Rs. 50 using PayPal to be eligible for the offer.
3. Offer is valid only for first ever transaction through PayPal and can be availed once per user.
4. Offer is valid for transactions through PayPal India account.
5. Offer period from 15th March 2019 to 31st March 2019
6. Cashback will be credited in the user's PayPal account, within 5 days after a  successful transaction with PayPal.
7. The cashback will be in the form of a discount on subsequent payments done completed using PayPal. Please see the Terms and Conditions below for details.
---
All Shoppers already knows that Paypal is now live in India & Offering 50% Cashback on Every Indian Merchant. The Best use Of PayPal Cashback offer is to buy Gift cards online at the best Discount. This is the best Deal as no one Offer Cashback upto Rs.200.

So in This guide, we will add a post to show you how can you get Amazon Vouchers at flat 50% off. so if You are buying Rs.100, Rs.250 or Rs.400 Vouchers You can Get a Cashback of Rs.50, 125, 200 instantly You can again use The Cashback to Buy Gift Voucher from the Zingoy or Grabon.
Paypal Also Send Rs.200 Voucher to many Users. So it's the best time to create the new account & get regular Offers
Zingoy is Sometimes out of stock with Gift vouchers but Grabon is having Amazon Vouchers so You can use Grabon. The Vouchers are in Stock
How to Make a New Account on Paypal –
1. First of All Visit PayPal Indian Merchant Page Click here
2. Now Click on Signup & Create a New Account. You need to verify Your email ID Only, Mobile number is not compulsory.
3. Now You will need to link your card. (Tip  – Many User Thinks it's unsafe but trust me You won't get charged without reason even the payment process is the same as you made on other merchants)
4. Once You add Your card You are ready to Use PayPal for Transactions.
5. You can Link(Download) TMW(Read Steps) or Airtel Card in Paypal it's Working and tested 
Unlimited Virtual Card Trick –
Mobikwik Virtual Card Trick –
Paypal Signup Link to use This card  – Click here
First of All Download mobikwik App. If you have not installed it till now.2. Now Create Account or Login to your Account.No need to Add Money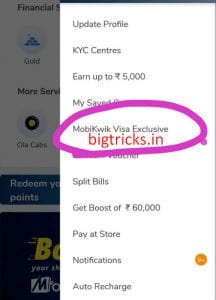 3. Click on Three Dots or Your Account Logo  & Click on "Visa Exclusive card"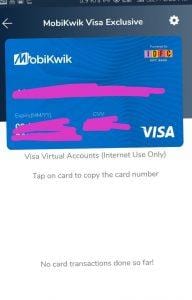 4. Now You will get a Visa card that you can use on Paypal.
5. Now Visit Netflix Website & Create a new Account.
6. use The card you get from Mobikwik to pay Rs.0 & verify the card.
7. You will Get Cashback for sure on 5th Day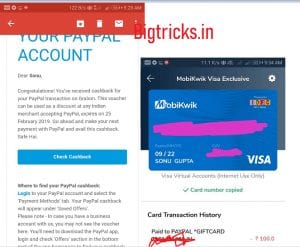 DBS Card Trick –
1. Download Digibank By DBS From Play Store.
2. Now Select Your Location as 311301 
3. Create e-Wallet on The App. You will be required to do KYC.
4. Do Your KYC with any Government Id(No Verification & instant)
5. You will get a Debit card, that you can use on Paypal.
6. Deposit the amount for which you want to do the transaction.
7. Complete Your transaction & You will get Cashback
---
How To Get Rs.200 Cashback on Movie Tickets from Bookmyshow –
Visit Bookmyshow Website For Booking of Movie Tickets.
2. Now Select Your City Tickets etc.
3. Proceed to Checkout Page & Pay Through Paypal.
4. The Process of Creating the account on PayPal & Linking card is already given in above Step
5. You will Get Cashback upto Rs.200 which you can use on next transaction
6. You can Buy Gift voucher using this amount process given below
Now – How To Get 50% Cashback on Amazon Vouchers/Paypal Vouchers.
Visit Grabon Amazon Vouchers page From here.
2. Now Add Amazon Vouchers to Your Cart as per Your Requirement.
3. Now Add in Cart, verify Your mobile number & pay using Paypal.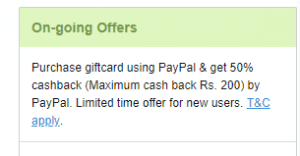 4. On The Paypal page, you won't see any notification about the offer.
5. Pay using your Debit/Credit card.
6. Once you pay to PayPal. You will get Cashback instantly to Your Paypal account.
7. on Next purchase you can use it automatically. If You have any query comment below you will get the answer instantly.
What if You don't want to add Your Primary Card to Paypal -(May or Moay No work )
Some people may not want to Add their card to PayPal so for them, I have the suggestion.
You can Add Virtual card() or Your PayTM Debit(Not Working) Card or Airtel Virtual card(may be) or any other card.
Make sure you have balance in the card to make future payments.
Terms & Conditions –
Pay with PayPal and get 50% instant cashback up to Rs. 200 on your eligible purchases. You will need to transact for a minimum value of Rs. 50 on any Indian merchant accepting PayPal to be eligible for the offer.
Offer is valid only for the first transaction through PayPal and can be availed once per user.
Offer is valid for transactions through PayPal India account.
Offer period from August 11th, 2018 to December 31st, 2018
The cashback will be in the form a discount. Please see the Terms and Conditions below for details.
Offer can be availed only once per user
You agree to receive the cashback award email from PayPal
This offer is available on the First-Come-First-Serve basis to a limited number of eligible customers
In case of cancellations/ refunds in redemption cases, 100% cashback will be refunded if the offer period is still valid. For partial cancellations, a refund will be processed as per PayPal policies
Under no circumstances will you be entitled to withdraw the eligible cashback amount into your bank account or otherwise ask for a cash withdrawal. The cashback amount will be applied as a discount for your eligible purchases. The amount cannot be credited into any pre-paid instrument issued under applicable RBI laws
The offer can be redeemed during a PayPal transaction where there is an integration between the merchant's checkout flow and PayPal back-end platform which holds all the logic to redeem PayPal offers.
The offer will apply as long as the currency of the PayPal offer is the same as the currency passed from the Merchant (reflected at checkout). Currency conversion is not supported
In addition to the above, this offer is also subject to merchant's general Terms of Use. The offer is not available for guest transactions.
Indian laws govern these Terms and Conditions. All disputes shall be subject to the Dispute Resolution clause of the User Agreement between PayPal and You.