Zingoy Paypal Loot
Zingoy Paypal Tricks, Zingoy Paypal Rs.500 Cashback, Zingoy Cashback offers, Paypal Single Card in Multiple Accounts Trick – Hello Friends, I Hope You are earning With help of our tricks. We will not let you bored while you are at home ;). This is A Trick blog where we will share your trick to Get Rs.500 Cashback With Paypal on Zingoy

Zingoy is already offering 50% Cashback Upto Rs.300 on Gift card Purchases. You can Get This offer with Paypal new Accounts Only. The cashback can be used for another purchase from a PayPal merchant.
We will also post a trick to use 1 card in multiple Paypal Wallets. Note that – You must keep Your IP Different every time you create an account on Paypal else you may not qualified for the cashback.
Pre Requirements  –
1. Create a Paypal account with Fresh mobile Number
2. Now Add Your Rupay/Visa/Master card No Virtual Cards & link it.
3. Follow Below Steps
How To Get 50% Cashback Upto Rs.300 From PayPal –
Update – PayTM/Zeta/Virtual Cards Cards are Not Working Now
1. First of all Visit Zingoy Gift card Purchase Page From Below Link
Warning – Paypal May Detect If You Signup Twice in Same Device & You Will Noy Get Cashback
2. Now, once You are on the Zingoy website. Now Choose PayTM Gift card worth Rs.600
3. Now Proceed to Payment Page & Choose Payment Page as PayPal [ You have to use Same Email ID as in Paypal ]
4. Now proceed to PayPal Payment Page & login. if It asks Mobile Just Skip it.
5. Now Once You are on the Page Pay using Card You have Added.
6. Now You will Get Instant Cashback. Now Once You get the Cashback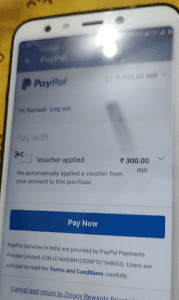 7. You Can Use it on other Merchants.
---
How To use One Card On Multiple PayPal Accounts.
1. First You add it in Fresh Account.
2. Once You Get The Cashback on First Transaction. Remove the Card.
3. Use the Same Card on Newly Create a Fresh Paypal Account.
4. Done, You will Now Get Cashback in Second Account Also.
5. Remember the Second Time it will take 2 Days
---
Zingoy Paypal Terms & Conditions –
You agree to receive the cashback award email from PayPal
In case of cancellations/ refunds in redemption cases, 100% cashback will be refunded if the offer period is still valid. For partial cancellations, refund will be processed as per PayPal policies
Under no circumstances will you be entitled to withdraw the eligible cashback amount into your bank account or otherwise ask for a cash withdrawal. The cashback amount will be applied as a discount for your eligible purchases. The amount cannot be credited into any pre-paid instrument issued under applicable RBI laws
The offer can be redeemed during a PayPal transaction where there is an integration between the merchant's checkout flow and PayPal back-end platform which holds all the logic to redeem PayPal offers
The offer will apply as long as the currency of the PayPal offer is the same as the currency passed from the Merchant (reflected at checkout). Currency conversion is not supported
The offer cannot be transferred or combined with any other PayPal (a) offer; (b) promotion code; (c) coupon; (d) Offer; or (e) discount or any offers from your card issuing bank
PayPal reserves the right to employ reasonable technological and other methods to prevent abuse of the Offer terms. Further, you acknowledge that PayPal's decision to take certain actions, including limiting access to your offer, placing holds or imposing reserves, may be based on confidential criteria that is essential to our management of risk, the security of users' accounts, comply with applicable laws and the otherwise protect the PayPal system. You agree that PayPal is under no obligation to disclose the details of its risk management or its security procedures to You.
In addition to the above, this offer is also subject to merchant's general Terms of Use
Indian laws govern these Terms and Conditions. All disputes shall be subject to the Dispute Resolution clause of the User Agreement between PayPal and You.