PayTM IMAX Movie Pass – Hello Bros, Have you booked Marvel's Avengers End Game Movie tickets? We have an offer for You. Now you can buy IMAX Movie Pass & Get 100% Cashback on 4 Movie tickets upto Rs.250 until Dec31st 2019. Means in Rs.299 You can watch 4 Movies absolutely free.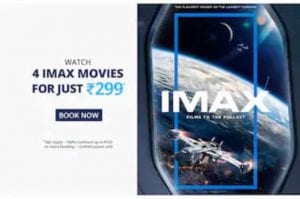 You just need to buy the pass from PayTM & You are done, Apply this pass whenever you go to book your movie tickets. This pass will cost you Rs.299 once and then 4 tickets worth Rs.250 are free.
How to Purchase IMAX Voucher From PayTM –
1. First of All Visit PayTM Product Page – Click here
2. Login/Signup & Buy This Pass for Rs.299
3. Pay using Card/ Paytm Postpaid or any other payment method.
4. Once you make the payment, You will get a promo Code.
5. This is Your Passcode keep it with you.
---
How to Use IMAX Pass to Get 100% Cashback Upto Rs.250
1. Now as usual visit IMAX 3D or 2D cinemas &  select your movie & Book seats.
2. In next Page Apply the Promo Code you received in Pass & Apply it. You will get 100% Cashback upto Rs.250
3. This offer can be used 4 times until Dec31st.
---
Additional Details –
Paytm IMAX Exclusive Pass entitles the user to watch 4 IMAX movies till 31st December 2019.
* Use your unique code to get 100% Cashback* up to Rs. 250 on one ticket for every booking.
* This offer is applicable on IMAX 2D and IMAX 3D formats of movies only.
* This pass is not applicable non-IMAX movies playing on IMAX screens.
* If you book 1 ticket worth Rs. 150, Cashback will be Rs.150. 
* If you book 1 ticket worth Rs. 250, you will get total of Rs. 250 Cashback. 
* If you book 2 tickets worth Rs. 250 each, you will get a total Rs. 250 Cashback. 
* This offer is applicable on IMAX films PAN India available on Paytm.
* The offer is Non-transferable and is to be used by the registered Paytm account holder.
* Promo code received is valid till 31 Dec 2019.
* Movie ticket booking realization is subject to availability.
* The special code will be received post-purchase Via SMS/Email.
* The exclusive Offer code received is only applicable for booking movie tickets on Paytm web and Paytm App.
* The Cashback will be credited in your Paytm wallet within 48 hours of booking movie tickets.
* Convenience fees, 3D glasses or any applicable taxes will be charged additionally and is not a part of the offer under this campaign.
* One user will be able to use one deal at a time only.
* Cashback to be credited only if KYC is done.
* Paytm solely reserves the right to change/modify or stop the Campaign without giving any prior notice.
* Upon cancellation of tickets purchased using movie pass, the pass usage against canceled tickets will not get reset and remain counted as used.
* All prices are subject to change without prior notice.
* If you are a non-KYC user, you will get goldback.