PayTM Cricket League [PCL]
PCL is back this IPL after a big blunder last year when the paytm app was removed because of PCL hope you remember this, now PCL is back so you can earn free cashback and vouchers for collecting players and exchange
Hello Friends, IPL is live 😍 and so PayTM has come up with PCL [ PayTM Cricket League ] Where You can make your team and Win Prizes Worth ₹5 Crore. This is a Very Simple Game just Like Other Fantasy Sites like Fanfight and MyTeam11. PayTM is recently running a PayTM Holi Offer where you could win Rewards worth Rs.2000.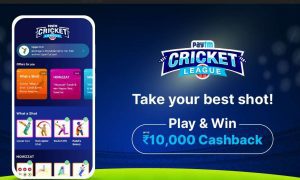 This Year IPL is happening closed doors so there will more offer to engage players with IPL. PayTM has started early and Here you just need to collect Players and captains to make the team and If your team wins, You win the PayTM cash.
⬇⬇⬇Comment Your cards below to earn an extra free card ⬇⬇⬇
For You Guys, We are posting daily teams for current matches. So You can Join our Fantasy Team Suggestions Channel From below link.
How To Get Free Power Play Card on PayTM Cricket Leage
As per the update from the paytm official Twitter handle, you can get a free PayTM Power Play Card. You can activate PayTM Postpaid and make transactions using it. There are chances that you get the powerplay card.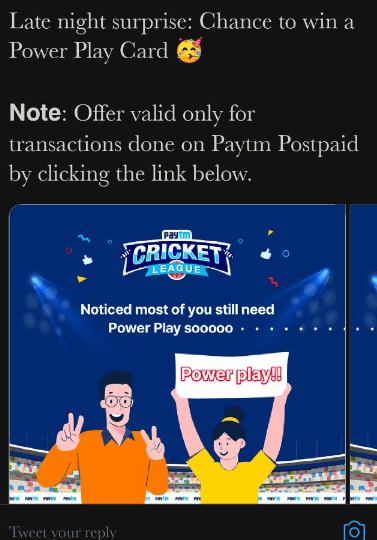 1. First of all click on the below link to activate the offer.
2. Now, Make any transaction using PayTM Postpaid and Check the scratch card section, you may get free Power play card.
How To Participate in PayTM Cricket League and Earn Upto 5 Crore
1. The offer is available in a newer version of PayTM. So First download the latest version of PayTM From the Following link.
2. Now Once You download the App, You Can Find the banner for this contest inside the Cashback Offers section or Just Click on the below link which will redirect you to the offer page.
3. Now keep collecting the cards by making various transactions as instructed in the app.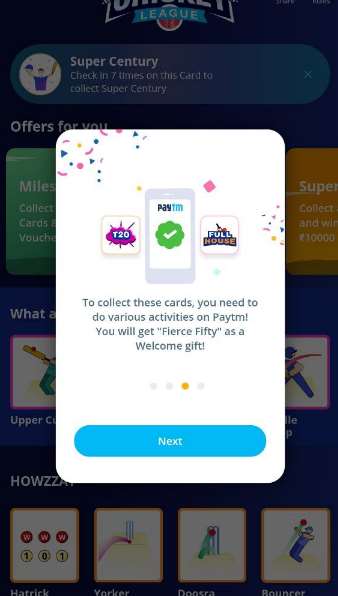 4. You need to collect different tickets to earn various rewards Just like any other payTM game.
5. You can Join our Channel to share your extra card or take an extra card from giveaways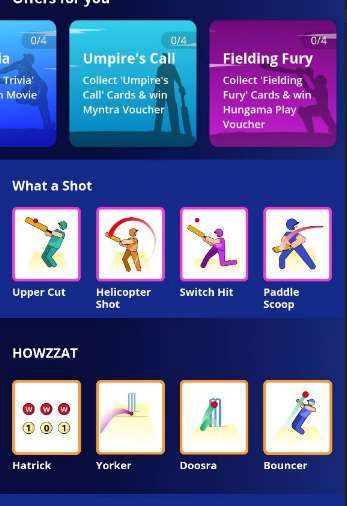 6.There are 32 cards that you can collect by different activities & There are 8 Rewards for 8 milestones and 1 is a grand milestone.
How To Collect PayTM PCL Cards From PayTM App
| Card Name | Steps To Collect |
| --- | --- |
| Upper Cut | Recharge for Rs.48 or More |
| Helicopter Shot | Electricity / Credit Card/ Landline Bill Of Rs.100 or More |
| Switch Hit | Pay Broadband/ Landline/ Credit Card Bill Of Rs.100 or More |
| Paddle Scoop | Pay For DTH Recharge Rs.100 or More |
| Hattrick | Send Rs.50 or More Using UPI |
| Yorker | Send Rs.50 or More Using UPI |
| Doosra | Send Rs.50 From Bank Account |
| Bouncer | Send Rs.50 From Bank Account |
| Fierce Fifty | – |
| Super Century | -Check-in Daily & Collect on 7th Day Pay |
| Five Wicket Haul | Pay Using PayTM 100 Rs |
| Golden Duck | Recharge for Google Play with Rs.300+ |
| Dugout | Pay Rs.25 to nearby Stores |
| PowerPlay | Pay Rs.25 to nearby Stores |
| Superover | Pay Rs.25 to nearby Stores |
| Out of the Park | Pay Rs.25 to nearby Stores |
| Timeout | Send Rs.500 + |
| Reverse Decision | Checkin on Fridays |
| DRS | Pay Rs.100 on apps using paytm |
| FREE HIT | Gift any item to a friend |
| Blinder | Add Rs.501 to paytm wallet |
| Direct Hit | Collect any 12 cards to get this card |
| Sitter | Book a movie ticket |
| Butter fingers | Check-in between 25-30 may |
How To Earn More Players
There are the following tasks to earn Players from PayTM App
Pay at Nearby Shops or Merchants
Recharge Your DTH
Pay Electricity Bill
Recharge Any mobile
Add Money to Wallet.
Send Money From bank
Gift a Player
Request a player
PayTM cricket League Rewards
| PayTM Milestone | Condition |
| --- | --- |
| Milestones | Collect Milestones card 3 times & Get Scratch card of Rs.500 |
| Drinks Break | Collect 12 Scratch cards to get a scratch card |
| Super Player | Collect 24 Scratch cards to get a scratch card worth ₹10,000 |
| What a Shot | Collect What a Shot card and win up to Rs.1000 |
| Howzzat | Collect What a Shot card and win PayTM First Voucher |
| T20 Mania | Collect What a Shot card and win Movie Voucher |
| Umpire's call | Collect Umpire's call & Earn Myntra voucher |
| Fieldling Fury | Win Hungama Voucher |
How To Gift a Player to Friend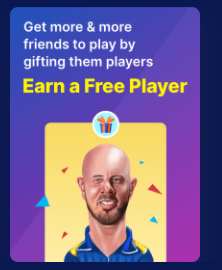 When You earn more than one card of the same player then you can tap on the card and gift it to a friend. In Exchange, You will get a Suprise Player Card.
How To Request a Player card from a Friend
You can just go to the Request tab and request Player from Your Friend, Your friend can gift if he has multiple card of the same player.
Giveaway links
https://paytm.me/0A-fSgk
https://paytm.me/17-HlqM
https://paytm.me/1zN-6Be
https://paytm.me/2a1-mi7
https://paytm.me/30-S1Gq
https://paytm.me/8FlZ-it
https://paytm.me/96w-lhm
https://paytm.me/9dm-Sgk
https://paytm.me/A-YqSgk
https://paytm.me/Abdj-0b
https://paytm.me/E-6AHW3
https://paytm.me/E-YD9Qo
https://paytm.me/GA-p3MT
https://paytm.me/GI-ymWz
https://paytm.me/K-IymWz
https://paytm.me/Lv7-xFJ
https://paytm.me/M0Y-njM
https://paytm.me/P-CRfAW
https://paytm.me/PY-Llhm
https://paytm.me/Pcc-63f
https://paytm.me/PdE9-Qo
https://paytm.me/QI3A-2G
https://paytm.me/S-v1lhm
https://paytm.me/S1gm-Wz
https://paytm.me/WsdY-dR
https://paytm.me/X-ma9hU
https://paytm.me/X-tkCgf
https://paytm.me/Xt-NCgf
https://paytm.me/aU-fSgk
https://paytm.me/b-yymWz
https://paytm.me/d1v-DRU
https://paytm.me/dJ-L3vP
https://paytm.me/dWHD-hx
https://paytm.me/diA-HW3
https://paytm.me/g0wl-hm
https://paytm.me/gd7-xFJ
https://paytm.me/gh-clJP
https://paytm.me/gx-D9Qo
https://paytm.me/j-p3DRU
https://paytm.me/jY-QjvC
https://paytm.me/jvuX-Q0
https://paytm.me/kiW-8QK
https://paytm.me/kj4-aF6
https://paytm.me/l-LUfAW
https://paytm.me/o52-HW3
https://paytm.me/oD-NCgf
https://paytm.me/oMH-1E3
https://paytm.me/orz-3vP
https://paytm.me/p6XY-X8
https://paytm.me/q-6kCgf
https://paytm.me/q7-pA2G
https://paytm.me/qiw-lhm
https://paytm.me/qt-x6Be
https://paytm.me/s-cymWz
https://paytm.me/t9-OmWz
https://paytm.me/u-pbdzY
https://paytm.me/u2gt-g8
https://paytm.me/v-hHDhx
https://paytm.me/w-8qSgk
https://paytm.me/x-G1L6i
https://paytm.me/xIc0-Nm
https://paytm.me/y2mS-gk
https://paytm.me/z-OWXQ0
---
PCL 2020
How To Collect Cards
You can earn any number of players during the tournament
For every match, your team can have any number of players entering the match (Maximum 11)
Select captain and vice-captain for the match and earn 3x and 2x points respectively
Submit your team by the cut off time as per the timer mentioned on the player selection screen
The points you scored for a match will be updated once the match is over
The teams participating will be ranked basis the points earned during the match
For detailed Terms and Conditions, please refer the Rules of the Game section