Paytm Add Money Disabled By SBI : SBI Is India's Biggest And Oldest Bank Network In India . Over 10M Customers Are Connected With this bank . Now SBI Took a big step against online fraurding SBi Has blocked Add money to many online wallets including Paytm, Mobikwik and Freecharge.Sunita Handa, general manager for net banking at SBI, told medianama that increased instances of vishing led SBI to take this step.However These Service will be live for SBI Buddy App . One More Thing is  Only  SBI Netbanking is disabled to add or transfer money to paytm  , You Can Still Make Payments Using SBI Debit/Credit Cards
Vishing is a type of online fraud where a scammer pretends to be a legitimate business and fools victims into divulging their net banking credentials. Handa said that many scammers would load Rs 10,000 (the limit for non-KYC wallets) into wallets and then immediately transfer the amount into another bank account. Handa, however, declined to give the number of complaints that SBI got of such vishing attacks.
We Have Checked Paytm , Mobikwik And JIO Money Wallet With SBI Netbanking Option And The Payment did not go through.
Ecommerce sites also blocked
According To Handa This option  Also Disabled to some ecommerce websites ,however the name is not listed but probably it is on Jewelry and Expensive items Seller sites. "There are many fly-by-night online players who offer hotel rooms which cost Rs 5,000 for Rs 2,000. We have disabled net banking for these people as we do not want customers to lose faith in ecommerce and digital channels," Handa explained.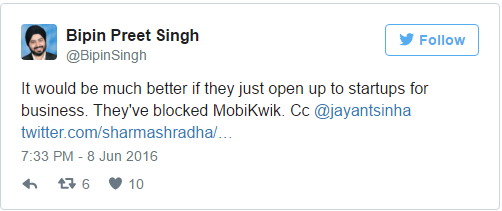 We Would like to know your opening about this step please comment below