Trick To Collect Water Bucket and Glitter Card
PayTM Holi Bash is Life From PayTM and People are also earning Upto Rs.10000 From this game, You might want to get the Two Most rare cards of the PayTM Holi bash Game which are Water Bucket and Glitter. You can easily collect these two cards from PayTM and All other Rare Cards in PayTM Holi Bash Offer by following our tricks. Also Checkout
According to PayTM Holi Bash Rules, You can collect a Glitter card by Paying for Water / Gas/ DTH Bill Of Rs.100 or More and a Water bucket by sending Rs.50 to any of your friends using UPI. A lot of people of our Bigtricks Telegram group has got these two cards by following the above methods only and got a Cashback of Rs.7000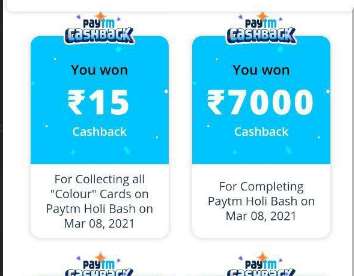 How To Get Glitter Card For Free From PayTM
As of today, 29th March 2021, Paytm is going to give away 1000 or 10000 Glitters using its Twitter handle, All you need to do is just claim using its link and You will Get Free Glitter. We will post the Link here and Notify you once they publish. So Stay Tuned. Follow The Steps.
Giveaway Time
1. Open The Twitter Feed link.
2. Now Like & Retweet the Tweet
3. Wait for the giveaway Link from PayTM, Which may be expected at 9-10 AM on 30th March
4. Just Click on it and You will get Free Glitter.
---
How To Collect Glitter card in PayTM Holi Bash offer 2021
1. You can Collect a Glitter card by following the below 3 methods and there are 80% chances that you will get this ticket for free.
2. First Send Rs.59 From Your PayTM Linked Bank account to any of your friend's Bank Account
3. Please Note Send only to the Bank account number and not UPI to claim this card.
4. Mostly you will get this card in your 3rd attempt [ 3rd day]
5. If this does not work for you then you can simply make a transaction on some apps like magicpin or so and pay using PayTM
6. You will get the glitter ticket, If you get the glitter card, please comment below or if you have any other trick also comment below
Get Glitter Card By Gas Bill payment | Electricity Bill Payment
You can get a Glitter card in PayTM Holi bash by making an eligible Gas Bill payment of Rs.100 or more. You will get additional Rs.50 Cashback and a rare Stamp which can be Glitter or Water Bucket. In the Initial, most of the users got Glitter using this method only.
---
How To Get Water Bucket Card in PayTM
You can get Free Water Bucket card in PayTM holi bash offer by just making a transaction in recharge & bill payment category. As per the user's response, People got water bucket by making electricity bill payments or DTH but it's not 100% you can give it a try and if lucky you can get it for free.
If nothing works, Just send us a request and we will try to share a free card with you on Telegram bot, join Telegram Channel For Giveaways daily
Join Telegram Channel For Cards Giveaway