UC Browser Cheer India Offer – Hello Friends, UC Browser is again back with Its Rs.5000  Offer. Now You Will Get Rs.50 on Signup & Rs.1-200 on each Referral. You Can Get Rs.25 Recharge Voucher instantly & If you reach to Rs.5000. You can redeem for cash. This offer is for all users so grab it asap.
How To Get Rs.25 Free Recharge From UC Browser Amazon –
First of All Download UC Browser App From Playstore.
2. Now Just Install App & Proceed to Login.
3. Now CLick on this Link and Open in UC Browser. – Click Here
4. Once You Open the Link in UC Browser Now  Find Required things  and You will win Rs.25 Recharge
6. Once You win Now Click on Offer and Login to Your Amazon Account to Claim the offer.
[You have to FInd Differences and click on that to Win Vouchers]
5. More you Play More, You earn Amazon Vouchers
6. You Can Find Offers in Your My Prizes Section.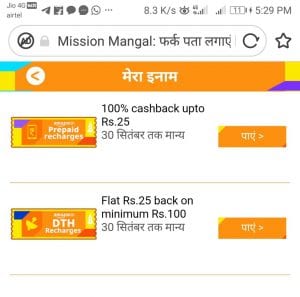 Rewards –
1. 100% Cashback Recharge Coupon – ₹25 Recharge Free
2. Flat ₹25 Cashback On DTH ₹100 Recharge Coupon
3. Flat ₹35 Cashback On Electricity Bill Payments Of ₹300.
4.Flat ₹30 Cashback On Minimum ₹200 Postpaid Payments.
5. ₹10-150 Cashback On BookMyshow, Minimum Booking Of ₹250.
Unlimited Trick –
1. First of All, Collect the Offer in Your first account.
2. Now Don't Login Just Clear Data of UC Browser and Clear History of Chrome.
3. Open the link and play the game and collect the coupon in different Amazon account
---
How To Get UC India Cheers Offer –
First of All Download UC Browser App From Playstore.
2. Now Just Install App & Proceed to Login.
Now Open This Link and Play Find and Win Quiz
Now F
5. Now Copy Your Link & Start sharing with Your Friends to Earn More Cash.
6. Once You Reach to Rs.5000, You Can Redeem to PayTM
Rs.25 Amazon Recharge Code –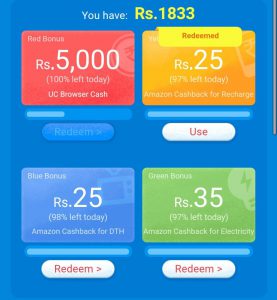 Unlimited Trick – Amazon 100% Recharge Cashback Unlimited Times –
You Can Get Unlimited Recharges With Below Links in Amazon Pay – You will Get 100% Cashback Upto Rs.25 2. You will Get Rs.25 CB on DTH Recharge 3. You will Get Rs.35 CB on Electricity Bill Payment. Click links Below with all of Your Amazon Accounts

UC Mini Browser is offering Again PayTM Cash Vouchers & PayTMmall Shopping Vouchers The Process is Same as the Vamte App. You will Get Rs.25 Recharge Voucher, Rs.10  by Entering invitation Code. These all Coupons are available in UC Browser App.
You can Refer Friends & Earn More PayTm Cash. Do not Forget to enter My Referral code to get Rs.10 Extra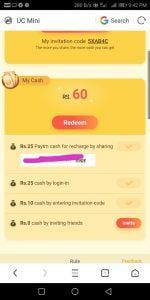 How To Get PayTM Vouchers from UC Mini App –
First of All Download UC Mini App From Playstore.
2. Now Just Install App & Proceed to Login.
3. Now You will see a banner Saying Rs.25 PayTM cash Voucher Else Open This Link in UC Mini-Click here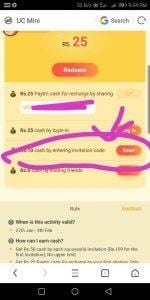 Next Enter Referral Code – WDFMFJ
4. Now Click on Banner & Click on Banners to Get PayTM Recharge Codes.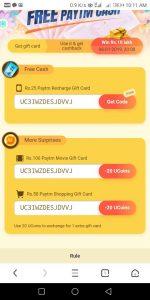 5. There are Three Coupons worth Rs.25 Recharge / Rs.50 Shopping Voucher / Rs.100 Movie Voucher
6. Now If You enter Referral You will get Rs.10 more Cash. You can redeem on minimum Rs.500 Wallet balance.
7. You Can See Your Referral code. Share this code with your friends so that when they enter. You will get Rs.100 on FIrst invite & then Rs.50 per referral after that.
Terms –
The recharge gift card is valid on registered mobile number and only by Paytm recharge, with no minimum transaction value requirement, providing 100% cashback with max Rs.25. 

The shopping gift card is applicable on Paytm Mall, providing Rs.50 cashback on a min purchase of Rs.200.
The movie gift card is valid on Paytm movie tickets, giving Rs.100 cashback on booking at least two movie tickets in one deal.
Every UC user can get at most 3 gift cards during the activity, 1 gift card for recharge, 1 gift card for shopping, and 1 gift card for movie tickets.
For the same kind of gift card, every paytm account can use only once.
All gift cards are valid till 24th Jan 2019.
All gift cards are limited in quantity. First come, first served. If the gift cards run out in advance, UC Browser holds the right to end this activity before Jan 4th.
)
Don't Use UC Browser for Browsing Purpose –
UC Browser is detected as a Trojan, Malware and Adware by Malwarebytes;
There are many reports which show that UC Browser sent detailed user Web History to a server located in China;
The famous Edward Snowden said that UC Browser is not safe;
The Australian Signals Directorate (ASD) found that there is a major security weak point in UC Browser's system;
The Citizen Lab accuses UC Browser for not using an effective encryption system.
---
(expired) UC Browser Refer & Earn: Hello Guys, UC Browser is Again Offering Paytm Cash For Referring Friends on UC Browser App.You Will Get Rs.10 to Sign up + Rs.20 For Each Friend, You Refer.You Can Earn Up to Rs.20000 Not Only this, You can Also get Rs.1 for Every Friend Your Friend Invite. So Refer Friends & earn More
The offer is Valid For Limited Time So Start Referring Your Friends, You Can Use This Referral Code even if You have Installed UC App Already.
How to Get Signup Bonus From UC Browser App:
1.Download Uc Browser App From Playstore Download Now Or Direct Offer
2.Install The App open it.
3.Now Tap on three Lines And & Tap on "User Center" or Open This Link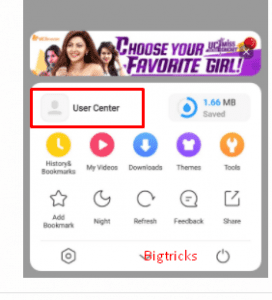 4.Signup using Facebook.
5.Complete Signup & Now it's time to Apply Referral Code.
Enter Referral Code:
T7QJFA

6.Done, Now You Will Get Rs.10 Extra Signup bonus.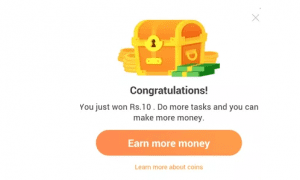 7.Here You Can See Your Referral Code, Share This Code With your Friends.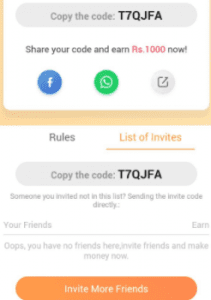 8.For Every friend, You will get Rs.20 + Rs.1 Extra For Friends of Friends.
What are coins?
Coins are virtual currency in UC Browser. There are various ways to get coins that you can find in coins center. And you can exchange coins to real money or other gifts such as data and vouchers.
Why refer friends?
Referring friends is the easiest way to earn coins. You can earn up to 20000 coins for inviting one friend.
How to invite friends?
You can share your unique link and invitation code to your friends by whatsapp or facebook. Then you can earn 20000 coins and your friend can earn bonus up to Rs.100 when they complete the following steps:
Step 1: click your invite link.
Step 2: install the UC Browser.
Step 3: open the UC Browser and enter your invitation code.
Why did I not get 20000 coins?
1. Make sure your friend has installed UC Browser through your unique invitation link.
2. Make sure your friend has entered your unique invitation code.
Why can't I enter the invitation code?
Only if the user was invited and he/she is a new user of UC Browser can enter the invitation code. And each device, each account can be invited only once.
Besides, once we find any device or account has been invited multiple times by illegal way, we have the right to cancel the payment.
How to redeem cash?
You can redeem your money by following steps:
Step 1: click your coins on the page of "Coins Center".
Step 2: exchange your UC coins to cash.
Step 3: click the button of "Redeem".
Step 4: fill and submit your information correctly.
Step 5: you'll get the money in your bank account within 1-15 days.
Why can't I uninstall UC Browser during the event?
Your money will be at risk of loss and you have to assume the loss yourself if you uninstalling UC Browser.
If you want to change your phone, you can sign in to move your coins and cash to your account. And then you can use your coins and cash on another phone with the same account on UC Browser.