UPI 2.0 – National Payment Corporation of India is going to upgrade UPI to 2.0. The New Version of UPI will include new features of linking e-Wallets & OD Accounts also it will come up with Double Transaction limit & Buyer – Seller Payment Facility. The current UPI only allows for peer-to-peer payments. Launched in August 2016, UPI is a payments system that facilitates instant fund transfer between two bank accounts on a mobile platform.
You can FInd all UPI offers on Bigtricks.in First for You.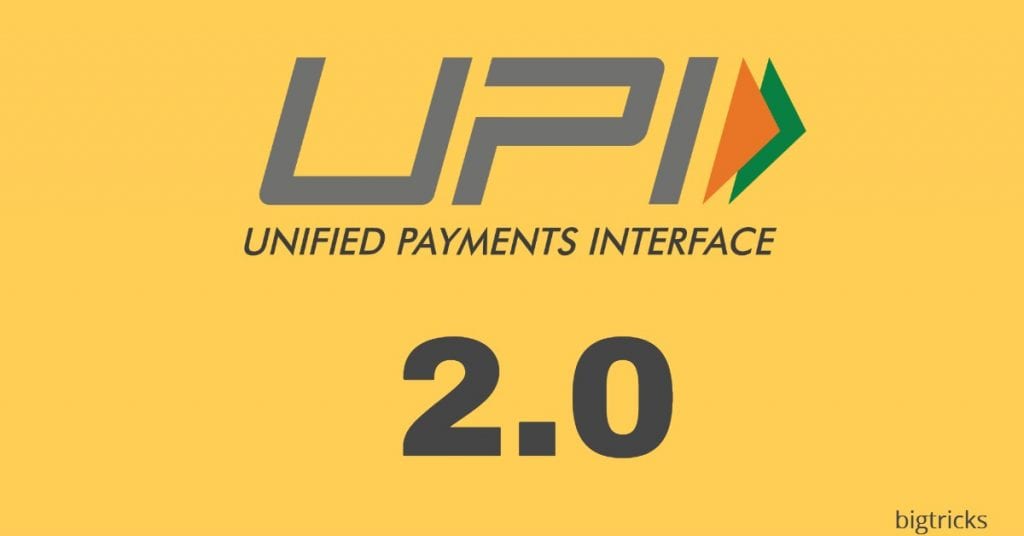 In the new UPI Version, User can Link his e-wallet & Overdraft Accounts with Bank Accounts also. The New Feature will be Added in a Week below are the new key features of UPI 2.0:
New Features of UPI 2.0:
Double transaction limit:
The transaction limit is set to double from the earlier version to Rs 2 lakh.

Overdraft account:
in Current version UPI allows users to link only saving accounts, this upgrade would allow the users (i.e., the merchants) to link overdraft (OD) accounts to UPI, enabling them to continue withdrawing money even if the account doesn't have sufficient funds.

The merchants can block a certain amount in a customer's account as security and debit it at a future date without additional authentication.
The service will be useful for booking hotel rooms airline tickets, booking cab rides, e-commerce
No biometric Aadhaar payment feature:
 Proposal to introduce Aadhaar-based payment service has been withdrawn because of privacy concerns
E-wallets :
e-Wallets may be allowed to be part of UPI 2.0. At present only bank accounts can be used for payments.
Invoicing facility:
The new UPI will allow individuals or merchants to send an invoice along with a payment request in the Inbox.
The New Version is supposed to release in upcoming weeks and yes for us the best feature is Linking e-wallets & Earn More Money with Tez, Phonepe and Paytm UPI
[coupon]BTT4ADI3G2C[/coupon]