PayTM Account Blocked/ PayTM Account Freeze/ You are Not Allowed to Perform This Transaction Error Solution
Hello Friends, Recently Many People Contacted me Saying there PayTM Account is either blocked or PayTM Savings Account is Freezed. A week later My Account was Also Blocked & my savings Account was Freezed. I had Rs.5500 in my PayTM Account & Rs.900 in PayTM Payment Bank.The Reason Was Kyc Partners were doing KYC of Two Accounts Using Two Documents Like Adhaar and Driving Licence Without telling consequences.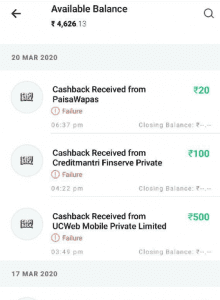 Later After Following below Procedure, I finally Unblocked the PayTM account & Got my Money back. I will share the Complete Guide here. So Read this Blog Completly
Read – How To Make PayTM merchant Account
Unblock Paytm Account: hey, is Your account blocked by paytm? , Do you had money in it? , You want to unblock it ?, No Problem here is the solution. If Your Account Is Blocked By Paytm Then You May Get an error On Logging like "Your Account Is Temporary Blocked or You are not allowed to perform this transaction or your Account is Freezed. "Today I gonna share how to unblock your Paytm account. Your paytm account may be blocked due to many reasons :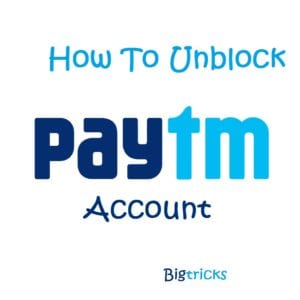 Reasons For PayTM Account Block:-
Using Two PayTM Account With One Person's KYC[More]
Using Two PayTM Payment Bank Account With Another Document of the Same Person[More]
Using Multiple Account In Same or One Device.[Less]
Using the Same Debit or Credit Card In Multiple Accounts.[Less]
adding or Trying to add money Using Scripts.[More]
Any of the  Above Maybe reason for your account blocking by paytm. You can Follow Below Steps To Unblock your paytm Account easily. In case You don't have money in the blocked account I'll recommend you to Create a New Paytm account with different Numbers and email id. As Per RBI Law, One Person can have only one Account From one ID.So they are Filtering Accounts & Freezing them
How To Unblock PayTM Payment Bank or PayTM Account
Join Telegram Channel For Instant Updates – Click Here
1. First of All, Check the Reason from Above List & Get To Know What is The Reason for Your Account block. If you can't identify then Visit 24X7 help Menu From PayTM App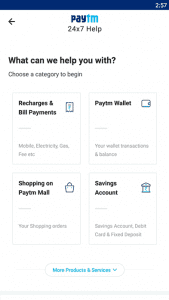 2. Now Here You need to Choose Unable to Login >> PayTM Account Blocked.
3. If Your savings account is Blocked, Then Just Open Gmail and Write the mail to care@paytmbank.com use PayTM's 24X7 Help Menu And Choose PayMent bank Freeze
4. Now Write Your Query As Shown in the below Screenshot. If you need help. Please Comment & We will help you out.

5. The Team will Tell you the reason & they may Call to understand better

6. If you have 2 Kyc with the Same Person Then you have to close one account. Wit KyC Docs.

7. Once Your account is activated You can again create a new PayTM Account From the Same Number with a Different KYC or Transfer another PayTm Account to The same number.
8. It took 30 Days to unblock My Account at this period All the Cashback You get will be reversed so Make sue You update your payTM Number in Refer & earn Apps.
9. Once your account is activated. You can continue to use it like before.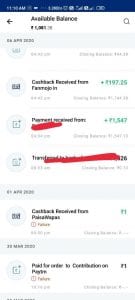 Note – You need to Submit a Photo Of Documents Submitted While Doing KYC.
---
Is your Money Safe When Account Freezes?
Yes.
How To Unblock PayTM Payment Bank or PayTM Account
You Must know your email ID for this Procesor.
Login To Your Email Account And Compose a Mail.
Address it to Care@paytm.com.
Subject Line Should be "Request To Unblock Paytm Account".
Type In the Message if You Probably know the Reason for the same.
Provide Email id and Mobile Numer for the account.
Remember To Attach Your Bank Statement From Which you add Money To your Paytm Account.
Attach Any ID Proof For Faster Processor.
Done, Send It, Within 2-7 Days You Will Get Reply from them If your Account is unblocked or they required some more information.
Alternatively 
Open your PayTM App
Click on Login issues
send in App mail to PayTM Team mentioning your issue
You need to write the details
You will get the revert as well as a call from the payTM backend team and they will explain next steps
Note: If You Do Not Get a Reply from them within 1 Month then its better to create a new account.