Xiaomi Jio Offer: – Hi! Guys, are you using Jio in Xiaomi Models?Here is good News For You.now You can Get upto 30 GB On Next Recharges.You will Get 5 GB 4G data Every Month.After Jio Dhan Dhana Dhan Offer Ends If You recharge your Jio Number With 309 Plan You will get Additional 5GB Data Every Month for Maximum of 6 Months.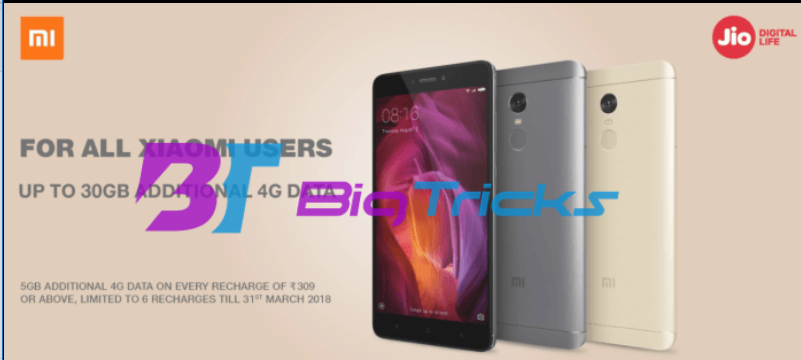 Jio already launched Dhan Shana Dhan offer which is valid till July after This offer You will need to Recharge Your Jio Number From Jio Plans to Continue the services.Jio Offering same Offer on lenovo & Samsung Devices also that you can check in this Post.
How To Get Extra 30 GB data On Xiaomi Devices:-
To Get The Benefit For This Offer, Xiaomi Users Have To Recharge Rs.309 Dhan Dhana Dhan Plan , after The Successful Recharge you  Will Get The 1GB daily Data For 30 Days + Unlimited Calling + 5GB Extra 4G Booster Data Every Month
Recharge Your Jio Number With Rs.309 or More.
Now You Will get Free 5 GB Data Coupon In MyJio App.
Now Open Myjio App Find Section My Vouchers -> My Vouchers
Now Recharge Your number and Confirm Your recharge.

Done!! You have redeemed Free data.
The free data can be seen in my plans section.
You can Get This offer Maximum Six Times in 6 Months.
Valid Devices:-
(a) Redmi 2 (b) Redmi 2 Prime (c) Redmi Note 4G (d) Redmi Note 4G Prime (e) Mi4i (f) Redmi Note 3 (g) Mi5 (h) Mi Max (i) Mi Max Prime (j) Redmi 3s (k) Redmi 3s Plus (l) Redmi 3s Prime (m) Redmi Note 4 (n) Redmi 4A (o) Redmi 4, where the services of RJIO are activated for the first time on or after 16th June,2017
Terms & Conditions:-
The Offer shall be open to all Eligible Subscribers on and from 16th June, 2017.
These T&C shall be read concomitantly with the terms and conditions of the Jio Prime membership plan and the CAF.
To activate the Additional Data Voucher and avail the Offer, the Eligible Subscriber will have to download the MyJio Application on his/her Eligible Device and follow the steps specified below:Open My Jio App -> My Vouchers -> View Voucher -> Recharge my number -> Confirm Recharge-> Successful Recharge NotificationThereafter, the Additional Data Voucher shall reflect under the My Plans section.
Two or more offers cannot be clubbed together. This Offer cannot be used in conjunction with any other alternative offer or promotion of a similar nature. However, the Eligible Subscriber will be entitled to avail the benefits under "Jio Dhan Dhana Dhan", till such time that it is available.
If the Eligible Subscriber migrates from the Eligible Device to any other device, the Offer Benefits shall be discontinued. Accordingly, RJIO shall record the IMEI number of the Eligible Device.
RJIO recognizes that the choice to be contacted for promotional messages and alerts is that of the Eligible Subscriber. RJIO intends to keep the Eligible Subscriber informed on matters relating to the Offer and any upcoming offers from RJIO for the benefit of the Eligible Subscriber. Accordingly, by availing the Offer, the Eligible Subscriber hereby consents to be contacted by RJIO and such consent shall remain unaffected by and/or accordingly modify the Eligible Subscriber's registration in the National Do Not Call ("NDNC") registry under the relevant category stipulated therefor.
RJIO reserves the right to cancel/withdraw this Offer at any time, without any prior intimation to the Eligible Subscriber. However, the benefits accrued to the Eligible Subscriber on or prior to the cancellation/withdrawal of this Offer, shall not undergo any change.