Zee Family Pack – Hi Guys, I hope you are enjoying our DTH Recharge Tricks & Other Recharge Offers. This is Sequal to Viacom 18 Value Pack, we are updating you with the details of Zee Family Pack . You will know how many channels are in the pack & How you can activate Zee Family Pack & What is the Monthly Price of this Pack. Zee Family Pack comes at Rs.45  per month & offer You 24 Zee network channel.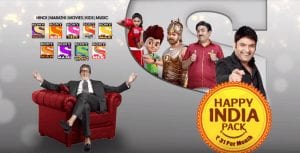 Zee Family Pack comes at cost of Rs.45+taxes after Sony Happy India Pack which cost you Rs.31 with a total of 9channels. The Zee Family Pack is still cheaper than Star Packs. You need to contact your provider to activate this plan. list of channels is given below.
According to new Broadcast Ministry rules. Now you have the rights to Pay for the channel which you want to watch or the power of selecting channels is in the hands of customers. Previously We had to pay for every channel which comes in the Cable Package wheater we watch it or not. Now You can call your Operator & ask him to Add selected Channels in your pack & Pay for what you want
Zee Family Pack Quick Details –
No. Of Channel – 24 (list)
Activation Date – 29th December 2018
Pack Charges – Rs.45+18%GST
Affected DTHs – All DTH Cable Connection, and digital TV operator including Tata Sky, Dish TV, Airtel Digital TV (ADTV), Videocon D2H, Reliance Digital TV (RDTV), Sun Direct,  Den etc.
Exception – DD Free DISH (for Now)
List Of All Zee Channels –
Zee TV
&TV
Zee Anmol
BIG Magic
Zee Cinema
&pictures
Zee Bollywood
Zee Action
Zee Anmol Cinema
Zee News
Zee Hindustan
Zee Business
Living Foodz
Zee ETC Bollywood
Zing
Zee Salaam
BIG Ganga
Zee Bihar Jharkhand
Zee Punjab Haryana Himachal Pradesh
Zee Madhya Pradesh Chattisgarh
Zee Rajasthan News
Zee Uttar Pradesh Uttarakhand
Zee 24 Kalak
Ezmall.com
*Will DD Free Dish be Paid after 29th December 2018 for Zee Famly Pack –
DD Free Dish is only free Dish In India & uses UnEncrypted Service. There is no Subscription address like Smart card number or viewer number. As per TRAI's rule. DD Free Dish still be free until upcoming rules.

More Details – Click Here
Other Packs –
Star Value Pack
How To Activate Zee Family Pack –
If You are a Cable User or Digital Cable user, You need to contact your cable operator & ask him to activate the Zee Family Pack Manually & pay them Rs.31+tax including GST after 29th December 2018
If you are a DTH user from DishTV, Reliance Digital TV etc.. You have to call your Customer support center & Ask them to activate Zee Family Pack for You.
Final Words –
I have Posted each & every detail you need to know about this new rule of TRAI after 29th December 2018 regarding Sony Happy India Pack. So If you are interested in this plan & want to activate it. You should visit Your cable operator & ask him to activate the pack.