Bigtricks Giveaway :Hello Guys , it's long time passed since we have ran a Giveaway. You might be waiting for Giveaways to earn Paytm Cash and other Gift vouchers . So here we are back with a daily giveaway..
we will run 7 giveaways for 7 days. you just need to perform some task given on this page and on completion if you are a winner you will get mentioned prize  next day. you will have time starting from 8.00 AM to 00.00 Daily,Task for each day will be published at 8.00AM daily and will be notified using our Social Services  result will be out on next day and all winners will be notified by using email address provided by them or on our Fackbook Page , Facebook Group , telegram Broadcast, Whatsapp Broadcast.
day 1 Result (Winners Announced) 
Day #2 Winner List :-
Rajesh – rajesh.se2@gmail.com (Best Feedback)
Ravi Shukla – ravi.smarty@gmail.com (Highest Entries)
Preetham jain – preethamjain54@gmail.com (Random Choose)
  We Got Good Response Form our Followers so we are offering Rs.5 Paytm cash For 10 Participants For Best Feedback
Prateek Rana – prateekkush42@gmail.com
Anzam Alambath – anzamkk@gmail.com
Tanish Gupta – guptatanish83@gmail.com
vishal varshney- vishal7varshney@gmail.com

All Users who Won Please Send a Mail From the Above email ids With Subject "Prize Money #2" mentioning Your Paytm Mobile Number to bigtricks.in@gmail.com

We got god suggestion from our users many users demanded to create forums so i am working on bigtricks forum and soon you will be able to access bigtricks forum at bigtricks.in/forum

When You Receive Paytm Cash Please share a Screenshot on Your Facebook wall or Post it on Our Group 
Day #2 : Participate and earn upto Rs.50 Paytm cash
So here is day 2 contest. In this contest you need to answer a simple question to participate i.e How we Can improve bigtricks? you will get 5 bonus entries for answering the question in additional you can invite your friends and share link on facebook .One with best Feedback will win Rs. 50 Paytm cash . we will choose 3 Winners same as last day event.All entries will be counted till 23.59 PM IST.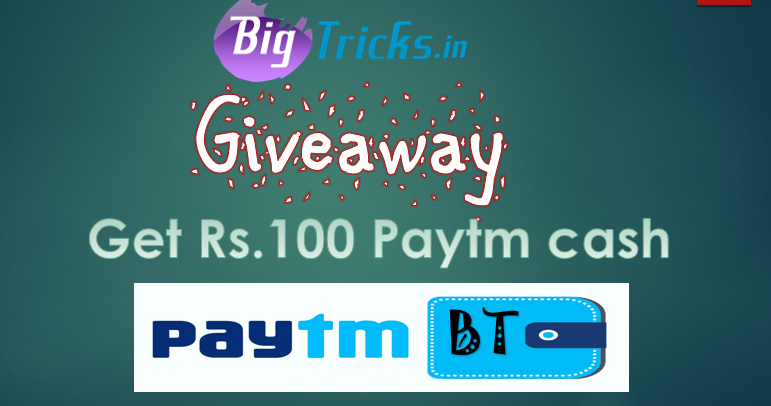 Winner Selection Process :-
1st Winner Will be Chosen For best Answer of the Feedback Question.
2nd Winner Will be chosen Who gets Maximum Entries .
 3rd Winner will be Chosen Randomly by RANDOM.ORG
So Here is the Chance for all Users to win Paytm cash .
Contest BOX:
Winner prizes :-
First Winner will Get Rs. 50 Paytm cash
Second Winner will Get Rs.30 Paytm cash
Third Winner will Get Rs.20 paytm cash
Terms & conditions:-
Winner Will be Announced  on 6th June 2017.
Fake Entries will not be counted .
Participant must be Indian .
All Prizes Will Be Distributed To Respective mail ids .
Winners Shall Receive Email Or Call on their Registered Email id /Mobile Number