Bigtricks Giveaway :Hello Guys , it's long time passed since we have ran a Giveaway. You might be waiting for Giveaways to earn Paytm Cash and other Gift vouchers . So here we are back with a daily giveaway.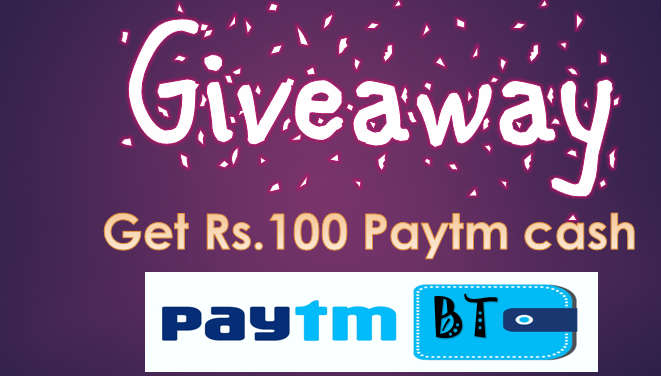 we will run 7 giveaways for 7 days. you just need to perform some task given on this page and on completion if you are a winner you will get mentioned prize  next day. you will have time starting from 8.00 AM to 00.00 Daily,Task for each day will be published at 8.00AM daily and will be notified using our Social Services  result will be out on next day and all winners will be notified by using email address provided by them or on our Fackbook Page , Facebook Group , telegram Broadcast, Whatsapp Broadcast.
All users are eligible for this Giveaway so Follow Steps and Enroll to get Free Paytm Cash.
Winner Announced -:
Pradeep Kumar – 105 Likes https://www.facebook.com/Smarty709
Deepak Kumar – 15 Likes https://m.facebook.com/deepakkrnirala.deepak
Harsh Thareja – 11 likes https://m.facebook.com/harsh.thareja.14
DAY #1 : Share and  Earn Paytm Cash :-
your day#1 task is to share and win . you just need to share the below link using buttons and one who get maximum likes on his post will win Paytm rewards . there will be top 3 winners.Likes will counted till 00.00 everyday.if you are a winner you will get a email from support@bigtricks.in next day . where you need to reply with your mobile number to get paytm cash.So do hurry and you can win rs.50 paytm cash today.use hash tag #bigtricks
Contest Details :-
Share the content from below button to your facebook wall.Remember to Choose Privacy as PUBLIC.after sharing Comment your Facebook POST URL or Profile Link using comment box below.Kindly Do not forget to mentioned your Active email ID.See First Comment For Example
                                 [maxcollection id="1″]
Team Bigtricks will check your post Manually for likes and winner will be announced on the basis of maximum likes you get until 23.59 IST . You will get reward as mentioned below.
Rewards :-
First Winner will Get Rs. 50 Paytm cash (Max. Likes on post)
Second Winner will Get Rs.30 Paytm cash(second Max. Likes on Post)
Third Winner will Get Rs.20 paytm cash  (Third Max Likes On Post)
Terms And Conditions :-
All likes till 04-06-2017  23.59 IST will be Counted only.
Like on Post Must be Grater than 10 to avoid spams
User must set POST Privacy Public so that we can access on it.
If we found any autoliker and any illegal Likes on Post user might be cancelled from this giveaway.
The Reward will be given in terms of PAYTM Cash only.
A User can take Participate multiple days in multiple contests.
You must comment on this page with you email ID.