Citibank Credit Card Amazon Pay Voucher Offer
Hello Dost, I hope, You are Enjoying Free Recharge Tricks & Earning Money From IPL Offers Nowadays, Flipkart Big Billion Days and Amazon Great Indian Festival Sales are coming soon and You know that Amazon and Flipkart offers Extra Discount on Certain Bank cards and Citibank Credit card is among them. Also, You can Use Cred App For Cashback on Credit Card Bill Payment

Today we are here with a new Offer on Application of Citibank where they are providing flat Rs.1000 Amazon Pay Voucher on the First transaction of Rs.5000 when you apply for a card using the below link. You can easily spend Rs.5000 on Add Money in PayTM or Shopping During Sales. We have Also Published Indusind Account Open offer where You will Get Rs.1000 worth Benefits on Account Open. We have Also Previously shared about One of the Best Credit Card Amazon Pay ICICI Credit Card
You can Apply For Citibank Card online in Just a few Steps. The Credit card is available for people in Delhi – NCR, Pune, Jaipur, Chandigarh, Bangalore, Chennai, Hyderabad, Coimbatore, Kolkata, Ahmedabad & Baroda and AGE 23 years or more
1. Age > 23 years
2. Profession Salaried
3. Income> 3Lakhs PA
How To Apply For Citibank Card online
1. First of all, Visit Citibank Credit Card Application Website using below Link
2. Now, Here you can clearly see the offer and its details.

3. In the First Step Enter Your Email ID and Mobile Number and Choose the Option if you have Citibank Credit card already
4. Now Enter your Name, Date of Birth, PAN Number and other basic information.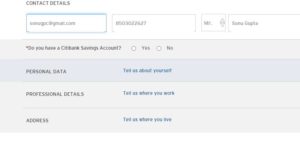 5. Now In the next Step Enter Just Enter the Company Details and where you are working.

6. In the last step just Enter your Delivery Address where the card will be delivered.
Submit the Application and within Few days You will get Your Virtual card and Real card at your address.
---
Citibank Credit Card Charges & Other Details
Citibank Credit Card Charges are Annual fee of Rs 500 + taxes [18%] So Approxmetaly Rs.586. But You will Get the fee waived off on Spends of around 2L. But if You see the offer, You are getting Rs.1000 Amazon Voucher and 10% off From Flipkart. In case You have any other Question, Just Comment below
---
How To Get Free Rs,1000 Amazon Voucher
Once You get the Card,
Within 60 Days Just Spend Rs.5000 Using your card. You can Add Money in PayTM or Amazon pay or any wallet.
Now Within 7 Days You Will Get Your Amazon Pay Voucher to email and SMS.
Also you will get 5% on Your shopping transactions with the card.
All POS (Point of sale) transactions including online purchases will be considered as spends
This is a limited period Offer valid on online applications between 00.00 hours on July 14th
,2020 to September 30th, 2020 (23:59 Hours) for Credit Card applications
---
Citibank Credit Card Amazon Pay Terms & Conditions
Apply for a Citi credit card between July 14th 2020 to September 30th 2020 (both days
included)
2. Spend INR 5000 with your new Citi credit card within 60 days of card issuance
3. Get Amazon Pay Gift Card worth INR 1000
3.The Offer is applicable only on Citibank credit cards issued in India through this campaign
To be eligible for this Offer, the participant has to be of 21 years of age or above and from one
of the following locations – Delhi/NCR, Mumbai, Pune, Hyderabad, Bangalore, Chennai,
Ahmedabad, Kolkata, Chandigarh, Jaipur, Baroda and Coimbatore
 An individual participant to this Offer can be eligible for the reward only once
 Once the customer is issued a Citibank Credit Card through this campaign, he/she will get
Amazon Gift Card worth INR 1000 only if he/she spends INR 5000 within the first 60 days of
issuance of the credit card
 INR 5000 or more can be spent in one go or in multiple transactions within 60 days of new card
issuance
 All POS (Point of sale) transactions including online purchases will be considered as spends
This is a limited period Offer valid on online applications between 00.00 hours on July 14th
,
2020 to September 30th, 2020 (23:59 Hours) for Credit Card applications
 This Offer cannot be combined with any other offers and cannot be assigned/transferred to any
other person/customer
 Amazon Gift Card will be issued and shared via SMS/email within 120 days of customer meeting
the eligibility criteria. Gift Card will have a minimum validity of 9 months from the date of
issuance of Gift Card. The exact validity date will be communicated at the time of gratification
basis customer eligibility