Amazon Prime Membership For Free Trick 03 December 2023
Hello Friends, We are here with a new Amazon Prime membership Trick, You can get an Amazon Prime membership for free or ₹500 Cashback on Prime membership yearly plan. You can check this offer in your account, We have already posted about the Amazon Prime membership Youth offer where you were getting Rs.500 cashback and now we have another offer from Alexa Devices where you can get flat Rs.500 cashback on prime membership with Alexa devices.

If you purchase any echo device before 5th June, You are eligible to earn Rs.500 cashback on Amazon Prime purchase post-delivery of the echo devices. All Echo Devices Including Alexa Echo Dot are eligible for this offer. 
You just need to purchase the echo device from the below link and next select the Join prime membership button to get free Rs.500 cashback.
Combining 2 Offers
How To Get Free Amazon Prime Membership With Echo Devices & Youth Offer
1. First of all click on the below link and choose echo devices that you want to purchase, minimum is Echo dot for Rs.2999
2. Now you will see the option to add prime membership along with the device add that and pay Rs.999 for prime membership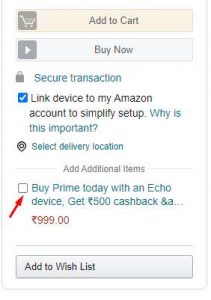 3. Now, you will get the prime membership activated and post-delivery, you will get the cashback in your account

4. Another thing is to combine the youth offer by uploading your PAN number [ Follow Amazon Prime Youth Offer Guide ]
5. So you will get Rs.500 from youth offers and another Rs.500 from Echo device offer which means Rs.1000 for the 999 prime membership
---
Terms & Conditions
This Echo-Prime Cashback offer ("Offer") is a promotional offer made available by Amazon Wholesale (India) Private Limited Devices ("Amazon"), the importer on record of Amazon branded devices in India including Amazon Echo ("Device") on the website www.amazon.in and the corresponding mobile applicable and mobile site ("Amazon.in") operated by Amazon Seller Services Private Limited.
These Offer terms and conditions ("Offer Terms") are in addition to the Amazon.in Conditions of Use & Sale and Privacy Notice to which you agree to by using Amazon.in. To the extent the Conditions of Use & Sale and/or Privacy Notice are inconsistent with these Offer Terms, these Offer Terms will prevail with respect to the Offer only.
You may avail this Offer only if you have: –
(a) set India as your current country in your account settings on Amazon.in; and
(b) a billing address in India.
This Offer will be valid from May 25th, 2021 to July 5th , 2021 (both dates inclusive), or until stocks of the Device last, whichever is earlier ("Offer Period"), unless revoked or extended by Amazon in its sole discretion, without any prior notice and without liability.
This Offer will be provided only to customers who are not prime members on Amazon.in, i.e. do not have an active Prime Membership on date of their participation in this Offer. Such customers shall hereinafter be referred to as "Eligible Customers".
As part of the Offer, any Eligible Customer who purchases any Echo device ("Device") along with the 1-year Prime Membership on Amazon.in, in a single transaction, will be entitled to a cashback of INR 500 in the form of Amazon Pay Balance in the Eligible Customer's Amazon.in account ("Benefit").
Under no circumstance can the Benefit under this Offer be settled with cash in lieu thereof and for any other product / service.
By participating in this Offer, you expressly agree that Amazon or any of its affiliates will not be liable or responsible for any loss or damage whatsoever that you may suffer, directly or indirectly, in connection with this Offer, including but not limited to that associated with your use of a Device and/or Benefit.
Amazon reserve the right, at any time, without prior notice and without assigning any reason whatsoever, to add/alter/modify/change or vary all and/or any of these Offer Terms or to replace, wholly or in part, this Offer by another offer, whether similar to this Offer or not.
Amazon reserves the right to disqualify an Eligible Customer from the Offer or the Benefit of the Offer if any fraudulent activity is identified as being carried out for the purpose of availing the Benefit under this Offer.
By participating in this Offer and receiving its Benefit, the Eligible Customers will be deemed to have accepted these Offer Terms.
These Offer Terms are governed by the laws of India. Any disputes arising out of and in connection with this Offer shall be subject to the exclusive jurisdiction of the courts of New Delhi only.
Nothing herein amounts to a commitment by Amazon to conduct further, similar or other offers.
This Offer is being made purely on a "best effort basis".
Any queries or issues in relation to this Offer should be addressed to the Amazon customer service. No queries / complaints / issues in relation to this Offer will be entertained after expiry of the Offer Period.
Amazon does not make any warranty of any kind, express or implied in relation to this Offer. You hereby release Amazon from liability of any kind.
Failure by Amazon to enforce any of these Offer Terms, in any instance, will not be deemed to be a waiver of the Offer Terms not enforced.
*note: Officially this is not tested whether two offers are combing r not.