Hello Friends, if You are a College Student then You Can Get Amazon Prime membership for Just Rs.499. Frapp is offering Rs.500 Cashback for College Students.

You Just Need to Upload Your College ID Card & Once You are verified, You will Get aRs.500 Cashback Voucher, This Voucher will be Applies on Your Cart when you buy Amazon Prime membership.
This Promo Code is Valid Only for New Prime members Old & Existing Prime Members can't get this offer. Once You Get The Code You can Redeem it before 15th July
New- Amazon Prime – Get Rs.500 Cashback on Amazon Prime membership –
1. First of all Visit Amazon Prime membership Page –
2. Now Buy Amazon Prime membership from your account worth Rs.999
3. Go to Your Prime Membership Manage Section & Upload Required Document to Proof Your Ade between 18-24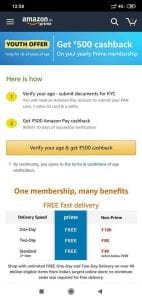 4. Upon Verification, You will Get Rs.500 Cashback within 10 Days.
5. Grab Fast this Offer is for Only 18-24 Age Users.
---
Other Amazon prime Offers –
Get Amazon Prime Membership For Just Rs. 499 with Vodafone
How To Get Rs.500 Cashback on Amazon Prime Membership –
1. First of all Visit Offer Page – Click here
2. Now Click on The Verify & Get Cashback button.

3. Here you will need to verify yourself as a College Student by Uploading required Student ID Card.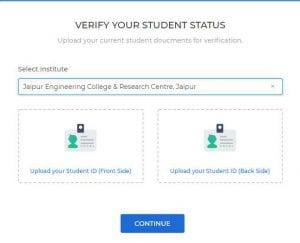 4. Once You Verify Your StudentID Card, You are eligible for this offer.
5. You will get a Promo Code To Activate Amazon prime
6. Enter This Promo Code While Purchasing Amazon Prime
7. Done, By This Code, You will get Rs.500 Cashback
Other useful Links –
What is Amazon Prime – Click Here
Proof –
Terms & Conditions – 
This limited period promotional offer, namely Student offer on Prime ("Offer"), is provided to you by Amazon Seller Services Private Limited ("Amazon").

These Offer terms and conditions ("Offer Terms") are in addition to the Amazon Prime Terms and Conditions and the applicable Privacy Notice, to which you agree by availing Amazon Prime membership. In the event of any conflict between such terms and these Offer Terms, these Offer Terms will prevail, for the purposes of this Offer.

This Offer is available from June 1, 2019 to July 20, 2019 (both days inclusive) ("Offer Period"), unless revoked or extended by Amazon in its sole discretion without any prior notice and without any liability.

To be eligible to avail this Offer, you are required to:-
Be a college student in India

Verify your student status by uploading your student id on 

www.frapp.in/primestudentoffer

 

Get your promo code on successful verification and use it during sign up for 1-year Prime membership.
A person complying with all of the above conditions will be referred to as "Eligible Individual" for this Offer. It is clarified that Amazon and Student Identify have the sole right to determine a person's compliance with the above conditions, in other words whether a person is an Eligible Individual or not will be determined by Amazon.
Under this Offer, an Eligible Individual (i.e. a person who has complied with all the above-mentioned conditions in all respects) who purchases the annual plan of the Amazon Prime membership during the Offer Period, by making the relevant payment of INR 999, will be eligible to receive cashback for an amount of INR 500 ("Benefit") on the amount paid toward the fee.

The Benefit will be provided in the form of Amazon Pay Gift Card(s), issued by QwikCilver Solutions Private Limited, redeemable as Amazon Pay balance associated with the Eligible Individual's Amazon.in account. The use and redemption of Amazon Gift Cards and the use of Amazon Pay balance is subject to the applicable terms and conditions.

The purchase and use of the Amazon Prime membership by the Eligible Individual will be governed by the applicable Amazon Prime terms and conditions.

An Eligible Individual will not be provided the Benefit under this Offer, if such Eligible Individual: (a) has purchased / subscribed to Prime free trial or monthly Amazon Prime Membership; (b) has availed the Amazon Prime membership from any source other than purchase directly on the website www.amazon.in or corresponding mobile site or mobile application or the Amazon Prime Video interfaces, such as from a telecom service provider bundled with a telecom service pack etc.; and (c) did not verify student status by uploading student id

In the event you fail to comply with any term under these Offer Terms, you will not be eligible to receive any Benefit under this Offer.

By participating in this Offer, you expressly agree that Amazon or any of its affiliates will not be liable or responsible for any loss or damage whatsoever that you may suffer, directly or indirectly, in connection with this Offer, including but not limited to that associated with

 

use or misuse of or any matter relating to Amazon Prime Membership purchased / subscribed under this Offer.

Under no circumstances will the Benefit being offered under this Offer be provided in cash by Amazon, i.e. there are no cash or other alternatives available in whole or in part, in relation to the Benefit. No requests for transfer or assignment of the benefits under the Offer shall be entertained.

Any failure by Amazon to enforce any of these Offer Terms in any instance shall not be deemed to be a waiver of these Offer Terms and shall not give rise to any claim by any person.

Amazon reserves the right to disqualify any customer from availing this Offer if any fraudulent activity is identified as being carried out for the purpose of availing the Offer.

Amazon reserves the right, at any time, without prior notice and without assigning any reason whatsoever, to add/alter/modify/change any or all of these Offer Terms, or to replace, wholly or in part, this Offer by another offer, whether similar to this Offer or not, without any prior notice or without any liability.

Any queries or issues in relation to availing the Offer should be addressed to Amazon and such queries or issues will be entertained by Amazon only during the Offer Period.

This Offer is governed by the laws of India. Any disputes arising out of and in connection with this Offer shall be subject to the exclusive jurisdiction of the courts of New Delhi only.

The Eligible Individuals are not bound in any way to participate in this Offer. Any participation is voluntary. The Offer is being made purely on a best effort basis.

Nothing contained herein amounts to a commitment by Amazon to conduct further, similar or other